This will be just a quick post about the service of Lazada Philippines.
You might remember that I did a post about my top picks on their shop not too long ago. During that time, I was doing a background check on this online shop before I published my entry. What I found out were mixed reviews from most people. Sad to say that there were more negative feedback/reviews than positive ones. The negative feedback stood out more.
I decided to make an entry about their service that's positive.. hopefully this will be helpful to someone out there.
A few weeks later after the post was published, I thought about making a test purchase on their site since one of my gift certificates from them was about to expire. It would be a waste not to use it, don't you think? I chose between a DVD player and a hair dryer (lol)..
In the end, I purchased myself a new DVD player since the one I have doesn't read my burned-to-DVDs AVIs and MP4 video files anymore. Prior to purchasing this, I did my research offline, too, and went to several electronic appliances shops to look at DVD players to get. Needless to say the ones that were around my budget didn't cater to my specific needs. What did I have to lose if my next purchase were a flop, too? I'd be getting a new piece of appliance for my room so it's all good.
I placed my order on a Sunday afternoon, and the item arrived on Tuesday morning. It was only around afternoon that I got to see the package in person and test it out since I was out from Monday and stayed over at a friend's house, hehe.
Here's the package!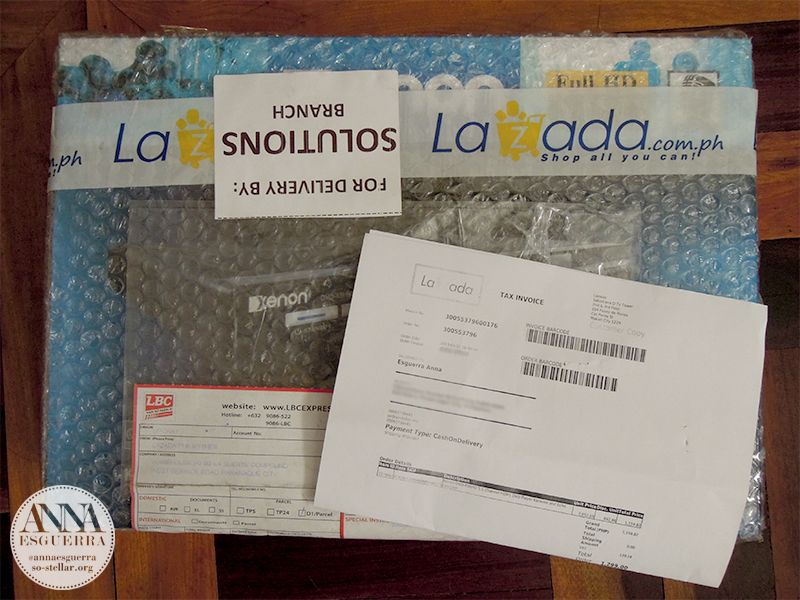 Nicely packed! I didn't have time to take a photo of it unboxed with the contents of the box nicely laid out for y'all to see because I went straight to testing out a USB and my newly-burned DVDs to the DVD player.
The good news is, the item works and nothing is broken. The bad news is, it wouldn't play my newly-burned TV series files. Meh. It's not the fault of the product though. Well, the site did say it would play MP4s, but I suppose it did not mean the kind of MP4 video files you'd find in torrent sites. Some kind of codec requirement or some shit that, apparently, this DVD player did not have. Ah well, it costs pretty cheap affordable anyway, and even more w/ the discount I got for it.
Before you dismiss my post, let me tell you that it does play my -old- AVI DVDs just fine. It's only the newer files, the one that's in HD and have these bluray/HD-ness codec or whatever embedded to the file that is not readable by this DVD payer. I probably should have bought the blu-ray dvd player instead of this one.. but those cost 2-3x more than this one, so maybe next time.
Anyway! I'm steering far from what I should be really reviewing: Lazada Philippines' SERVICE. Right after I placed the order, they immediately sent me an email, complete w/ this feature that allows me to track the whereabouts of my package. I did not get the opportunity to check out that feature much except see the first status it had that says they have received my order. Also I got the item in a short amount of time, so there was no need. Had it happened that 5 days have passed and my order is still not on my doorstep, I would most definitely be checking that page like a maniac in dire need of a shot.. LOL WEIRD COMPARISON, OK.
Delivery was quick, too. Like I said.. order was placed on Sunday, item was received on Tuesday. All that in the same week! The item arrived in good condition and very nicely packaged as well.
I don't know, man. Maybe I just got lucky with them. First time to order from them and it went without a hitch, and everything went by just like a breeze? Fo sho I'm going to order from them in the future!
Would I recommend them? Sure. Some of their items are priced lower compared to other shops (online/offline). But they also have these array of other products that costs a little more than the SRP that I would suggest you to take your time to find other sites where they sell it cheaper or close to the SRP of the item.