Bloc Party – Mercury
The thing about Bloc Party is that I became one of those "more than an occasional listener" of them after their concert. I've only heard about them, well, their name at least.. but never really got to listen to any of their music. Actually, I found out recently (at the time that the concert was still well-advertised here) that THIS song is from them. Take a wild guess before you click that link and find out what song that is.. you'll do a facepalm gesture for sure. :))
So yeah, that song. I always hear it in this particular show in one local music channel here in the Philippines. I never got to listen to the entire song ever, to be honest, just the first 0:25-0:45 seconds of it.. and then I quickly dismissed it. I didn't even give it a chance. I thought it was electronica music. Boy was I SO wrong.
You're probably thinking that I am a newly-turned fan because I saw them live 3 weeks ago during their concert in Manila. To tell you the truth.. I didn't get to watch their show here. 🙁 I kinda regret not seeing them perform their songs live, but at the same time I don't.. because somehow, I still got to see them, if you know what I mean.
Now this is obviously not going to be an event cover blog post. Haha.
QUESTION: Why is there a video of Mercury from one of their TV appearances on top? That's my current favorite song from them. I'm sorry I'm so late to join the bandwagon of Bloc Party fandom, I'm catching up as fast as I can. Promise. Listen to it, it's awfully catchy.
Iz my friends who are completely addicted to the music of this band. When I first heard that they're finally going here, I was pretty meh about it.. since I didn't know/listen to their music/like them that much and I could care less. As soon as I tweeted about it, one of my friends went crazy about it and quickly made plans for herself to watch the show. I didn't have plans let alone "activities" related to it, planned, but I was willing to "help her out" to get her CD signed anyway.
(Their concert was a day after Demi Lovato's concert, so I thought.. why not help her out cuz she also went to watch Demi's concert with me? Hehe. Paying it forward. BTW, that post is coming S O O N.. hang on a little bit longer, hah.)
A few weeks later after the announcement, I suddenly found myself digging through their discography and putting 2-3 albums on loop, "Four" being the most recent/third one, to see if they're likeable "now". :)) Banquet didn't have the same effect on me as it did when millions of other people listened to it and instantly liked the band. IDK, I just didn't like Banquet. Lol, end of story. If I heard a different song from them first, things would have been different.
I didn't know where to start so I asked my friend to throw a Bloc Party song at me as a start. She suggested I listen to Biko.
Bloc Party – Biko
You can say the replay button was mildly abused because I got HOOKED to this song after a few repeats of it. Now if this were the song I heard, I would definitely reconsider. 😛 For the next couple of weeks, I seem to be stuck to listening to "Intimacy" album on loop. The other album I chose for this Bloc Party sound trip is the one w/ Banquet included, "Silent Alarm", unfortunately it didn't get much plays unlike Intimacy and I don't really remember that much songs from that album. XD
Now I know Ares, Biko, Flux. Mercury is a current addition to the list. That song sounds 100x better when it's played live!!
Ok sure, now I know a few BP songs.. is it enough to consider that I should be buying a ticket for myself to go see them live w/ my buddy? Hmm.. not yet. Too early. :)) I feel like I'll only be out of place during the show and not know much songs. Also, *insert personal reasons here*. I didn't go to the concert and that was the end of it. Good thing the concert venue was near to a mall.. convenient for.. me!
So my friend's fate was decided that she'll go solo… not! 48 hours BEFORE the concert, the universe conspired and she ended up going with my friend, Bev. Hurrah universe! Glad she had someone to watch it with in the end. Hahaha. As for me, I waited for them to finish and I spent my time eating alone in a lonely corner at a restaurant and killed the extra 2 hours that followed by watching a film that shall never be named. It's not as bad as it sounds, I don't mind it at all actually.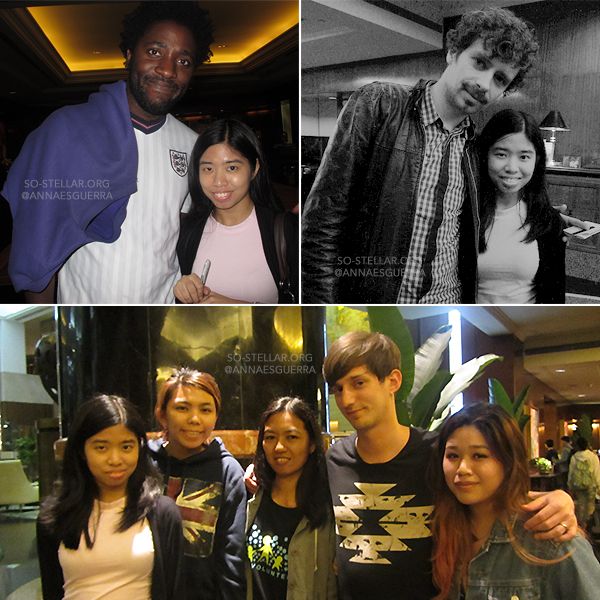 Myself, Clarizze, Shereen, Russel Lissack of Bloc Party, Bev
Sure, I didn't get to watch Bloc Party during their show that night, but I did get to meet 3/4 guys of the band. There's the big surprise. :)) Not all at once, though. And I didn't do this for myself but for my friend. Ooh yeah, this entry isn't about me at all.. it's all about her! HAHA.
Basically, I tried to meet the members of Bloc Party just so I can have them sign HER album for her. I only ever did to accomplish getting one member's signature though.. cuz for the other 2, she managed it on her own some 10 hours later.
Kele was the first one I/we met. I saw him walk-in during the afternoon and when I tried to approach him.. he was hesitant to recognize me. It was funny, and a little weird. I was like, hey don't I look like a fan of your music? =)) JUST KIDDING, THAT'S AN INSIDE JOKE BETWEEN MY FRIEND AND I. I waved at him from a distance, and for sure he saw me because like I said he was hesitant.. in a way that his arm was raised up and ready to wave, but his hand was clasped to a ball-like fist pose.. in short, he took back his wave back to me?? Lol.
When we tried to get closer to him, we were blocked by his bodyguard..
Well, okay, we'll try again later. Turns out he was going to be interviewed by the media at the cafe close by. The other guys were basically ignored (not by us, because duh I am able to tell what I saw here) by the media and they went straight upstairs, without disturbance and distraction from anyone, once they entered.
For some reason that kind of annoyed me. If they were going to be interviewed, at least interview ALL of them? I always say this.. and maybe it's a case to case thing, but a band isn't just composed of whoever is popular and well-known to the public (most likely the vocalist). I always feel that they should interview them as a whole. Give the other members exposure too. Unless of course it's the member who declines from the start.
Anyway, the interview w/ Kele ended moments later and then he was on his way upstairs when we tried to get his attention again. Fortunately, he seemed to have recognized me and told his ~bodyguard~ that we're okay and yeah, slight meet and greet w/ Kele Okereke began.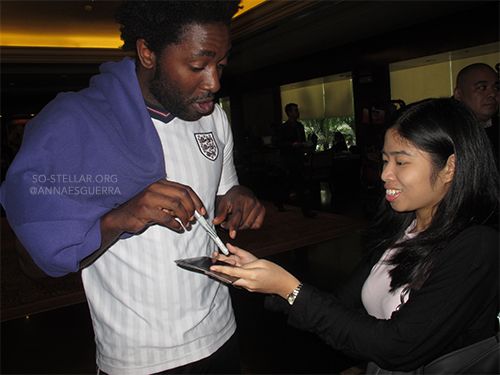 While I can't remember the exact details of what I may have told him all I remembered are..
I was able to calmly tell him (and not stutter, for once, ha!) that this album isn't mine but for my friend and could you please sign it for her?
And then he was like "for ********?" and I said "yup!" and then before that I introduced myself, good thing I remembered to do that..
I can't remember if I asked for a hug from him, oops.
I kinda remember he said "lovely to meet you" or was it "nice to meet you" after I introduced myself..
Hahaha, I realize that in the picture he looks kinda mad? Bev told me that when I sorta-shrieked at him because he was signing in the front cover of the booklet, he gave me this odd look.. I wonder if that was it?? LOL.
My panic moment was when he was about to sign in the front cover of the booklet and I went "NOOO WAIT SIGN ON THE BACK PLEASE" lol!!! So I hurriedly flipped the pages until I reached the last page of the booklet and thank GOD I didn't spaz enough to accidentally drop the booklet and marker on the floor and have to go and pick it and give it back to him.. else that would've been SO embarrassing.
I asked for a photo with him after that.. and then after, my friend met him.. and poof our 5 minutes w/ him was over.
Meeting Gordon and Russel happened after the show; HOURS after their show. =)) We waited that long for them. So if you think (not!) I look pretty phresh (HAHA) on my pic w/ Kele, I obviously looked quite a mess in the last two pics.. it was super late and we were really tired. Just glad they finally came around. Russel was super nice and approachable for a conversation, Gordon seems to be in a hurry to go upstairs haha but yeah still snagged a photo anyhow. My camera was on manual mode when that photo w/ Gordon was taken.. so that's why it looks like that. 🙁 Lol oh well. I do regret not tinkering with it, sorting the settings properly, when I had 10 hours before I met him.
Photos with and of Kele were taken by Bev, the one w/ Russel was from Clarizze's cam, and my pic w/ Gordon by Wes. Thanks guys! 😀
So that was my Bloc Party (MLA) experience! I hope next time I'll get to watch their show! I'm positive that they will come back (they always do) since Kele enjoyed our crowd. That was according to a source, haha.
Oh yeah oh yeah, another +1 for the Philippine concert crowd!! WE GOT THIS, WE ALWAYS DO.