It's ironic but the truth is, my life is pretty much uneventful and I go through the same routine every day. Ironic in a way that this blog is supposed to be full of events but rarely do I have much to blog about except the concerts that I go to. But this post, for the first time, won't be about concerts. This time, it will be about.. F O O D.
Yes you read that right, food! A food related blog post. Huzzah!! Enter, Chicken Charlie Restaurant.

I was invited by Jonver last week to the 3rd Anniversary Press Conference of Chicken Charlie restaurant. It happened so fast that I was mumbling between my replies to him over that phone call (sorry! haha). It went like "yes?", "yes, okay." "yeah okay..", "I'll email you!", "sure, thank you again!!".. lol.
The presscon was held at their Makati Avenue branch, so it was very convenient for us. Though on the day itself, the traffic was pretty bad so my friend and I arrived late. We were late, yes, but so were a lot of people. Whew. By the way, I went with Clarizze of All Things, again. Haha! 🙂
On our way there, we were panicking and thinking stuff like what if they won't let us in because we're an hour late already?! What if they make us pay for whatever we have to try out? LOL I do not know how these things work. Obviously I am a noob at these 'exclusive blogger events' thing. The term "blogger" as a legit term for something that you do so seriously and passionately about, still feels and rolls off my tongue so weird. To think that I have been doing this for so long. Crazy how just by blogging, can take you to different places and open doors of opportunities for you nowadays.
Inside the restaurant, most of the tables were still unoccupied and only a few bloggers/guests have arrived early. We easily spotted the area where we should sign in and shortly after that they assigned us to our table.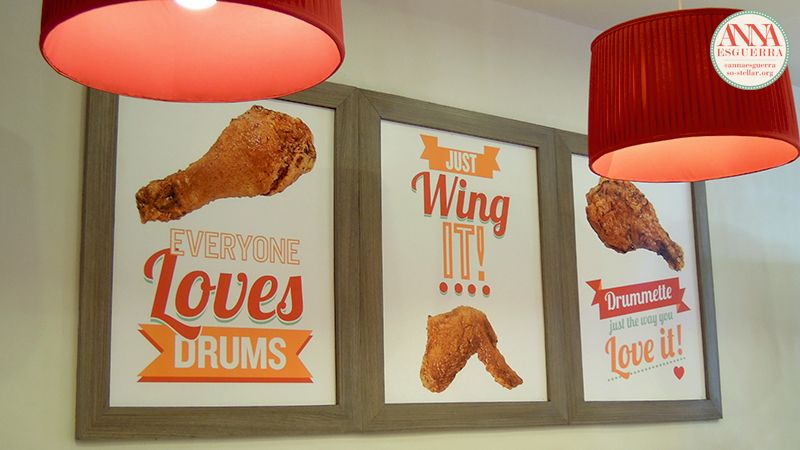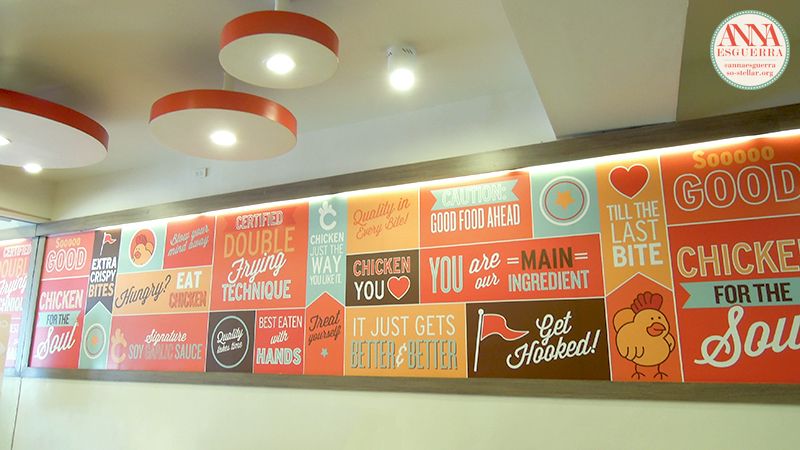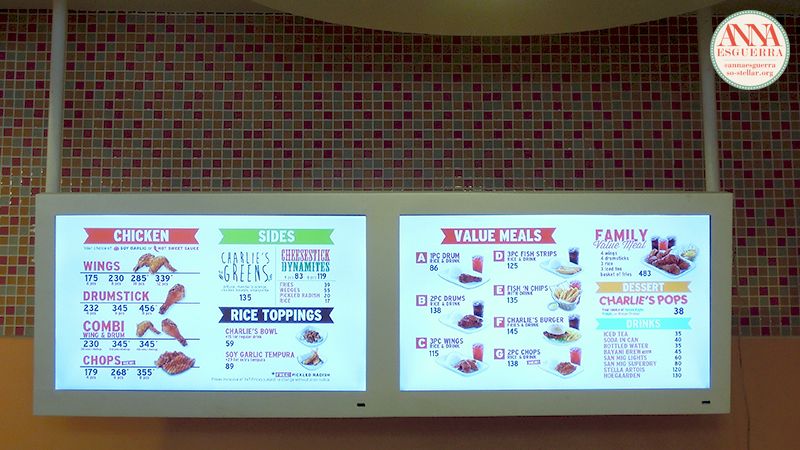 Chicken Charlie Menu
By the way, this was the first time we've dined in this restaurant. I have not heard of Chicken Charlie prior to attending this event. Why? Because from what I learned in their program, their very first branch was located in the heart of QC. Anything beyond Makati, I don't get to find out about it unless it's that much talked about in social media. Haha. We were really excited to try anything from this resto. Bring it on!!
The first thing I noticed was their, as I'd like to call it, typography wall. Can't help but take notice of the fonts they used and the way they layout the graphics. My first Instagram post from that day was a typography art from the wall, haha.

I didn't notice that while I was looking at the pretty wall, they already served the first dish in front of me. Oh right, I was busy with my phone.. must. post. pretty. typography. on. Instagram.
Tada, french fries! Appetizers? Appetizers!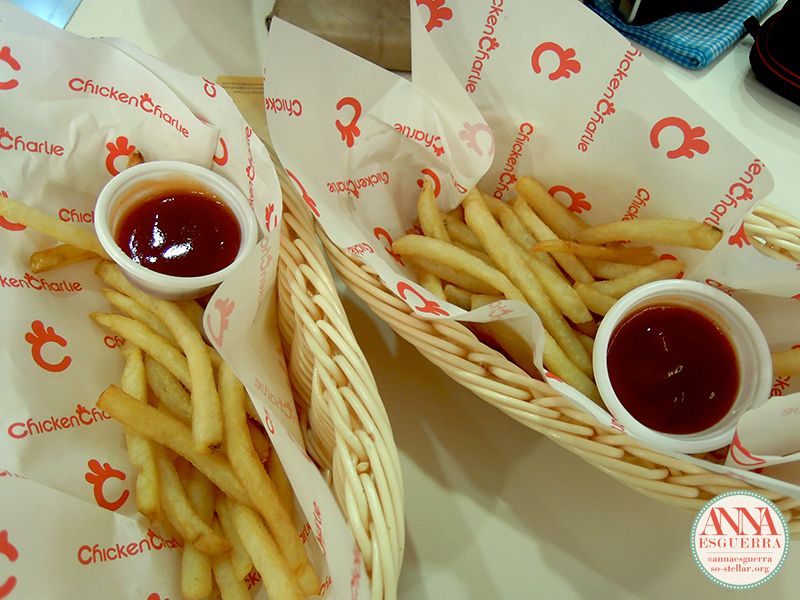 They were OK, tasted OK for fries. Nothing much noting about. Next, they served us their new product, called Charlie's Signature Burger.
Its main highlight is the signature soy garlic sauce. But I wasn't paying attention to the sauce and just digged in. The moment the burger was served, in it cute looking plastic basket (lol), I immediately wanted to gobble it! Look how tasty and appetizing it looks.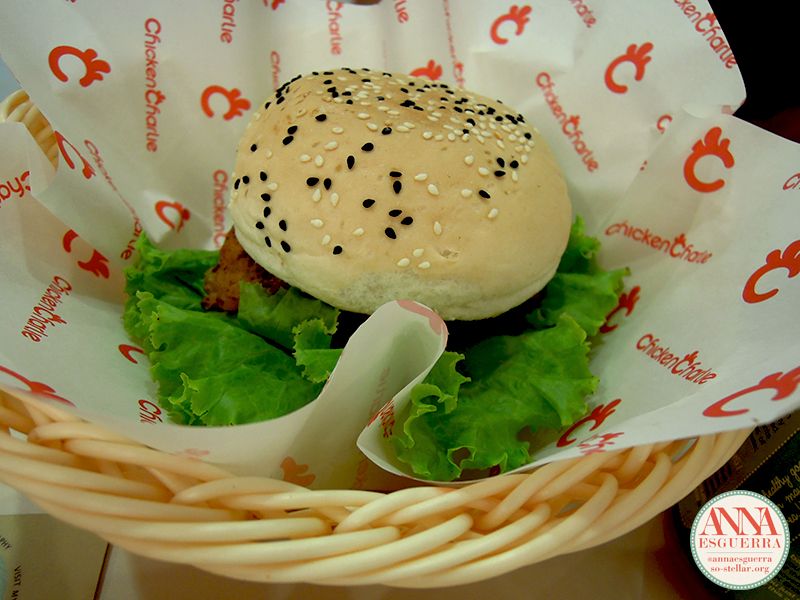 I apologize if I am not that descriptive with the taste or texture of whatever I shall be putting here in the next few paragraphs about the food. Just trust the fact that if I use a few short words to describe how delicious it is, then it would mean that it IS worth trying. Otherwise, if I don't like.. I would most definitely say so without hesitation. Haha, just kidding. But I will be honest, just not brutally. 😉
I don't know about you but that bun sure looks sexy.. and would taste yummy against my tastebuds. =))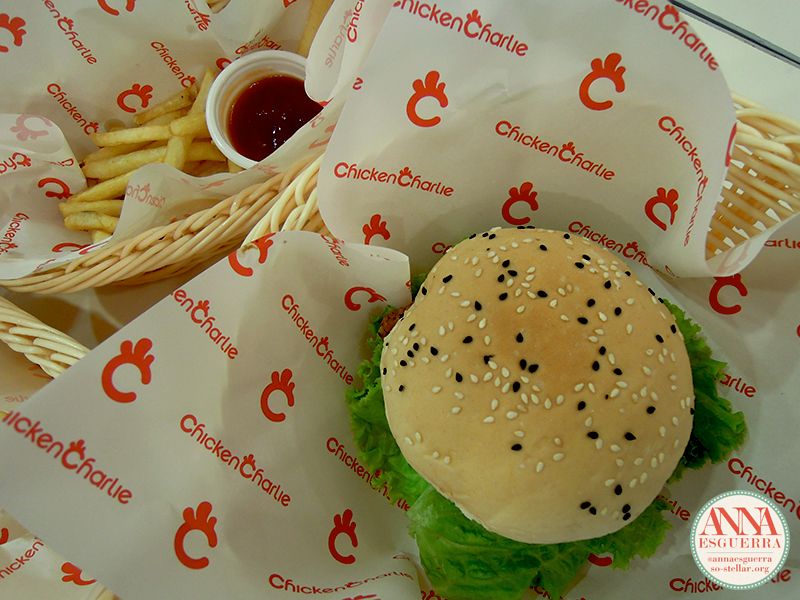 Finally tried the burger! It tastes and looks just as good as it was when it was presented! It took me a while to finish this one, because I am not used to eating a "full burger". I usually just consume the type of burger that you see in JBE and MCD, the very affordable kind of burger, if you know what I mean.. and they're pretty "flat" as far as legit burgers are concerned. Anyway, with the burger, I savored every bite because it was so new to me.. I did not want to finish all of it that quickly.
I also appreciate that there was plenty of greens in the burger and that it looked that much green, that one can tell that it was freshly picked. T'was crispy too.. so plus points for that. I'd say it looks lively, if only that doesn't sound weird. 😛
Up next is their best seller: Chicken Charlie Chicken Wings!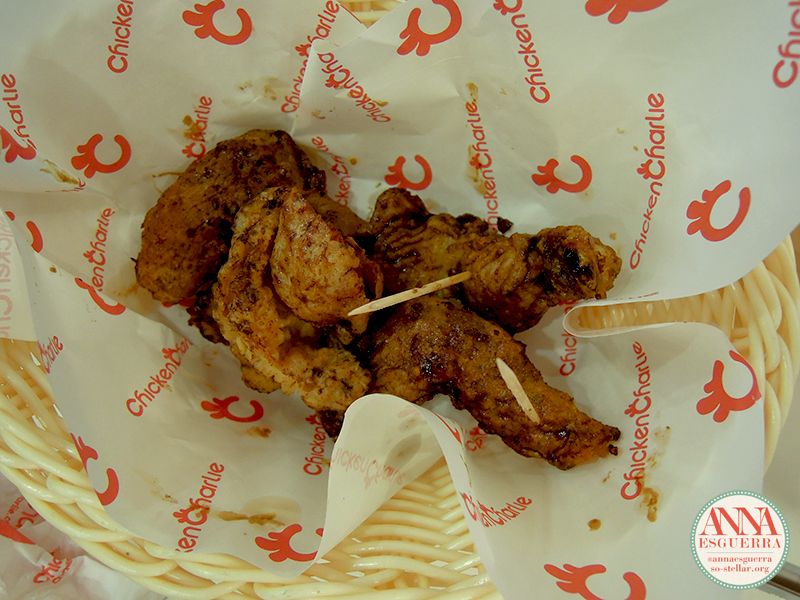 Sorry the photo isn't that nicely shot! 🙁
I was hesitant to try this one at first. When I did my research, on their website, I could've sworn I read that they only have the spicy flavor for the chicken wings. BUUUT~ we were told that half of the chicken wings are of soy garlic flavor, and the rest are the hot sweet sauce flavor.
I chose to try the soy garlic-flavored chicken wings on that day. 🙂 Though, their hot sweet sauce is the best seller. I wasn't ready at the time, but on my next visit I shall try it by then.
Not only was it tasty, but it was really crispy too. CC's Chicken Wings are also double fried, for that maximum crispiness in every bite. I enjoyed their soy garlic wings. I don't pick the wing part most of the time when I eat chicken, but that day was an exception. A must try, I swear! The spicy flavored wings probably tastes as good too, why else would it be their best-selling flavor?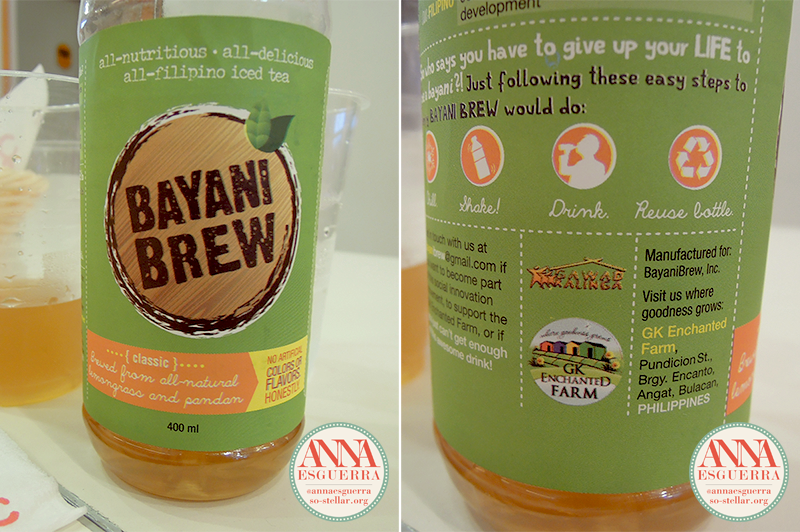 Our refreshments that afternoon was this drink (proudly Philippine-made!) called Bayani Brew. All-natural, all-Filipino iced tea. Not sure if it comes in other flavors too, the ones we had were their natural lemongrass and pandan flavor. It's produced by Gawad Kalinga.
What followed was a short break (from eating, ha!) and program, just to give us a briefing of the restaurant. Quick history and their upcoming surprises and promos since this year is special for them. Also, the CEO spoke at the end about a new product and said his thank yous for the support.
What I learned:
a. They have 17 branches right now, including branches in the Visayas and Mindanao Region.
b. Chicken Charlie's head branch is located in the heart of Katipunan, Quezon City. (Probably why I have not heard of them until last week!)
c. Chicken Charlie is a big supporter of local brand. The whole brand is conceptualized and produced from scratch in the Philippines, and they also partner up with local companies that are relevant to their service such as the Bayani Brew drinks. Their desserts are also locally-made.
d. The restaurant is in the business of double-fried chicken brands, yes that is their specialty. But aside from that, they have other best-sellers such as the Cheese Dynamites, and Signature Burgers.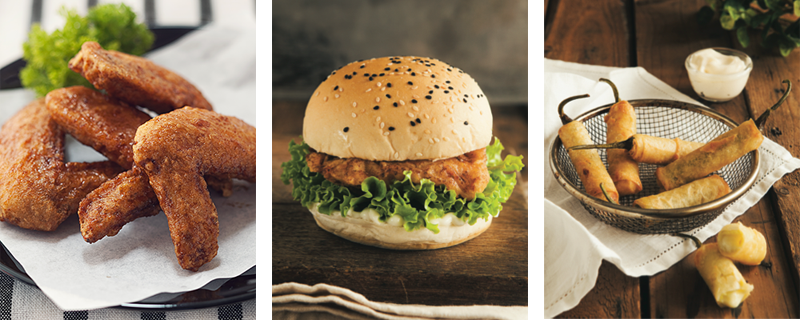 e. This year marks as their 3rd year anniversary in the food business industry. With that, they will be holding contests on various social media sites (Twitter and Facebook specifically — follow and like, now!). Up for grabs to the lucky winners are GCs and premium gadgets.
Other than their grand prizes for the lucky winners, Chicken Charlie have two upcoming specials for (1) its customers and (2) interested parties who may want to lend a helping hand.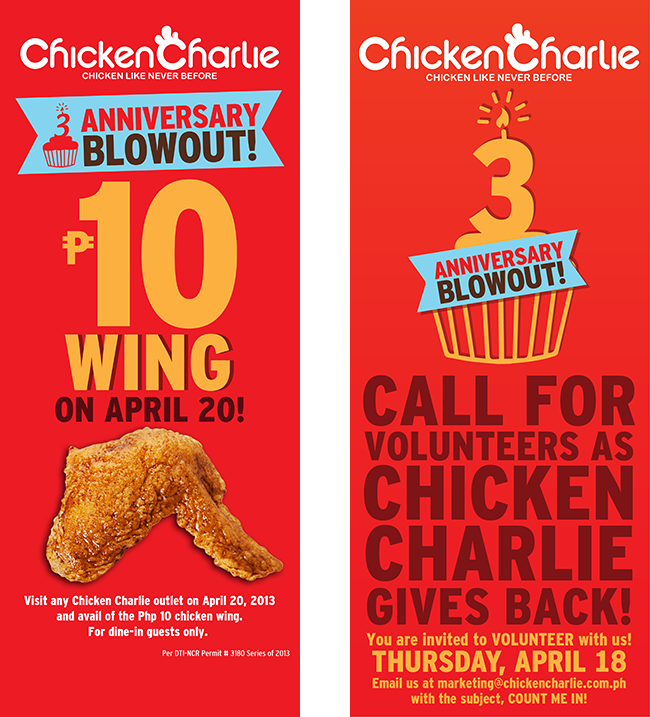 (1) On April 20, 2013 (4/20), the day of their anniversary, avail of their promo of P10 per chicken wing. The promo will only be available throughout the day, a one-day deal.
(2) On April 18, 2013 (4/18), the Chicken Charlie team will have an event, their way of giving back, at the Center of Health Improvement and Child Development or CHILD HAUS. Everyone is welcome to participate and volunteer with them as they entertain the kids and spend some time with them.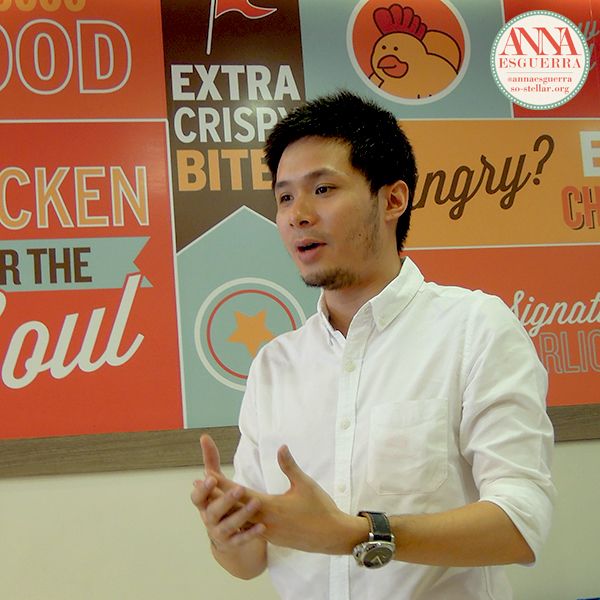 Ifore Yu, President/CEO/owner of Chicken Charlie
After the program, the final item on their menu that they served us was dessert. We were given ice  popsicles for dessert. The flavors they have are Green Apple Yakult, Mango Orange, and Chocolate. I picked the Green Apple Yakult, it was yummy. Just forgot to take a photo of it because I was in a hurry to eat it before it melts. :))
That's the end of our first time dining at Chicken Charlie. I will definitely go there for the 2nd time to try the other dishes they have that we were not able to try last week.
I didn't know we could order more food to try than they have served! Hahahaha. I wanted to try their Cheesestick Dynamites and the Charlie's bowl (new product!). But then again, I'd be shy to ask for more so okay, next time is good. At least I would be paying for it. 😛
Again, thanks Jonver for inviting us to Chicken Charlie.. and thank you Chicken Charlie for the yummy yummy lunch and goodies! Best believe I will come back!