Ah yes, the big leap away from the Apple ecosystem.. it was bound to happen sooner or later.
But wait, this doesn't mean that I am completely leaving it.. maybe just their phone line? I recently bought a new phone, as an upgrade to my dying, uber slow, ancient, REALLY slow, irrelevant iPhone 3G.
I'd like to think that I was really patient with this phone that I was able to use it for 5 years, whereas most people would probably just upgrade whenever a new model came out. Well, not everyone has that privilege to purchase an upgrade, let alone a brand new model especially an Apple product. That's when I started looking for other options.
It was a tough decision but in the end, I decided to try the Android OS for a change. Before, I wasn't into the idea of even trying it at all, let alone consider.. but as I did my research, I realized that in some ways, it has more pros than cons versus an iPhone.
Say hello to my new phone, the LG Nexus 4!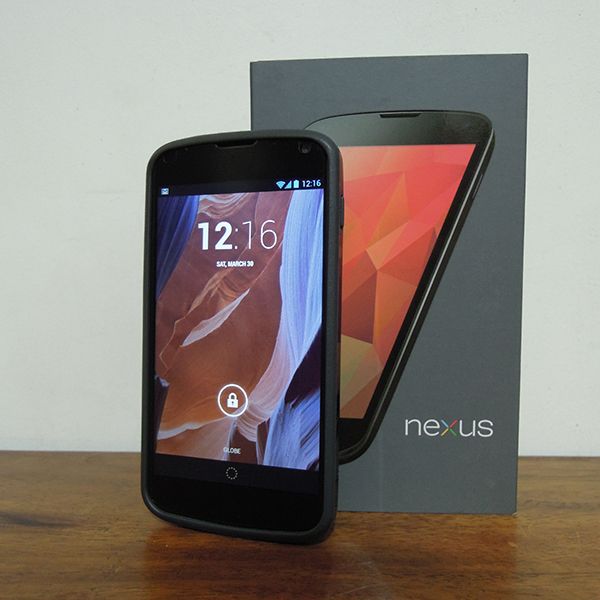 Note: All comments beyond this point are based from my observations from using this phone. Opinions from using it personally. Just a heads up for anyone who might come across my entry and not agree.. I'm looking at you, serious Android and Apple fanboys/girls who feel the need to ALWAYS defend your chosen OS.
Pros why I decided to make the switch: Phones using this OS are more affordable (but it doesn't mean the phones are cheap and break easily, it all depends on how the end-user takes care of the product), the OS is more advanced (in my opinion), has more features that an iPhone won't be getting until 3-4 updates later (by then they would be SO behind, haha!).
Cons from switching to iOS to Android (may be software or hardware related): The apps that are exclusive to Apple first and won't be getting an Android version (depends if the developer wants to make one if it's demanded enough), expensive, "backwards technology", no Emoji, no iMessage, etc..
On the contrary, there are still Emoji apps on Android but there are times that a certain emoticon won't show up. Unfortunately there is no alternative to iMessage.. unless apps like Viber, WhatsApp, Line count.
By "Backwards technology", what I mean by that is.. things like NFC, and a higher RAM, and the fact that you can't send files through Bluetooth is not available to the current iPhone right now. There's probably an app that enables you to send a file through Bluetooth, but what if I just wanted to transfer from one phone or computer the old fashioned way? Those are just some of the things I can think of right now but I'm sure there's more that an Android phone already has that an iPhone doesn't.
The turning point for me was when I found out that the current iPhone model only has 512mb of RAM while the phone I currently have already has 2GB. I can ran a lot of apps simultaneously and I won't have to experience lags anymore like I did w/ my old phone. Also, a phone THAT expensive that only has that much amount of RAM in it?! No thanks. When you've owned a super old phone and you're used to waiting for an app to load or just do something and used from an app crashing, using a really fast phone for the first time feels so liberating.. I've never felt so free! Ha ha ha, I am exaggerating but I hope you get what I am trying to say!
Ever since I've had this phone, I seem to be so attached to it that I always use it and there's always something new to discover in it.. haha. The whole Android OS ecosystem is fascinating and there's just SO MUCH TO DO. So much to modify, apps to try and use, games that I can finally play because my device is compatible with it.
I have also rooted my phone and did so much (I think) modifications to it already.. though I think they look pretty minimal. I'd still like to keep the "stock Android" part of it. I'd say it looks pretty minimal.. I don't use any launchers or custom ROMS. I don't think I am ready for that yet. Haha.
The downsides I could find with this phone are (1) the stock keyboard does not have a "Return" (enter) key and you would have to download a third party app for it. I thought it would be a default, just like in the iPhone. (2) The volume in the Nexus 4 is pretty low compared to my iPhone. Little cosmetic quirks like (3) the backplate, in the battery area, makes a sound whenever I press it too hard.. which is weird because I thought the backside is completely made from glass? It kinda feels like it's of plastic material to me. (4) The screen is too sensitive that when I touch the sides of the screen it makes a response already, I think, or I just got used to the iPhone's screen hehe. (5) Non-expandable storage capacity. The Nexus 4 is only available in 8GB and 16GB variants. A 32GB would have been more than enough. 16GB is sufficient though. (6) Semi-poor battery life. I know there are apps but I don't think they're okay to use? A fully charged iPhone 3G can last a week for me without recharging, and only turning on the Wifi if I really need it. I also get to play music on it, for a weeklong without charging too.
Lastly, (7) THERE ARE NO CASES FOR THE NEXUS 4 WIDELY SOLD AT THE MOMENT. It's not exactly a popular phone for the masses and it's quite hard to get in the country right now.. so the usual sellers of phone accessories don't bother to get stocks of Nexus 4 cases for sale. 🙁 Right now I am using a Poetic bumper instead of an actual case since I can't find a case that covers the top and bottom of the phone.
Anyone own a local phone accessory / accessories shop in the Philippines and would like to sponsor a N4 case for me to review? Hehe. Shoot me an email!! 🙂
Sure, there are times that I miss my iPhone. For the most part, I miss that it's compact and easier to carry around than the Nexus. The display is smaller, so it's easier since I have tiny hands. :)) Getting used to the big display, especially when typing, will definitely take some time for me.. However, it's big enough in a sense that it's almost a tablet to me? Ebooks are easier to read here than in the iPad. Other than that, I LOVE THIS PHONE and I'm practically inseparable from it. :))