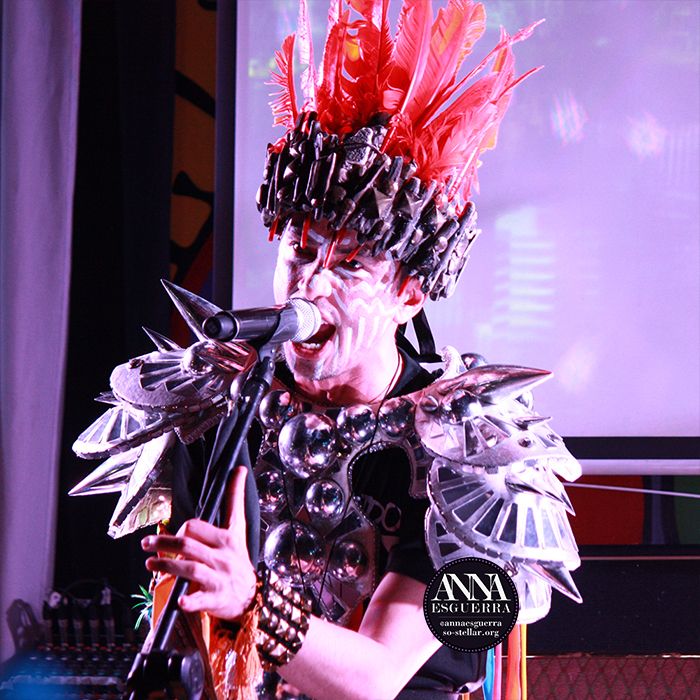 Fiesto Bandido / Rico Blanco
Rico Blanco's show is the very first local gig I went to this year. My first local gig last year was also one that RB was a part of the line up.. speaking of that gig, I haven't blogged about that one yet — lol.
Background: This gig is his pre-birthday show for his fans. It happened Monday last wekk, March 11. Rico's birthday is actually on the 17th. Kato from the Ricolokoys group invited me. I did a quick tarp design for them, too. Hehe. I went with two of my friends: Hannah and Clarizze of All Things. Thank you for inviting us to this event, Kato! 🙂 Also, I got to see my friends from the Incubus ST again.. hi 🙂 
There's a big gap between this and last year's Rico Blanco gigs though: In 2012, I watched him as a solo artist performing under his own name and not under Rivermaya's name. I would say he was testing the waters back then. Last week, I watched Rico Blanco shed off his image that we have all gotten used to all over the years for the first time and saw his, should I say, alter-ego character, Fiesto Bandido, take over and give the audience a very electric and alive set.
I was mildly surprised, but also excited to see what his show is like when he's in the costume and stuff. Overall, I was amused and entertained. But I think the important reaction here that I felt from watching this show is stunned, awestruck, mind-blown, etc. :)) I obviously sound like a noob right now but cut me some slack, this is the first time I have been to a "legit" RB gig and I did not expect that I am going to witness craziness, F U N, and real interaction between him and the audience all over it. I guess, in my mind, he is still that aloof, shy, alternative guy with a guitar that sings and doesn't move often. He obviously has decided to come out of his shell and explore new things now. And I'm glad he took that risk. His efforts paid off very well, eventually.
Anyway, I am getting way ahead of myself. I wasn't even supposed to tell you how the show proper went until a few paragraphs later, but there you go. 😛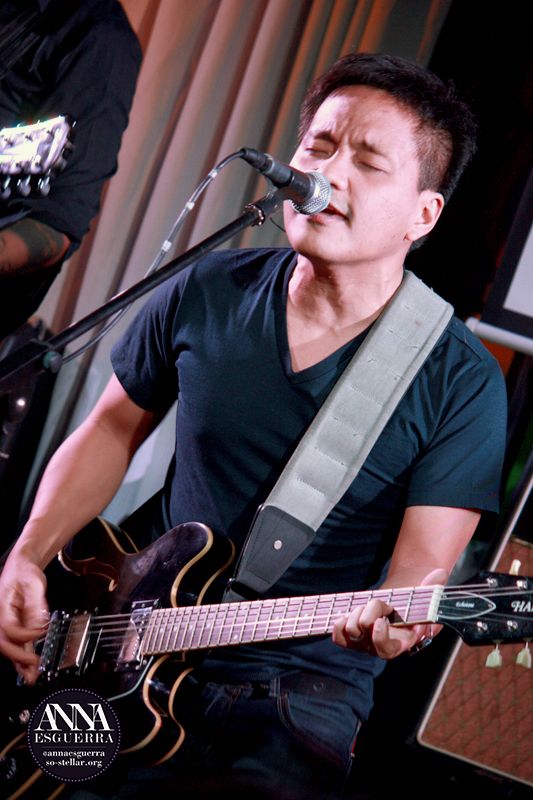 Ebe Dancel
Before the show, there were other bands that played before him.. Unfortunately, I only got there just in time when it was Ebe Dancel's turn to perform. I anticipated to see his set, too, because I have never seen his band live. This would be a nice treat for myself who is an occasional listener of Sugarfree. He sang around 5 songs, I think. I was busy taking photos, but my friend who was with me recorded a couple of videos. 🙂 I don't know why I kept insisting that he would sing "Cuida" in my mind, but the reality of it is: He didn't sing it. Aww. I remember he sang a couple of hits from Sugarfree, the rest I couldn't remember the titles because it did not sound familiar to me. My bad.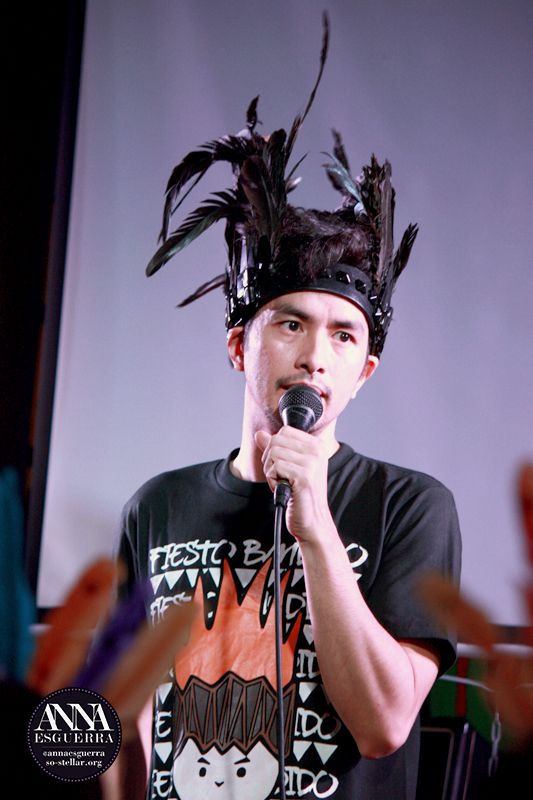 Rico Blanco
Spiels, games, and presentations happened in between the sets of the first bands who performed before Rico. One of the highlights were the birthday dedication program(?) and the best headdress contest. People anticipated the latter the most, because a set of Marshall headphones would be given to the chosen person with the best headdress. It's quite obvious in the photo who won the headphones, hehe.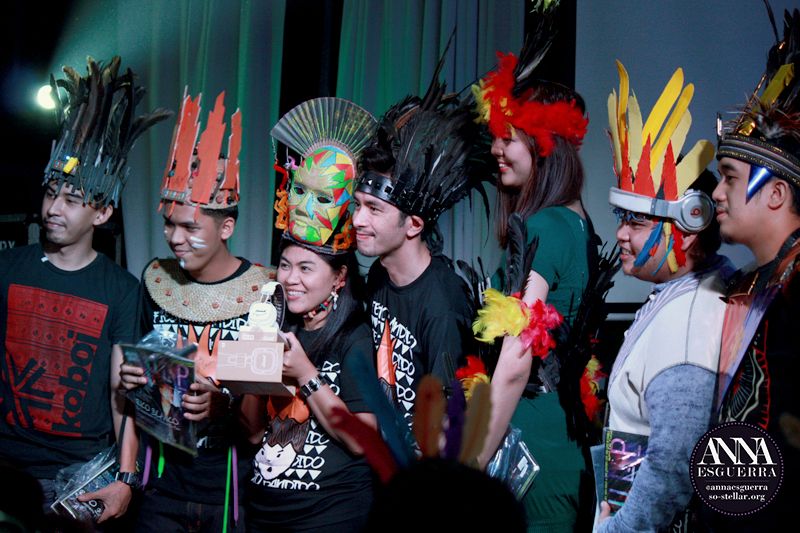 Rico Blanco w/ the contestants and the winner of Marshall headphones
As for the birthday dedication part.. a certain number of people were selected to go up on stage and greet Rico and say their birthday wishes to him, then hold the lighted cupcake for him to blow. :)) My friends and I were part of the group. It was probably the most spontaneous thing that happened to us that night. We were unprepared and nervous because we are horrible public speakers (haha, okay I only speak for myself!!). In the end, I think we managed to say our birthday wishes to him, and not choke and embarrass ourselves. For me, I felt like I stuttered, as always. =))
Rico & myself, haha (Photo credit: Clarizze)
Alright.. now to the show proper.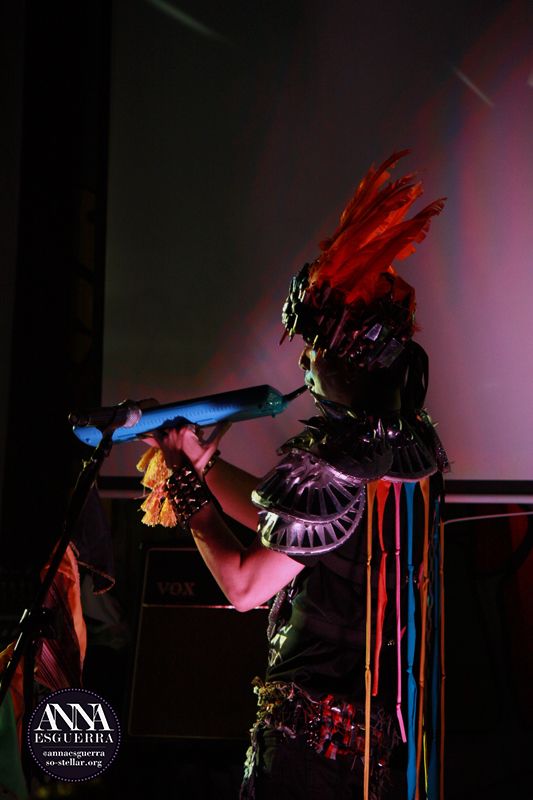 Since this is my *very first* show that I am going to see him as Fiesto Bandido, I paid close attention to the whole set. Like I mentioned earlier, I am stunned by everything about it. I felt like a spectator to something that's completely foreign and new to me.. but it was so cool to look at and just watch and observe. :))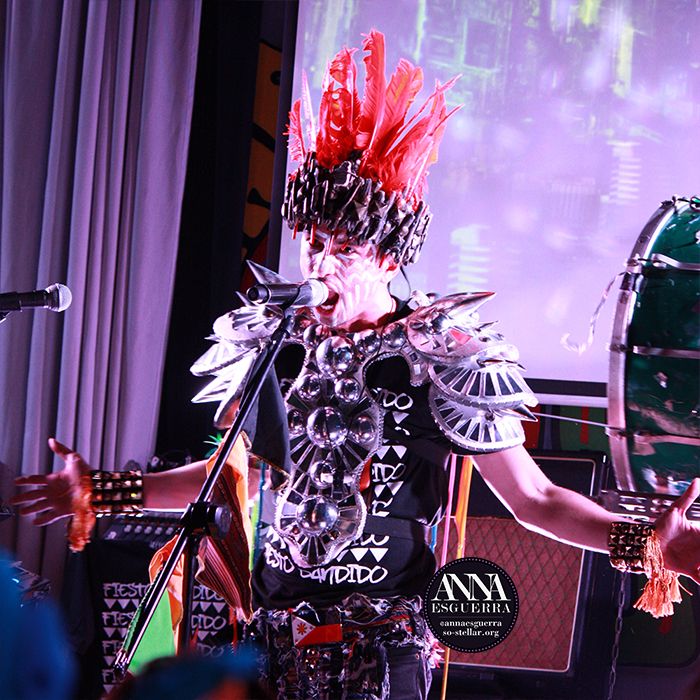 I just want to say, before I forget, mad props to the Fiesto costume, like seriously. :)) That must weigh a ton, the chest metal thingo IDK what it's called, or not.. looks so well made, too! Basta, amused lang ako ok! I am out of words to describe his Fiesto suit. It does scream "Filipino pride" all over, doesn't it?? Haha. Also, it looks handcrafted down to the last detail.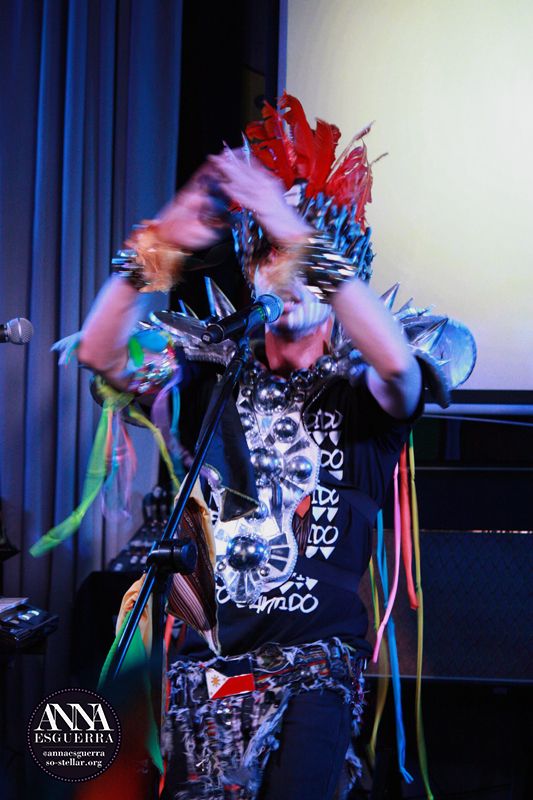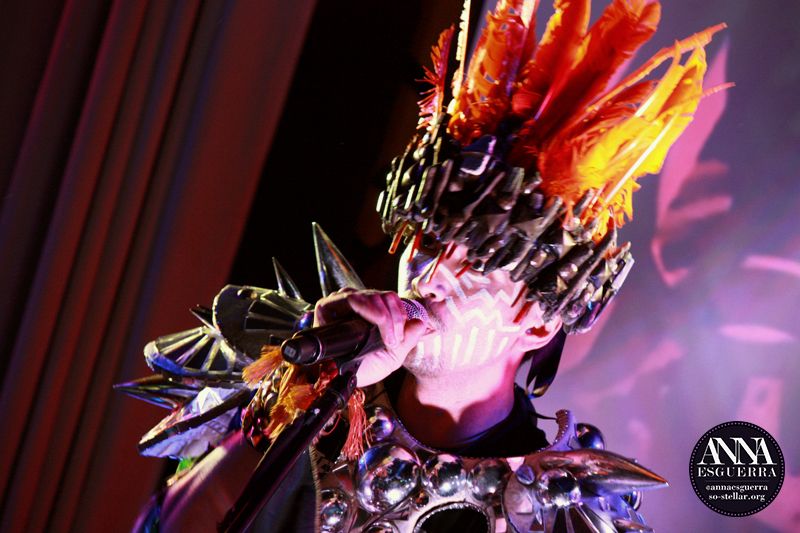 Things went crazy when he sang "Sayaw". That explains why these two photos on top are blurry. I don't have videos to prove my point but basically nearly everyone in the bar stood up and started dancing in their own way. Sadly, I was sober, and aware that I dance awkwardly so I was in the corner and mimicking small moves like how Simon from Misfits does in the dance floor just so I won't stand out and be called out. =))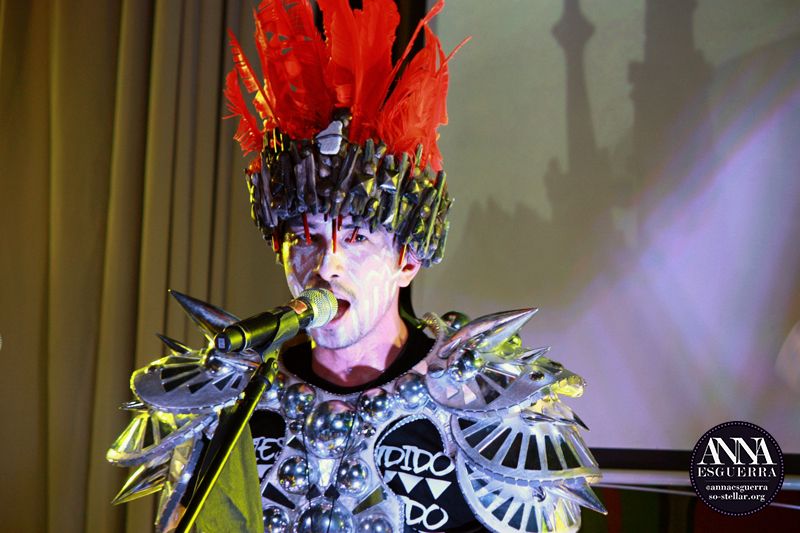 Prior to that crazy moment, he performed a couple of medleys, from Rivermaya songs, to songs that was on his first (Your Universe) up to the recent (Galactik Fiestamatik) solo album. Personally, my highlights in this part would be that he played Your Universe, 214, Yugto, Panahon Nanaman.. mostly hearing old, and really old songs again. Hit me right in the nostalgic feels, aww. :)) I love the laser light effect they did during Your Universe. It's as if light beams were coming out of his metal chest piece. :)) I don't have a picture of it though!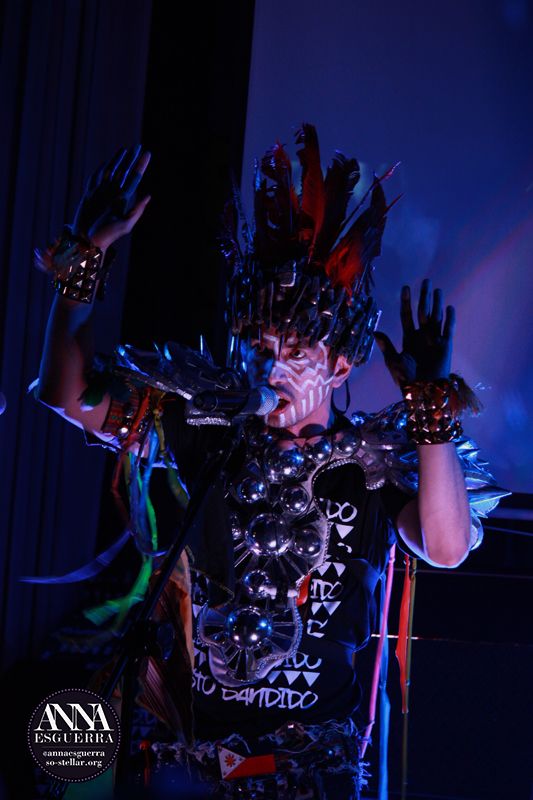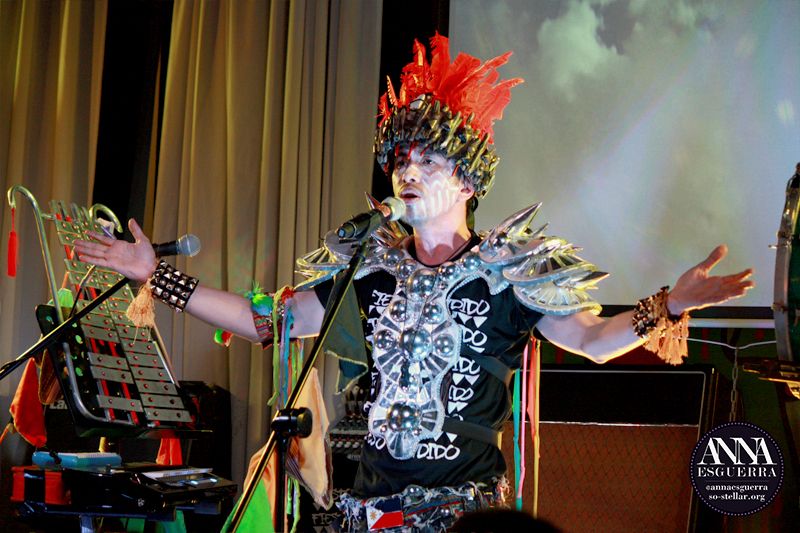 I hope this won't be the last Rico Blanco gig that I go to this year. If you want to let loose, just go to one of his shows, and by the end of it you'll be feeling like a brand new energized person again. Hahaha.
What's fulfilling for me AFTER going to this show, however, was seeing the people I brought with me with happy smiles plastered on their faces. Hannah, for one, was so glad she went because apparently, she likes Rico's "Yugto" song so much and hearing it live for the first time was like an achievement unlocked moment for her. This is also Clarizze's first RB gig, and she had fun.. I'm sure. 😉 I feel a little bad that they didn't get to meet Rico and have a photo op with him though. 🙁 Hopefully next time!!
PS: I will be uploading the photos on my FB page soon. 😛 Just wanted to get the post published first. Thanks for taking the time to read everything, bye!
Next show I will be watching is Demi Lovato's! Wish me luck..? Or not. :)) Whatever. And no, I didn't win any ticket nor meet and greet passes ..not even a soundcheck pass lol. A discounted ticket deal showed up like 5 hours ago and my friend and I grabbed the opportunity immediately. So stoked!!! Hope I can take nice photos during her show. 😀