A month ago, I shared a photo on Facebook from the Ayala Triangle park. I wanted so badly to go there because (in the photo) it looked so nice and very inviting. Look at it, doesn't it look warm, cozy, Christmas-y, and like.. it's calling you to just go there and watch the light show (that happens every 30 minutes)?! Because that's exactly how it made me feel when I saw that photo.
Got my wish granted last night. . . my friends and I finally visited this go-to attraction and I finally witnessed these lights with my very own eyes. Needless to say, it was a very exhausting experience that I lost my mood to enjoy it. 🙁 But at least I still got to see it, pwede na rin. I did not expect that this place is that much far from the Ayala malls.. plus we were going to this place and to Ayala back in forth in such a hurry (we had to catch a 7:55pm showing of a movie) so it really drained my energy both to enjoy and appreciate the whole thing.
PS: The post title is from one of Aly & Aj Michalka/78violet's songs. Video here.
I also made this my highlight of my holidays this year. Lol isn't that sad though? My "highlight" of this year's Christmas holiday is watching a spectacular light show instead of the usual EK-trip with friends, or or an out of the country/town trip with the family. Most of my friends are doing the latter, while I am here stuck at home and working in the holidays. I did not even have any Christmas parties to go to, or gift-buying/giving duties. Suddenly, it's starting to dawn on me that THIS IS SO SAD. Lol. You asked for it, now live with it. Okay.
I do like to appreciate the small things more so this light show somehow is a worthy cherry on top of my holiday.
What else happened last night? We watched The Hobbit (fell asleep in the first 30 minutes of it though.. LOL SORRY), and went to CUCINA ANDARE, a food truck market, outside G3. Kinda disappointed that I didn't get to try anything in the food truck market bec I was rly looking forward to it. The fact that we didn't have any tables to dine in (due to a lot of people were there, too) was sort of a big factor. Though I noticed this one food truck — Guactruck. It looked so familiar, and then I remembered this is the food truck with clever advertising going around Tumblr that I saw before.
NOW I REGRET NOT BUYING ANYTHING THERE!!!! I saw they had nachos, tacos (even soft taco!).. aaaah!!! I've got no one to go with back here to try it. Sighhhhh.
I would like to go to more food truck places/events in the future.. like the one in BGC, Mercato is it? But since that's too far (for me, anyway) Cucina Andare is enough.. hoping to go back soon before the year ends. I think this isn't a permanent thing and will only be available only until the holidays are over.
ANYWAY, PHOTOS.
I also have GIFs.. haha. They're not perfect, I know, just wanted to show you a glimpse of "action" from the lightshow. :)) My friend took a video of the show. I would've recorded the show, too, but my DSLR doesn't have video capabilities. Oh freakin' well, lol.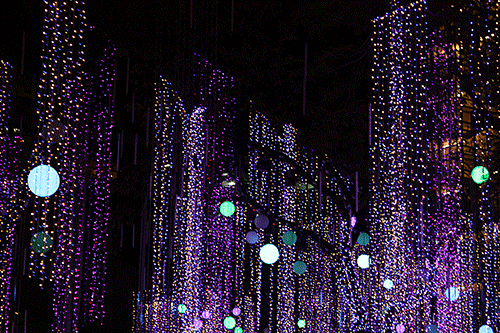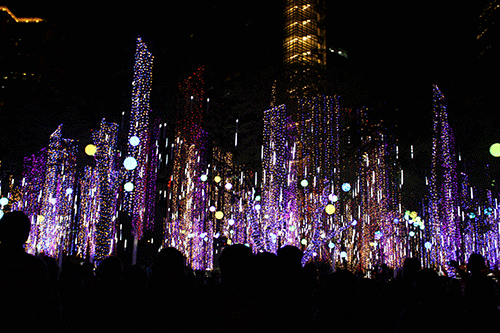 HAPPY HOLIDAYS, EVERYONE!!