I'm gonna be straightforward here and say that for this year, I have nothing special planned on my year-ender post like the last previous posts I made for the past 2 years that went by. I don't have any drafts, or any pretty graphics to put here to design my speshul year-ender post.
So I guess I'm just going to babble until I reach a decent length of paragraphs enough to be considered a "serious, lengthy, important-sounding year-ender blog entry".
OK, let's go.
2012 began as a cautious year for me. I was hospitalized the month before that, and I felt like 2012 should be the year where I should be really careful and start to live healthy. I was able to follow in that course for a short amount of time, but eventually I went back to my old habits.. up until this moment. Again, I am making this silly promise to myself to do a healthy way of living this coming year.. I don't know if I'll be able to keep up, or even begin at it again.
Come to think of it, that should be my only resolution for the new year. The only rules in this resolution is not to eat any meat, and sleep early. I've already broke rule #1 like 2 hours ago (hngh pasta) and #2 last night because I couldn't sleep (though I was in bed by 12 midnight). God.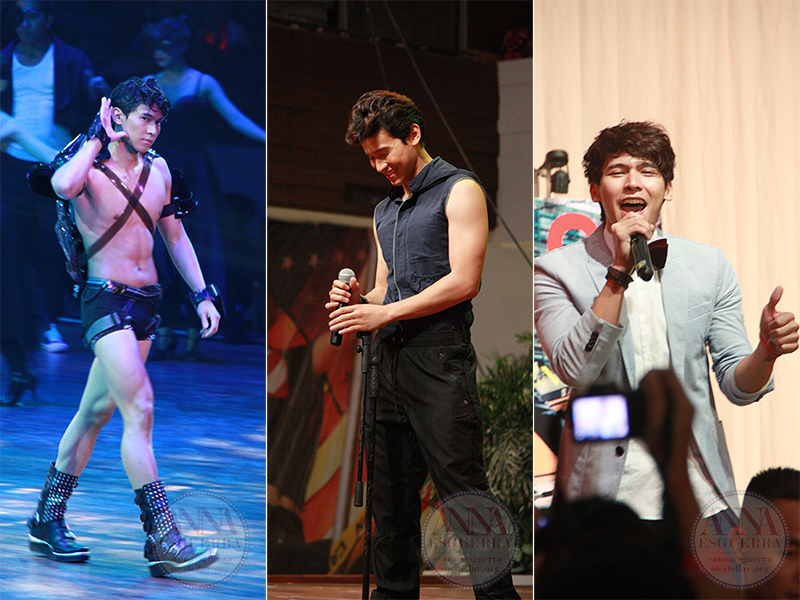 This year also gave me opportunities to go to a lot of events and meet new people. Some things that I never thought I would get to experience such as going to fashion shows, watching a noontime variety show as part of the studio audience, going to promotional events, were made possible by this group, and this man: the fangroup OED for Enchong Dee.
I got to watch 3 Bench fashion shows (the Coke-Bench fashion show, two shows during PFW and the most-awaited Benchuniverse), got to watch the noontime variety show ASAP as part of the live audience and went to a number of mall shows where he was a guest. I'm happy and grateful that I got to go to these events because I get to take lots of pictureesssss. So now I have like thousands of photos of him in every event that I've been to. Lol.
So fun.. I hope there's more in 2013.
Next, the concerts and members from bands that I got to meet in 2012. A lot of musicians, artists, famous people went to the Philippines this year. It's as if there's buzz every month about a celebrity coming over to visit (Zac Efron, Ian Somerhalder, Raina Hein, Allison Harvard, some of the Jenner kids to name a few).. but I was more excited for the bands who visited here. 😛
I've been to a few concerts, compared to the number of local events this year, but they still count nonetheless. At the top of my head, I can recall.. watching Bush and Evanescence (meeting Evanescence, and Gavin Rossdale of Bush too!), meeting Isom Innis of Foster the People (but I didn't watch the show, heh), watching Lifehouse in concert for the 2nd time (got to meet the guys too, such nice fellas!! And they give out a great show!!), Dream Theater (with my friend, all the way from SG!! thanks a lot for inviting me to watch DT! unforgettable experience indeed), The Cranberries (lol this one I went through a lot only to get such measly crap experience in the end — I'm sorry, but yeah okay still a nice thing that I got to see them in a show), Hanson (watched their concert, but not really a fan, but enjoyed it nonetheless), watched Gym Class Heroes and Nelly Furtado (won tickets for this, hehe), met The Used, Chris Carraba, Alex de Leon of The Cab (all these happened during the Smash Project concert time).
Last but not the least.. Meeting the members of Smashing Pumpkins, getting invited to dine with them at dinner, and hanging out with Snow Patrol (and the entire Snow Patrol concert experience which is a definite A+++ in my book. If 2011's cherry on top of the cake was Incubus, these two bands take the cherry for this year!!
Hahahaha I lied tho.. I went to my archives to get the list of bands that I've watched in concert this year. 😛 I'm too lazy to link them in the post right now. Feel free to abuse my search field to the website's right side. It works, I assure you, unlike tumblr's useless search function for blogs.. don't even know why they have it if it fails to search thoroughly. /rant
Anyway…. mmm, I think that's all that I would like to highlight for this year. I'm running out of time to type this.. hahaha. I wanted to post this before 12 midnight and right now its' 11:24pm so, yeah. I shall end it here.
2012 kept me safe despite my knack for getting back into my old habits, I'm hoping 2013 will be the same. I'm starting to feel like random pain around my body more often than before. 😐
HAVE A HAPPY NEW YEAR, EVERYONE!