I wasn't supposed to go to this event because I was already swamped with stuff to do (freelance work, mostly).. but a day before the event, I "accidentally" signed myself up for it in the official registration form.
It was my friend who really wanted to go in the first place. We've submitted our forms and breathed a sigh of relief and expressed happiness because she'll finally get to go to one of E's events and meet him in person.. suddenly she asked me on what day will that be on. "Tomorrow," I said. Then, things got messed up. Really, I'm more thrilled when one of my friends will be the one who will (finally) meet him. Haha.. maybe next time then.
Lol. So in the end, she couldn't go anymore because of prior commitments and I thought it would be embarrassing on my part to have filled out the form but not show myself. I'm like "what the hell, okay I'll go.. I'd like to see my friends who will be there, too, anyway".
From the previous clips of the first E-Day two years ago, it looked pretty crowded and wild, that's why I was hesitant to go to this one. Strangely, this one was a lot more calm and properly organized. But you can never take away the excited screams from the fangirls the moment Enchong becomes visible around the area. =)) Not that I have a problem with that.
Anyhoo.. E-Day also coincided with the launch of his Preview Men magazine launch. AFAIK this is the first time that he's on the cover of this magazine.
I was in the first row, so I was confident that I wouldn't have problems with taking photos. But as soon as the show started, the crowd ran off to the front of the stage and took out their cameras, iPads, DSLRs and what not just to get a snap of Enchong. Quite annoyed (lol), I shrugged it off and I moved to the sides to get a better view, by the time he's singing the third song of his medley.
Let's just say this one is less crowded, but definitely just as noisy as the first one.
The songs were mostly from the Top 40s,  I don't really remember because I was busy taking photos.. hahaha. Um, there was a song by 1D and that Call Me Maybe song(?). Oh and he had an outfit for every song. Effort!
Yay, photos! Here are the outfits, and they're in order. I think I'm missing 1-2 outfits though? Hahaha.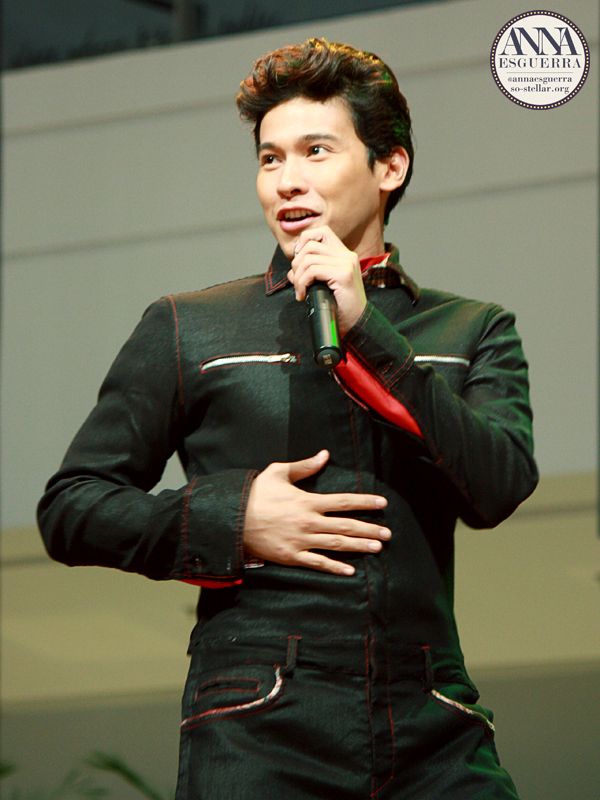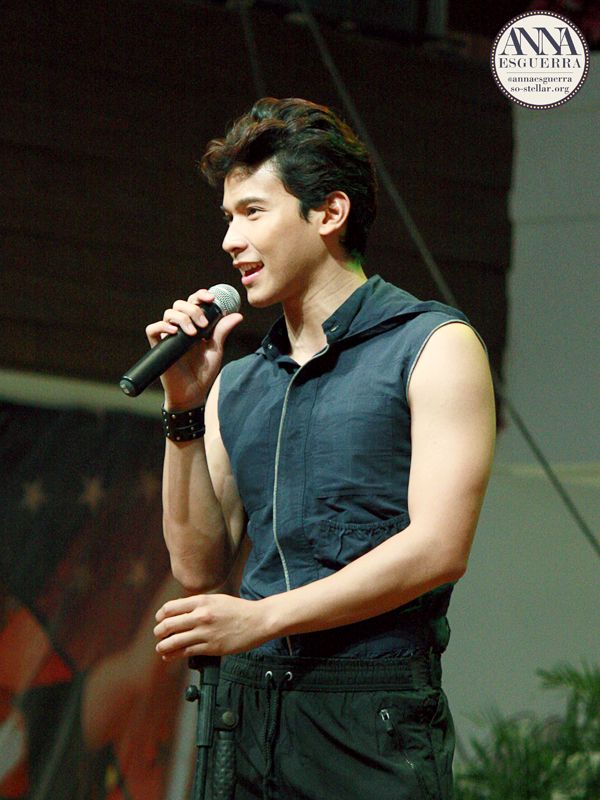 After his performance, he showed this video clip of him from his skydiving experience during his US Tour. It's his present daw to us, he said. :))
Next part of the program was the meet and greet slash autograph signing session for the magazine. I didn't get anything signed or went on to meet him this time. 😛 I hanged out with my friends and uhh trying to hide myself (not from him), though I obviously failed because I was in the front row. HAHAHA.
I did manage to snap a couple of photos from where he was.. Awww. S'thanks! 😀 You can say I felt a bit kilig that he's looking straight to my cam in some of these photos because that doesn't happen often. 😛 Thanks for being game for these photos, Enchong! Haha.