Even if you're just a casual listener of this band, I highly encourage you to watch them live because they do not disappoint! From the moment that my friend and I bought ourselves tickets to this show, I felt the need to be excited about it as the days to the "big day" came closer. They were only upperbox tickets, but that's okay since we were still nearer to stage. Local celebrity Anne Curtis even said it on her Twitter that their concert is definitely a must-see. She may not be my favorite singer, but she def has good taste in music. Haha.
A few weeks before the concert, I watched some of their videos on YouTube just so I have an idea on what to expect. First thing I noticed, of course, is how they sound live. Plus points if they do, and the videos showed that they sound just as great. I think that's my number one priority when it comes to watching concerts. . . if the band sounds just as great as they do on record. Not to worry, they are good! I cannot stress this enough. Videos won't do justice, you really have to be there to experience it. You won't regret it.
I didn't expect much, since I am just a casual listener. But I was sure that they sound just as great as on record. All I know is that after this, I would be less of a causal listener and be more of a fan of their music. I hope they play Run or The Planets Bend Between Us though, or maybe You Could Be Happy, or Dark Roman Wine! From what I researched, they rarely play these songs (especially the 2nd and 3rd song), but at our show we got Run. I'm sure I went a little batshit insane, screaming like a lunatic when I realized the intro they were playing is for that song. :)) First SP song I ever heard, from this compilation album called "Anti Idol".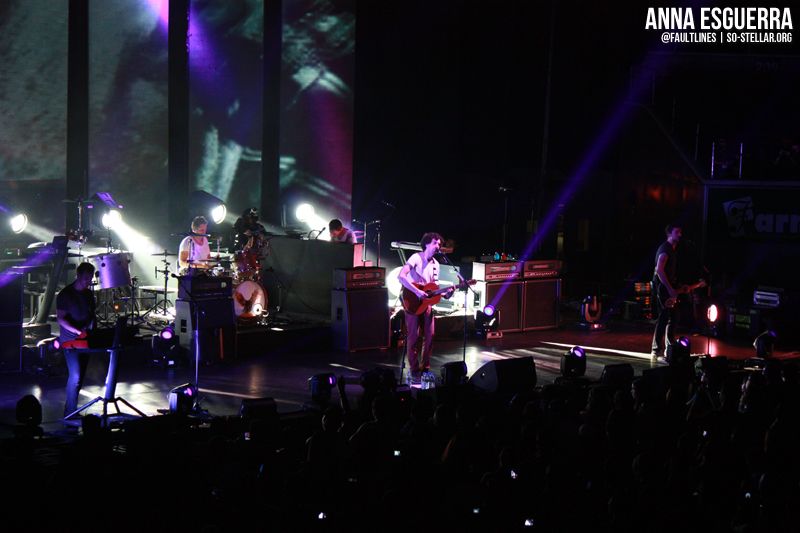 Fans and spectators went wild and cheered when the band came out on stage to perform. There was no opening band before them, thank goodness. :)) "Hands Open" was the first song and Gary looked like he just came out of nowhere, like a stray bullet, and sang his heart out. He does these strange and funny looking hand gestures when he's performing too. And there's his Jesus pose.. Oh well, maybe he's just feeling the song or something. ;)) For someone who mostly sings sad songs, he's crazy on stage. Nothing wrong with that, as a matter of fact, I like that he's crazy on stage. He even playfully flirted with their guest guitarist before the performance of "Crack the Shutters".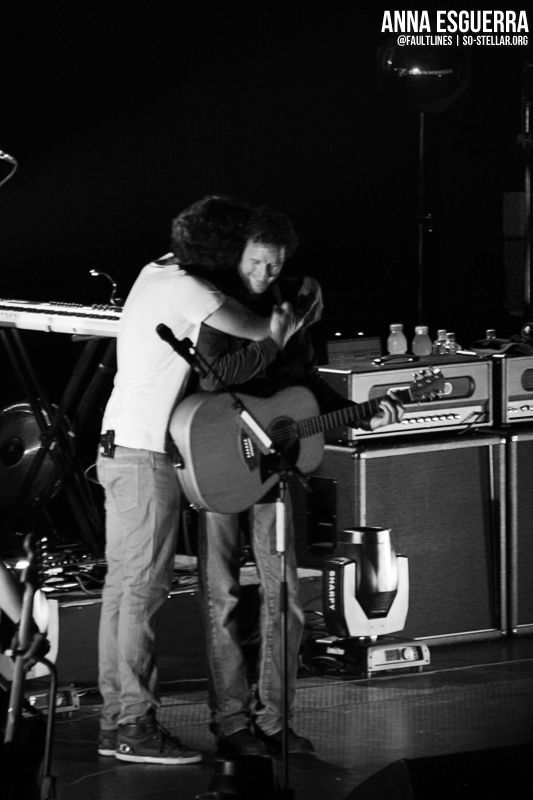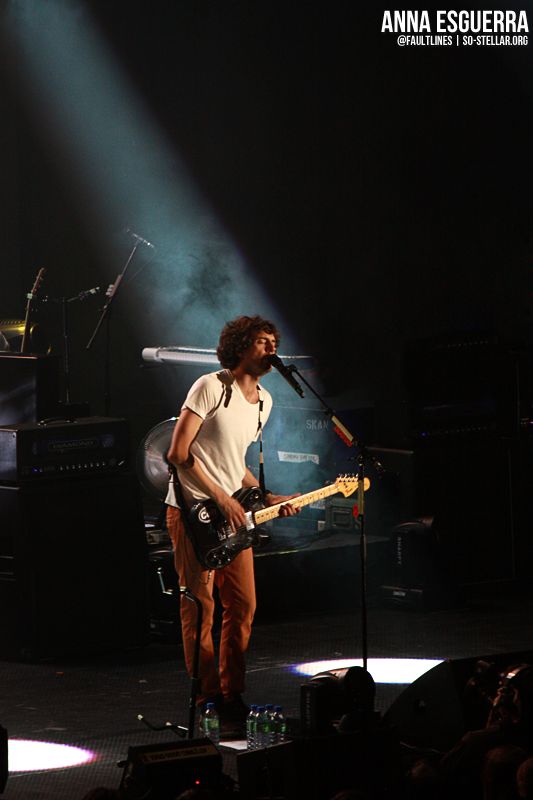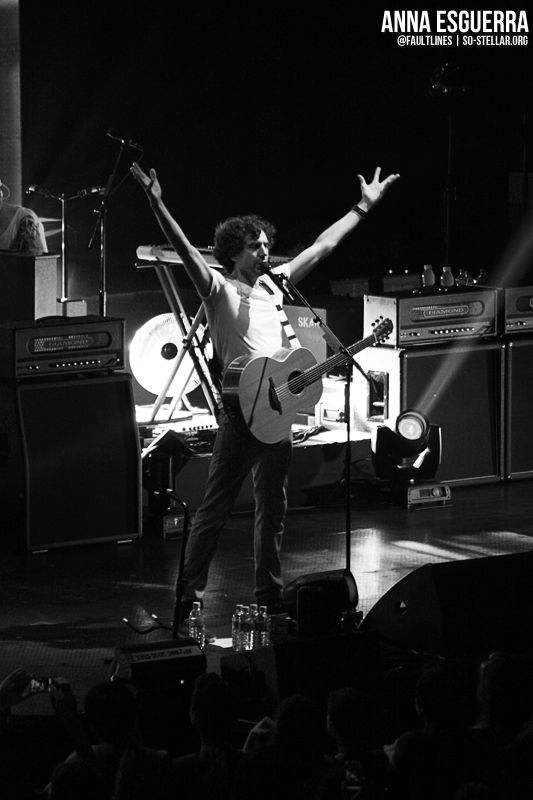 Since their visit here is to promote their recent album, "Fallen Empires", they played an array of songs from that album too. I like the titular track the most. "This is the part where we get crazy on the drums", said Gary before they played Fallen Empires. Stupid me didn't get a video of it though. Other than that, a lot of songs from Fallen Empires are good enough for me. I have been listening to it more than their other albums, tbh. ;)) From that album, they played "Lifening", "New York", "Fallen Empires", "Called Out in the Dark", "This isn't Everything You Are", "In The End". Hit singles such as "Chasing Cars", "Chocolate", "Hands Open" (first song), "Take Back the City", "Open Your Eyes", "Just Say Yes" (this was their last song) were played too. A lot of people were expecting to hear "Signal Fire", but they didn't play it. My bet is that they were not aware that this song is that popular here. Maybe next time we'll get to hear this. Gary, if you're reading this, don't forget okay! =))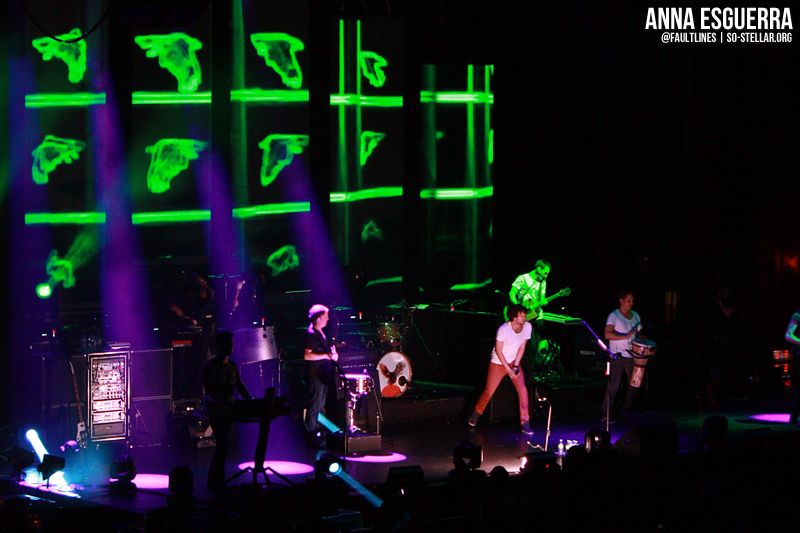 Snow Patrol during Fallen Empires
For me, what I enjoyed in watching their show aside from their performance and how Gary Lightbody interacted with the audience between songs, and the bands extreme stage presence and entertainment factor were the stage lighting and projector setup. Out of all the concerts, this is one that's memorable for the stage lighting and the screen featured nice visual effects that blended in closeups of the band members as well as the audience during the show.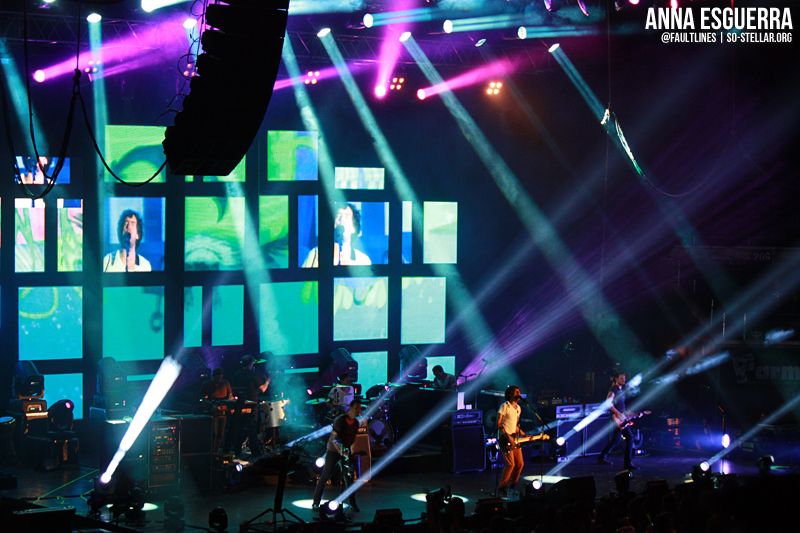 I also appreciated it when they sympathized with us, in regards to the tropical monsoon that happened during this week of the concert. . . and because of that, they offered their song "Lifening" to the Filipinos.
"I'd like to offer this song with our deepest respect and deepest sympathies to your country as a healing gesture at this time – to those who have lost their homes and indeed, their lives," said Gary.

"This song is about my family, and my home, and I can't think what it would be like if it was taken from me. I'd like to offer this song to all, out of respect to your grace, and your humanity, and your kindness. Thank you all. Thank you all. I'll never forget this," he finished, as the strains of "Lifening" wafted over the coliseum. (credit)
"Just Say Yes" was the last song that ended the concert on a happy note. I'd say this is the #1 fan-favorite song and most-awaited to be heard too.. cuz they went twice as wild as they did in the first song. :)) Me? I still wish they played Signal Fire instead. Hehe.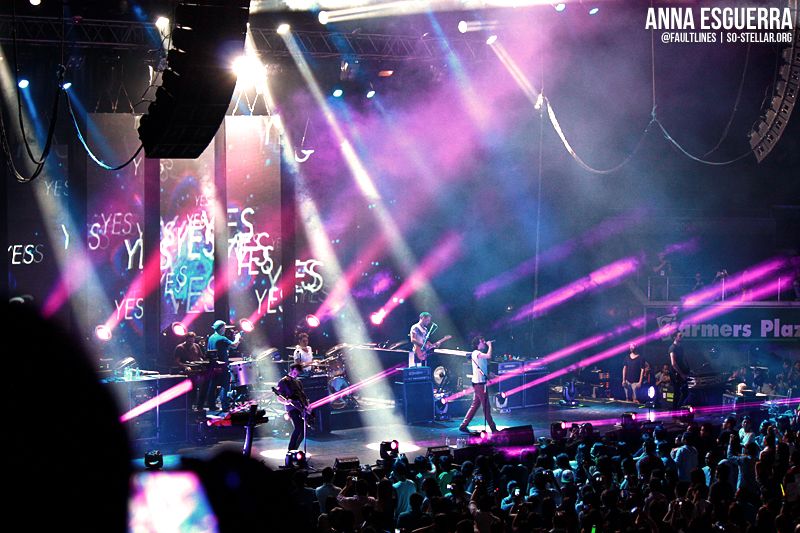 Snow Patrol during Just Say Yes
At the end of the show, this message showed up when the band cleared off the stage. Aww thanks guys, we love you too!! 🙂 (Especially you, Nathan. . . HAHA ;;) )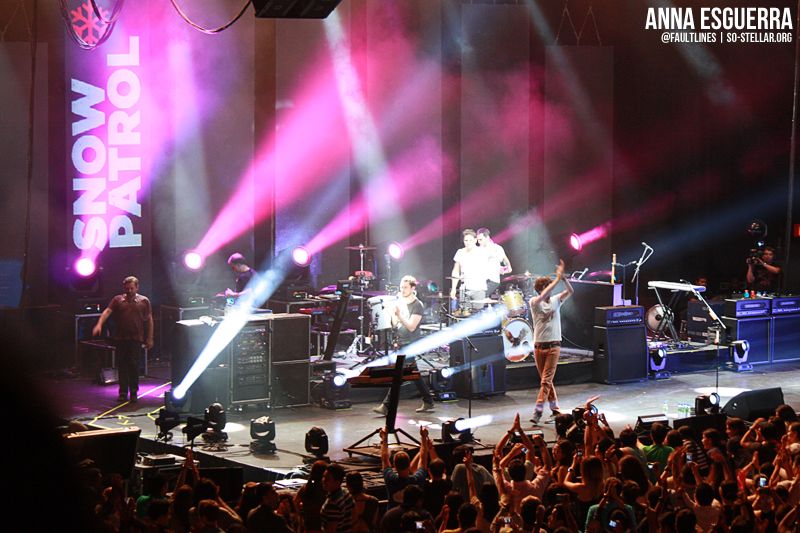 Snow Patrol Loves Manila!
My friends and I met the band too.. plus we met a new friend, too! Hi Pat H.! 🙂 I hope that's not the last time we'll see you, haha. Also, I owe Pablo a video of Tom but I doubt he even remembers that.. I just sorted all my Snow Patrol photos and videos recently, and the vid is quite big. Those two are so funny, Pablo makes fun of Tom a lot. I'll see if I can still show it to him. :)) Aaaand, I got to sign my Snow Patrol: Up To Now compilation album, too!
Meeting the band was an exciting experience for me since they're Irish, I get to hear the accent! whistling It was kinda hard to understand at first so we really had to pay attention when they were talking, especially during our conversation with Tom. We caught Tom at a time when he's very talkative, so we had a nice, long conversation with him. :)) We waited for them to take a break so we could approach them for a photo op but they were cool to call their friends to come out (after we talked to them) and talk with us for a while. They're such nice gentleman, too. 🙂 Thanks Snow Patrol for giving Manila a chance, I knew we wouldn't disappoint you! Come back soon! :))
There are more photos on this album in my SoStellarPH's FB page. 🙂 Feel free to share!!