In a world where OPM is "dead", and electronic/digital reading is beginning to be the preferred medium of people instead of print material, it's quite hard to pinpoint if books still have a bright future ahead. This is where the MIBF event comes in. This year marks as their 33rd in doing this event. . . from the website,
"…As one of the longest-running book fairs in Asia, the MIBF is also considered one of the most accessible venues for showcasing published works. Joining or expanding your presence at the MIBF can open your business to an audience of different generations, backgrounds and cultures. Reach out to this evergrowing crowd, dialogue with your customers and engage in a forum with your peers in the publishing industry."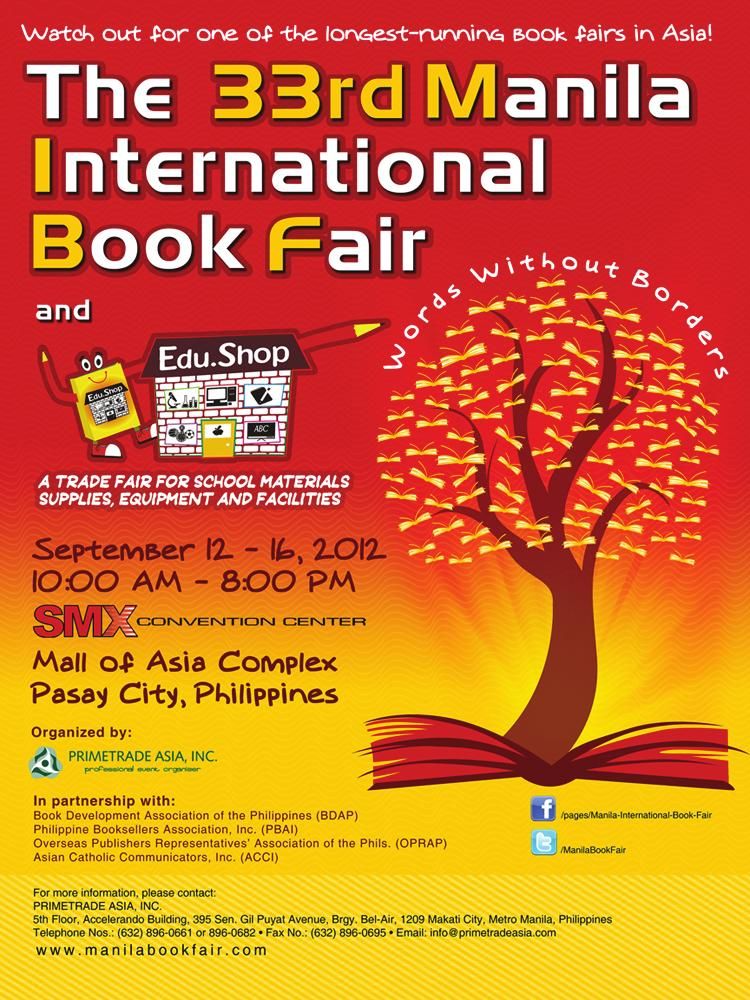 I'm glad that despite that, printed books are still here to stay for bookworms as well as occasional book readers. Not everyone can convert to electronic reading given how expensive these gadgets are and not everyone has computers for it. I like to think that I'm a bookworm, but not enough to be considered one. :)) I enjoy reading printed matter, playing the paper or the covers of a book as I read it through. Sometimes I buy a book for no reason, too. When I was little, whenever we go out, I was told I didn't leave the mall not until I am with a newly purchased book from the bookstore. Hahah. Oh gosh I'm such a nerd.
I've been to one of these fairs before. . . actually this may be becoming a yearly habit for me and some of my friends from college to go to this event since this will be our 2nd time attending one. The place is swarming with books! There are probably more than a million books there and hundreds of booths from book publishers. What I found to be a memorable memory to me about last year's MIBF was when we stumbled at this booth selling books by some guy named Hubbard, and one of the guys in that booth approached us an asked if they could ask us questions or interview us. It took me this long to realize that those books they had were probably about Scientology, and that man was probably going to do some sort of 20 questions to us and maybe somehow force us into that kind of thing. LOL. =)) That was close. I'll see on Saturday if they still have a booth in there.
One would expect that since this is a huuuuge bookfair, they would get to go home with a bag full of books. I see families, mostly, roam around with bags full of books and I look at them with a sad face because.. WHY CAN'T I HAVE A HAPPY MIBF EXPERIENCE LIKE THAT, TOO?! I would expect that would happen to me, too, but every time I go there it's either I only buy a couple or go home with nothing. I guess I'm too overwhelmed that when I step in, I completely forget what I'm supposed to buy and just roam around for hours, find books, and decide if I really want them that bad to buy them or not.
Like right now, I'm only 3 days away from going to the MIBF, and I haven't thought of a book that I would like to buy. I have decided that this Saturday, I shall buy books from our local writers! My friend shared a post to me that Ramon Bautista will be launching his first book, so I'm looking forward to that. I'm hoping I could buy Lourd de Veyra's book, too, and have him sign it. ;)) That's the book I've been putting off to buy for a long time, eh.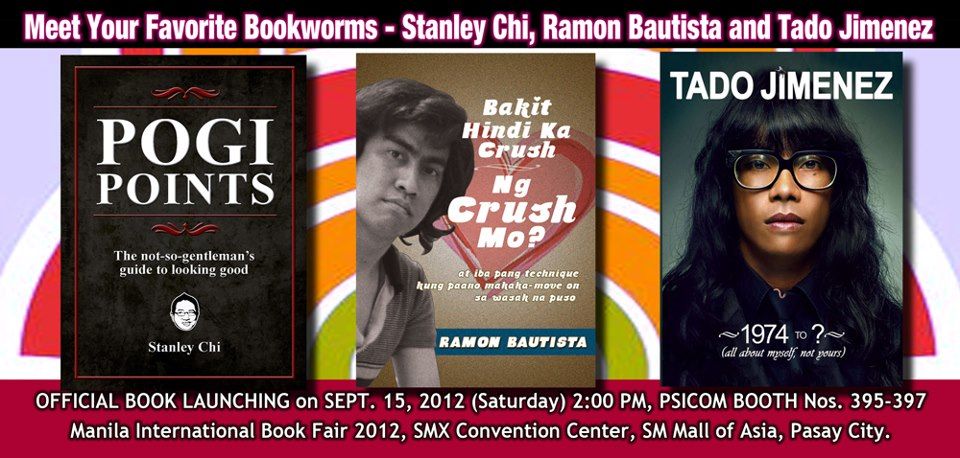 Hmm, apparently, they will all be having book signing sessions on Saturday. Great! We have to be quick though because LDV's booth is separate from Ramon's, and happening in the same time I think.
For the past few months, I've bought books that I wanted to buy, anyway. . . It was only a few weeks ago that I realized that I should've just hold off from buying them at their respective bookstores and should've saved them to be bought at the MIBF instead. Sayang. Wait, there's also the issue that books from authors such as Murakami are uber expensive so I should also consider a secondhand copy instead. Hello, eBay! I also found Up All Night in eBay, a book I -never- expected I would find there. I got it for cheap, and it was brand new (still in shrinkwrap), so yay!

Well, there's this David Levithan book that I want to buy, The Realm of Possibility. Maybe his new book, too, titled Every Day. I doubt they have those book, though. David Levithan books are hard to find in bookstores here, most of the time it's sold out, and they only care the well-known titles (like Will Grayson, Will Grayson).
For printed books, I only buy his short stories. I remember really pining to buy How We Met and going from one bookstore to another for it. It's like I had to go to through heaven and hell just to get that books! I finally did, in August, too, but I haven't finished (not even past 1 story) ever since I got it.
Today is the first day of MIBF. For sure a lot of people are already looming around the SMX convention area. I'm going on Saturday (post-birthday celebration too, maybe?). I hope that the books I want to buy are still available, and more importantly I hope I get to meet their respective authors. :)) Fangirl side is nudging me for photos and autographs, HAHA.
Here's a tip, if you would like to go and wondering where to get tickets/passes for MIBF, check out Adarna House for their free passes. 😉 Just print them out (there are 4 passes in one sheet), find friends to go with you, and you're set!