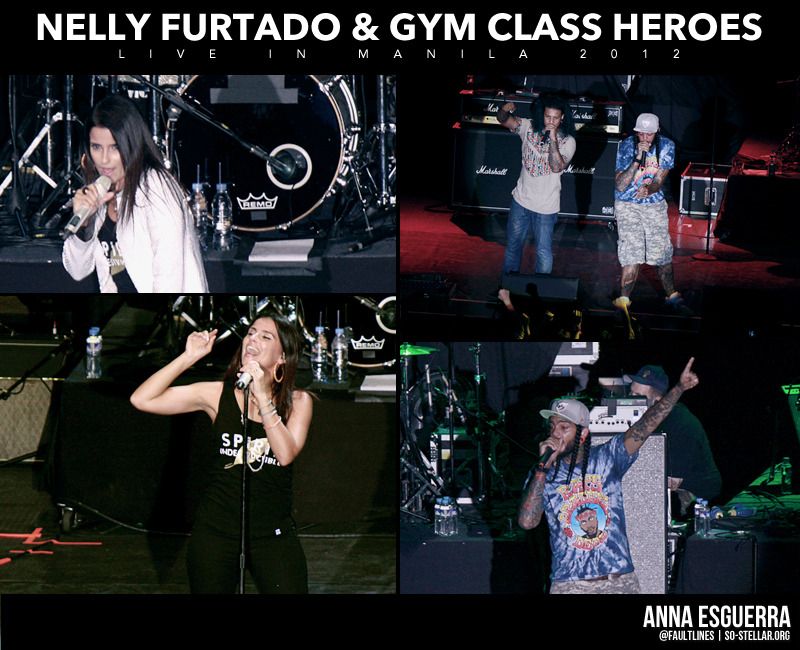 One of the shows this month that I never expected I would get to go to. Thanks, universe, for letting me win tickets to see this show. Not the best tickets though, as always. I seem to have bad luck when it comes to winning concert tickets. First time, I won general admission tickets. This time, they were upper B tickets. I think I'm getting close to winning big tickets!
LOL I DOUBT IT.
Glad I was able to find someone to come with me last minute.. thanks Syntia! :)) Hope this isn't too bad for your 2nd time in the big dome.
Since I/we didn't know a lot of songs from GCH, we looked forward to seeing Nelly perform her hits. The opening band (before GCH) weren't good, in my opinion. I don't know if it's because they lacked practice, they were picked up to open for this concert the last minute (don't quote me on this, I'm not really sure but from their performance it seemed like it), they were nervous (they looked like fresh out of school teens, and we even saw them practice hours before the show started!), the fact that the venue wasn't (even nearly) full maybe made them think that they can get away with this amateur performance (nope, you didn't, I noticed every flaw). I don't have photos of them. Their saving bullet is their vocalist, who made an appearance in Nelly's set (more on this later).
With that out of the way.. it was time for Gym Class Heroes to do their thing. As it turns out, they sound great live. Before you get angry, I've only heard of their "As Cruel As School Children" album, and that was a long time ago, and I have not listened to the albums that followed since then. My friend, wanted to hear that "Radiohead" song :)) ..she was talking about Stereo Hearts. I, while expecting that they wouldn't perform it since it's an old song, wanted to hear anything from ACASC album. I got Clothes Off. Not bad. I thought Travie would sing something from his solo album too, like Superbad (11:34), but they went with Billionaire instead since it's the popular track off that album. Hehe, actually, I've played Travie's solo record more than any of his GCH albums. On the plus side, I went home with this new song in my head, titled Martyrial Girl$. The music video for it came out just a couple of days ago. I loooove it! Time to go beyond their "As Cruel As School Children" album.
All in all they played 11 songs. I did my research, and they usually play fewer songs. Yay for adding more songs to our concert! 😛
Setlist: Show ▼
Nelly's set made me go "woah, Nelly!".. hahaha, jk. But it was fun and jumpy and exhilarating especially towards the end when she made us dance. :)) In-between her performances, there would be a guy dressed in what would suggest that he's a Native American and just hula-hoop and not give a fuck about the audience..  After one of Nelly's songs, she introduced him as Tony Duncan, World Champion Hoop Dancer. Didn't know there's such a thing until that night. Not only is he a hoop dancer, he plays the flute as well.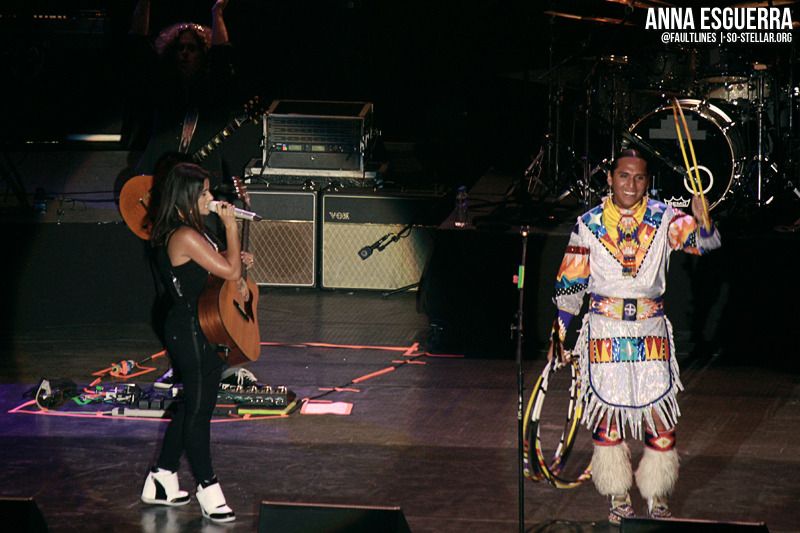 As the show continued, she performed her well-known, but old, songs such as "Powerless", "Try", "Give it to Me", "Maneater". My personal favorites, "Forca", "No Hay Igual", "All Good Things", and "Turn Off the Light" (a slow, reworked version, sounds 100x sexier hahaha) were played too.. THANK YOU NELLY FURTADO!!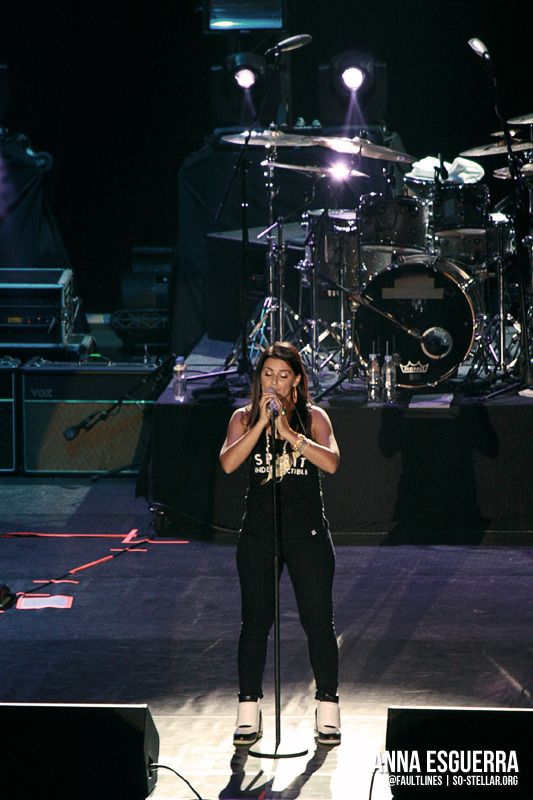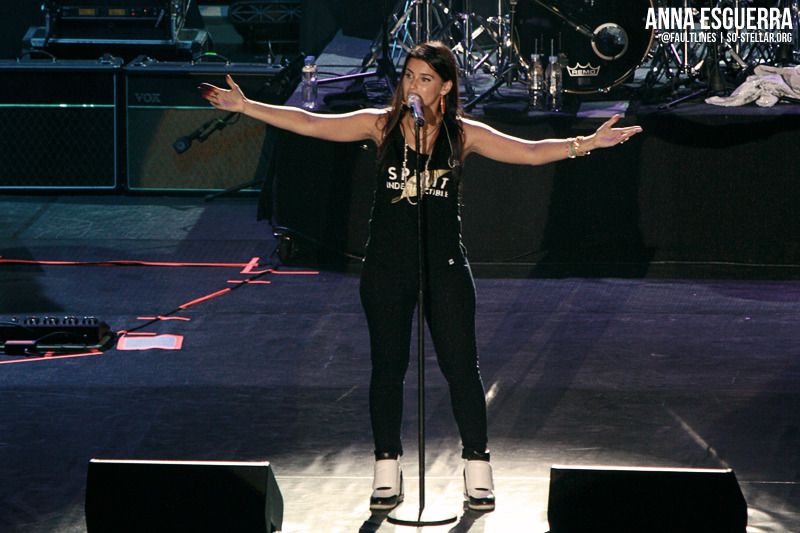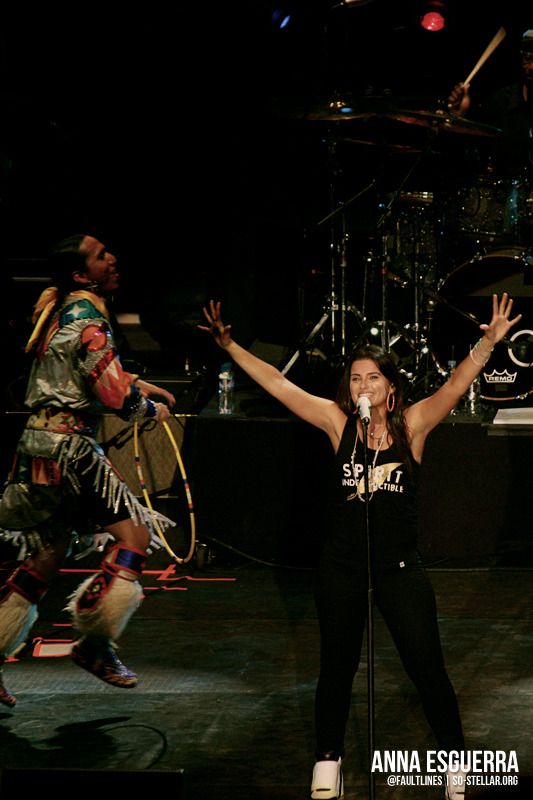 They also performed two singles off her upcoming album, Spirit Indestructible. Because it was played at the show, it is now stuck in my head. Been listening to "Big Hoops" and "Spirit Indestructible" ever since and I'm ecstatic to hear the rest of the album!
During the performance of "Big Hoops" and "Spirit Indestructible" (from what I can recall, but he'd be there if the song is danceable haha), Tony Duncan would be seen hula-hooping to the songs. :)) Not to disrespect or anything but it was quite funny because it looked like he was there to distract the crowd from Nelly sometimes. I got worried that he might hit her with them hoops or something, LOL.
Going back to our "amateur" band who opened the show.. their vocalist, had a duet with Nelly Furtado in "I'm Like A Bird". She sang the tagalog translation of some lines in the chorus, lol. That's it. I think Nelly was pretty impressed at how that one went down. Some people didn't find it too amusing, but it was alright for me. Hey, anything for resurrecting OPM, right? Haha.
In the second set, she had surprises to unveil to the crowd. First set comprised of her mellow songs and singles from the beginning of her career. Second set, people were off of their seats, dancing and jumping around to her danceable tracks. Good thing that happened, or I would've left that show with a heavy heart seeing that the crowd was meh and uninterested. FYI, the venue was not full, like it usually is when there are concerts held in there. To estimate it, there were hardly any people in the topmost level of the Araneta Coliseum. The lower levels weren't that full either.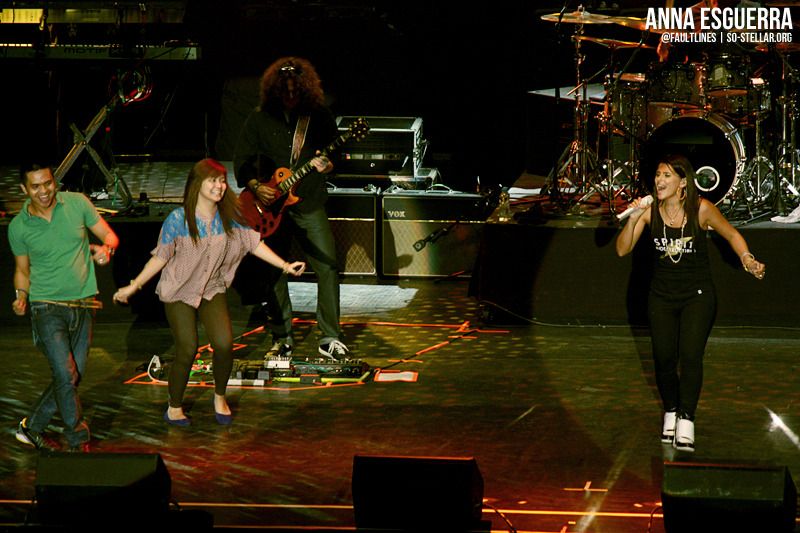 So these fans were invited to go on stage and party with Nelly during "Give It To Me" – "Jump".. Lucky them. I wonder if they were given the opportunity to personally meet her after the show, though? :)) By this time, the crowd was revived, and in the mood to party. But nothing could have prepare us for this..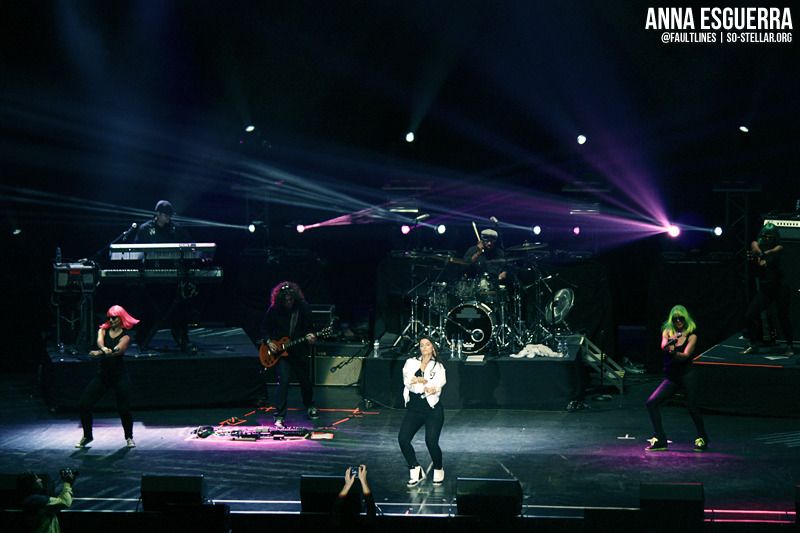 STOP THE PRESSES. NELLY FREAKIN' FURTADO IS INCORPORATING KPOP MUSIC TO HER STYLE!! Okay, calm down. Apparently, this is an old thing (like she's been doing this months before in her previous shows already) and I just found out about it recently. :)) Fuck, I didn't even know that this song is a kpop song in the first place if not for another post I found online about this concert talking about it.
So okay, this is super new to me and I am amused. I listened to PSY's Gangnam Style and moved on with my life. Move on before you get addicted to it. Hahahaha.
Nelly Furtado's setlist Show ▼
All in all, Nelly Furtado's set was good. Both artists were great. We had fun, that's what's important. You both did well! I hope you return here.. and hopefully, you'll have a bigger audience waiting for you when you come back. 🙂
PS: I have more photos from this show. I will be uploading them on my So Stellar's FB page shortly. Please like my blog's Facebook page? 🙂