Before anything else can I first just say that I REGRET NOT GOING TO THE FIRST EVER SMASHING PUMPKINS CONCERT IN THE PHILIPPINES! I do. I really, really do. They played the songs I wanted to hear live, they all looked dashing from the photos I've seen. The crowd looked responsive (save for the first half because I heard that during the Oceania set, they were quiet.. I'll take it as "they were trying to digest the music" kind of thing), and they went wild as soon as the band rolled out the greatest hits. As soon as they started hearing a familiar riff, they let themselves get ripped by it. Lol. Anyway!
To be fair, I did have plans to go to this show. I already have a portion of my savings intended for tickets to this show. But things happened.. And then the tropical depression happened and that crushed my chances of seeing them live. I gave up. "Maybe next time," I said to myself. They will come back, I just know it. No band has went here and never returned back after they witnessed how alive the Filipinos are in concerts as far as I know. I know the Pumpkins will love the crowd and they will miss us, therefore they will come back for a second show. =))
Now if you excuse me, I think I will plug my earphones on and put Oceania + Rotten Apples on loop and weep of regret for not buying sooner.
This experience may have happened, but to me going to the concert would have been more epic. But yeah, I wouldn't trade this experience any other way. What happened, happened. That's all there is to it. Thank you Mike Byrne for opening the door. Two girls owe you a drink. =)) Promise, he was the reason why all of this happened in the first place.
PS: I usually have photos as far as posts related to concerts/shows/bands but I didn't have much during this one. I was too star struck to even ask permission from the Billy Corgan who was just sitting next to me if I could take photos. Plus I didn't want to be rude. 🙁
I was supposed to write this post a day after it happened but I got too busy plus I had other events lined up and I had work to do for that. So in the middle of all that chaos, I had to remember, detail by detail, everything that happened so I can write about it here. Not to impress anyone or to brag about it, but for myself. Eventually in the next weeks/months/years to come, I will slowly forget the important details and it will just become a memory. Before that happens, at least I have someplace where I've written about it already.
Dear brain, please keep that memory in you for as long as you live. DO IT!
It all started with a wave. . .

Wednesday, 8th of August 2012, Shereen and I were stranded in this hotel where, apparently, two bands who will be having concerts at the Araneta this week are staying. Coincidentally both their band name's initials are SP. I'll leave it for you to guess who they are. SP1 was there staying, having drinks with their buddies a few tables away from us. SP2 are still out, playing a show for thousands of fans inside the big dome, probably having the time of their life as this is their first concert in Manila. I guess being stranded there was a right place, right time kind of thing because we can approach them (guys of SP1) and easily ask for a photo op + have my album signed.
So, for tonight we met the guitarist and bassist of SP1 and they were really nice and game for anything. Love it. Haha okay, story about SP1 ends here. This post is not about them. Wait for it soon. 😉
Fast forward to 6-7 hours later, we heard a buzz around the hotel lobby that the guys from SP2 aka Smashing Pumpkins are in the building and having late dinner in a restaurant at the back. Me and my friend were ready to leave (we've waited far too long for SP1's vocalist but his friends told him he might be asleep/prepping himself up for tomorrow's show) but we thought that maybe we could wait a little more and meet them (SP2) ourselves (even just one of the members) and maybe ask a photo or just introduce ourselves (LOL).
And then we saw Jeff Schroeder ("The Shredder") at the hotel desk talking to the staff. I think he was going to check himself out (wait does that sound grammatically correct? lol "check-out himself"? what nvm). I ran to him, introduced myself and politely asked if I could have a photo with him. He seemed a bit shy and soft spoken but he agreed to it. Cool, cool.
After my friend and I got photos, we went to the back to check out if the rest of the band were really there, like what the people around the hotel said. They were. And they were guarded, too. Jeff caught up with us and told us something along the lines of "if you wait a little longer, you might see someone come out" and he made that face as if he's saying "yes, Billy and the others are inside, and if you're patient, you'll get rewarded for it!" LOL. I told him "yeah, I know, we saw them ;).. we're just waiting for them to finish" and he looked like he had his smug face on and walked away. A lady blocked our way and said that if we wanted to meet them, we should just wait until they're done. Okay, no biggie, we can do that.
And then Mike Byrne comes in the picture and the next scene was history in the making. He casually made his way back to the restaurant, when I spontaneously called his name and waved at him.
Me: Hi, Mike! *enthusiastically waving at him* =))

Mike: Hey!

Me: 🙂 *still waving like an idiot from afar*

Mike: Would you like to join us inside?

Me: WHAT?? NO NO THAT'S OKAY, WE'LL WAIT FOR YOU TO FINISH.

Mike: Naw, that's okay! Come in!!

Me: U SRS!??

Mike: Yeah, sure! Come in!

Me: No really it's okay we'll just wait here.

Me (to my friend, Shereen): Is this really happening?!?
Before I knew it, I was inside the resto, a few feet away from their table and only the concert producer's looking after them was blocking us between the band. Mike's at the other side already, like he's in the promised land and we're stuck in the gates of hell. =)) Of course I had no intention to cause a scene so I just stood here and pointed at Mike and he's like "oh they're cool, they're with us" something like that.
Me, to the guy: 😛
When the guy finally let us pass through, there we were in front of the band. We obviously disturbed them, haha. Mike coolly went back to his seat and chatted with the guys. I didn't sit just yet, still puzzled from what just happened and confused why I was there. I heard someone say to take a seat. Turns out t'was Billy. Still in denial over everything, I politely refused. In the end, we finally sat with them. They were very welcoming and friendly, didn't feel intimidating at all. Shereen and I felt nervous ourselves though. Haha. They told us to order, too. Okay. They ask if I drink (alcohol, beer), and I said no because of a health condition. That was close. I was a little worried if they'd ask me more questions about that. :))
While we decide what to order, they asked us how we were.. I was there since the late afternoon while my friend got there as soon as she got off from work (yeee, thanks buddy!). Might as well to get stranded at a safe area where we could sleep in just in case worse comes to worse (aka floods won't subside), and maybe take the risk if we can see them in person since we already missed the show.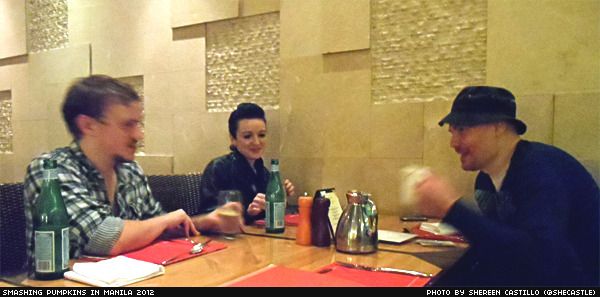 "So what are your names?" – @Billy
I don't remember if this was the first thing I said to "break the ice" between my friend and I and them but I remember asking how was the show, the crowd, etc. related to the show they just played in. Lol, I wasn't there in the show, remember? Thinking about it now, I think it was awkward to ask the band that kind of Q about their show when usually it's the people from the audience who should be asked that. =)) My bad.
Me and Shereen to the band: I/we really regret not going to your show last night. 🙁 We got stuck here and stuff and yeah. I/we heard that you guys played 29 songs last night (tonight? lol)! That's a LOT of songs.

Nicole: We did?

Me: Yeah..?

Billy and Mike: (adds something but I don't remember what it was, basta they were happy happy about it)

Me: Umm you did Oceania from front to back first, right? And followed by your old songs, right?

Band starts talking about the setlist, names a few songs and especially mentioning David Bowie's Space Oddity being a necessary/important track to play live simply because people need to remember that time/era(?) or at least be aware about it (Idk, something like that, it's THAT important to them)… same w/ Ava Adore, Cherub Rock.
It seems that I wouldn't shut up about my regret of not going, they brought the show to us. Or at least a piece of it. They improvised a song (that I only got a short video of, tsk) about dinner (or was it about Pinocchio?) hahahaha. Thanks you guys, at least for a minute there we got to hear you (Billy) sing and you (Nicole and Mike) play with your utensils instruments. =)) Mike comments about slipping in the dubstep part of it and then we start talking about dubstep. He really doesn't like dubstep, I tell you. Haha, well, there's decent dubstep and overly done dubstep (that causes dizziness and headache LOL).
Screencapped these from the video.. sorry they're a little dark. Better than nothing, right?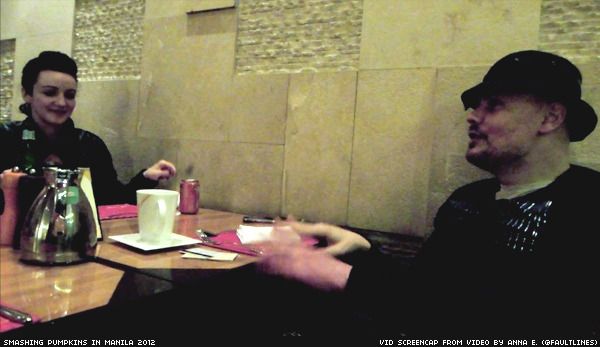 Billy starts off their impromptu performance by the table, trying to quickly come up with a tune :))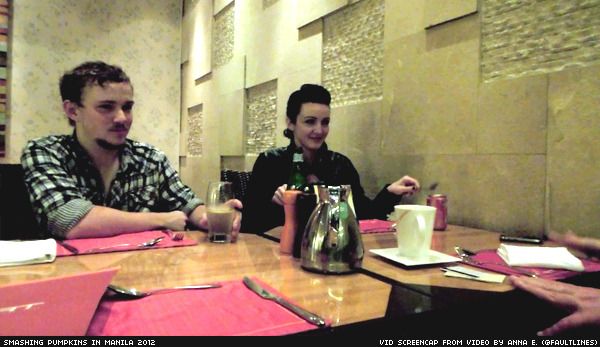 Nicole awkwardly tapping the bottles and her can of soda, Mike looks confused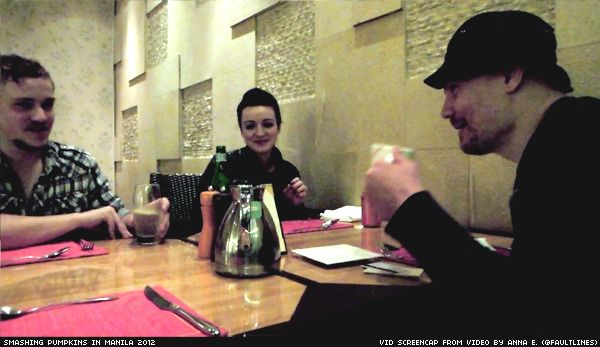 This was towards the end of the video. The only "photo" I have of the three of them together.
Me: So what were the songs in the setlist?

Billy goes through the setlist, after Oceania, I heard familiar titles like "Tonight, Tonight", "Disarm", "1979", "Cherub Rock" and when he got to saying "Today"..

Me: OMG I LOVE TODAY. DID YOU GUYS PLAY "RHINOCEROS", TOO?

Him: No, we didn't. But we could play it for you next time (if you like?).

Me: Aww, okay. Thanks? :3
I realize that my OMG moment with him is the most embarrassing that happened that night. I know. I picture myself looking at him with puppy dog eyes, looking desperate/crazy, all at the same time. Next time, control yourself gurl. :)) Thankfully, Billy did not laugh at me. :)) If anything, if we (my friend and I) were to do something silly during the entire dinner, they'd just brush it off or smile at us.. :))
Billy: So what are your names?

Shereen: I'm Shereen

Me: I'm Anna

Billy: What do you guys do? Are you still in school?

Shereen proceeds to saying she's working now and explains the nature of her job.

Me: Um I graduated just last year, last October. (I might've mentioned my course, too) I'm not working right now. Freelancing though.

Billy: Where'd you guys meet? Are you sisters?

Shereen and I look at each other.

Me/her: No, we're friends….

One of them, Nicole or was it Billy, points out that she looks like of Native American Indian(?) ancestry from her eyes. No one noticed my Asian-ness, SCORE! They thought I look more like half-Spanish, though. Um okay that's new lol.


Shereen: …We met in the Incubus Street Team.

She then proceeds to tell them that I do the graphics and designs for the team, plus the tshirts from the past projects before but I don't interrupt her because I got speechless and surprised and I don't think you should talk about that to them? What what's going on? Stop! :))
There was a follow up question after my friend just over pimped/hyped me to them. =)) No sorry, I am just a web and graphic designer. I am not that good. I can't even draw and paint properly. Traditional art is my weak spot; I'm so bad at it, it's embarrassing. I didn't say any of these to him. Billy told us about his interest in the pro wrestling business (this I didn't really understand at the time and my friend only told it to me after haha).
Mike, on the other hand, seemed to be underestimating himself and the fact that he's living the dream and that he has the job that many people his age would probably kill for to get it. :)) I can relate and understand what he meant by it. Except he actually has a "job" and well, I (still) don't. The thought that your friends are actually getting ahead in life, with their big time corporations and grand jobs at such a young age, while your job doesn't seem like a job to you.. you "only" play for a band.
Me: Are you serious right now? YOU ARE THE DRUMMER FOR THE SMASHING PUMPKINS. YOU HAVE THE COOLEST JOB EVER.
No, I wasn't yelling at him. LOL. But yeah, don't ever underestimate yourself. You're in that band, with them for a reason. You were chosen from a hundred people because they think you got what it takes. 😉 Can't really comment on his playing skills since I haven't seen them play live yet.
And these times when I apologized, again and again..
Me: Sorry for being so quiet, just so.. starstruck right now.

Me: Sorry for my bad English.

Nicole and the guys: 🙂 S'ok.
Somehow we got to talking about their new drummer, Mike, and his age. And then we were talking about age (as in how old are you, etc), this happened…
Me: I think we're about the same age (to Mike)

Mike: Yeah?

Me: I'm 22.

Nicole: Oh you are about the same age as him!

Billy: You look 10 to me.

Me: I know, I never look my age. 😐 🙁
And Mike finally recognized who the other guests in the hotel are.. (not his exact words, in this conversation, but "something like that")
Mike: I finally know who those guys are.. they're Tears For Fears

Billy: I know them..

Me: Ah yeah, they're staying here too.. we met them on our way here (to the restaurant). And they were chilling at the lobby lounge for a few hours now.

Billy: Did they invite you guys to join them?

Me/us: Uh, no. They were heavily guarded.. bouncers following both of them wherever they go.

Billy: (says something about them being cooler than TFF because they don't entertain other people like what they just did to us)

Us: :)) (FYI, you're the only ones who do this to fans so you're automatically cooler than them from the start, hahahaha — in my mind)
We asked them if they will be back here and they said they will. They really liked it here.. If they got to stay here a little longer, maybe they could've went to other places around the Philippines, even just a little farther from the city. I think the guys from The Used went to Tagaytay a day after their show here. Mike (again, lol he's so talkative) mentioned that on their first day here, they went to this bar in Malate. Shame they didn't end up in a music bar where the usually-good-but-unknown-bands play. 😛
Another topic of conversation we had were about drunk people and hangovers, and Billy said something, a new term that I can't remember that describes people who have hangovers the next day and the only way to remedy that is to consume more alcohol. He asks me if I know that word, and I'm like "no, I've never heard of it".. so he explains about it. :)) Thanks for educating me.
The rest of the hour, we were just listening to them talk and butt in to say a thing or two while finishing our drinks. We didn't order much since we've already bothered them, so we opted for drinks instead. Billy was kind enough to share a part of his meal to us. He said he didn't like it when food goes to waste.
Is it considered as eavesdropping even if we (my friend and I) are somehow part of the conversation, though we just listened and nodded in agreement most of the time, if I say that I picked up some newfound knowledge from them?
They talked about that time, which I'm sure that everyone can relate to, that when you meet a member of the band, you make "requests" or tell them to play this song, or that song.. and it's not that easy to do that. Like, you can't just come up to someone and tell them to do this or that. (I'm guilty of that, but I only did it once, hehe) Lesson learned.. (but, SP.. Landslide and Rhinoceros next time when you come back here, ayt? JUST KIDDING.)
I think it's sweet and thoughtful (whether it's Billy, or the other members of the band (Nicole, Mike, Jeff)) that they take the time to meet their fans. Only to receive comments about messages to pass along to Billy Corgan. IDK about you but I think that's a little rude. Come on guys, recognize their efforts to meet you. Billy is not the only person in this band. Same goes with other bands out there whose vocalist is the only person other people recognize.
Before, I usually think that when bands perform in concerts, they don't notice the people they're playing for. Well of course they see the mass of people, but I didn't think they would actually take notice them INDIVIDUALLY, especially their faces. Nicole, their bassist, said a man was glaring at her at the show as if to get her attention. And it's not a one-time thing, too. Apparently this happens in a lot of their shows, not just that kind of harassing move, but riots too. Yes, this all comes as new to me. Maybe next time I should get floor tickets to a show, lol.
Time came when they were finally close to finishing their meals and they're starting to feel sleepy and tired that they had to go to their rooms.. Nicole didn't look well and I noticed blood on her tissue. Poor bb's sick. Now, I just had to open my big mouth and say "Aww you guys are leaving now" complete with 🙁 face. So embarrassing.
Billy: We can take pictures after if you like.

Me: Yes please! 😀 (…………HUHUHU SELF GET A GRIP, ENOUGH WITH THE SPONTANEOUS REACTIONS)
A few minutes later, the dinner came to a close. We took pictures with them (the one w/ Jeff is from earlier) and they headed off.
Outside the restaurant, a group of friends were waiting for them (well, Billy only I guess since I saw the two walk past him and he was the only one there entertaining them) to get their Oceania albums signed. I took one last look at them, saw the two walk back to the elevators heading to their rooms and to Billy, who.. smiled but not really looking at us, though it looked like he knew we were looking at him, like he's saying "you guys take care now, ok?".
Billy. Corgan. Smiled.
That mental image of him smiling as he signed those albums is stuck in my mind forever (or, realistically speaking, for as long as my mind can? haha). I don't think anyone saw that except me and my friend. He doesn't smile that often, does he? I noticed in most photos he doesn't. Most photos of him with fans, he doesn't smile either, or in their promo photos either. Lol don't mind me making a big deal out of this.
Thank you, Smashing Pumpkins.
"We only wanted a picture (with them), but they gave us more than we could've imagined. Thanks @Billy, @SmashingPumpkin!!! Very, very grateful. Best night ever!" – Anna (@faultlines)
———
Epilogue
After that "experience", I think I at least owe it to them to listen beyond Rotten Apples and Oceania. I would classify myself as an occasional listener of them, if I have to. But now, I think I should find my way to their old albums. 😉 Oceania's alright, but since it's a new album, it would take me some time to like it. Um, Wildflower is one track that has stuck so far. Would be too late to get all their albums in their physical copies now, too. So there's that.
Prior to this, I wouldn't consider myself a fan. Just an occasional listener. My older brother is the one who listened to bands like this. At the time of their prime, I was probably listening to popstars like Britney and Christina =)).. It was only around the year 2007-2008 when I thought of listening to their songs other than "1979". That's the time that I got my hands on Rotten Apples. I wasn't even familiar of the members back then (nor did I have any idea that they've changed their lineup a couple of times). "Tonight, Tonight" (I didn't know the name of that song then) is that video of the Smashing Pumpkins that I saw first and I had mistaken it for "1979", it was that video with the big moon and looked like a theater play. Lol, ya. I didn't know the titles of their songs until recently, becauseeeee.. I put the album on loop/random and don't bother taking notice of the title. I know, I suck.
Oh and I remember my friend in highschool talking about them, and associating the vocalist with Rivermaya's then-vocalist, Bamboo Manalac, being a "Billy Corgan-looklike" or the "Billy Corgan of the Philippines" simply because he was bald, too, and that look became a "trademark" for both of them. :)) They don't even sound similar, so IDK where my friend got that. Would've been cool to have mentioned that to Billy during the dinner but at the same time it might be weird, so I didn't push through with the idea.
"You know, there was a band before, around the 90s, and their vocalist kinda looked like you.. well my friend thought he looked like you"
Yeah, I didn't think so. :)) Anyway, he (Bamboo) grew his hair out eventually, so he doesn't really resemble him anymore, lol.
Um, so this is getting very very long and I haven't even gotten to my conclusion. Here it is.
They're nice guys, and I'm not just saying that because they invited us to hangout with them. They don't have that "rock star vibe", they may be intimidating at first (once you get past "hfs that's Billy freaking Corgan!" part) but once you just talk to them they're like normal people, like everyone else. Like you and me. :)) Maybe we were there at the right place, right time, and that they were in a good mood to entertain us. Billy was like a dad because at the time when he asked how were we going to get home, he sounded so concerned, just like a father would. I reassured him that we'll get home safely and we did. I told him we would tweet him once we get home.
The next day I woke up and saw that Shereen texted me to check my twitter.. and I found this:

Needless to say, I think I fucked up any chance that I had regarding that. I gave him my portfolio link a week later. I doubt he's interested in viewing it anymore. No regrets though. I'm glad he asked about it because from that, he pushed, and motivated me to get off my lazy ass and finally update it. At the time, when he asked for it, I still had my old design portfolio from college. No way I would show him that. So I worked on it, for a week, and showed it to him. Maybe he saw it, maybe he didn't. But I didn't get any feedback from it. No big. At least he saw it, I think. I don't think it matters. But still, thank you Billy for motivating me to update my portfolio. 🙂
Until your next visit in the Philippines! Hopefully I'll get to watch you guys perform when that happens.