One of the highlights of our second day in Singapore last May was the concert of Dream Theater AKA the reason why I was in Singapore. :)) Again, thanks @clang_sy for inviting me over to watch this concert with me!
BTW, "A Dramatic Turn of Events" is the title of their most recent album and the name of this tour. Hence the title.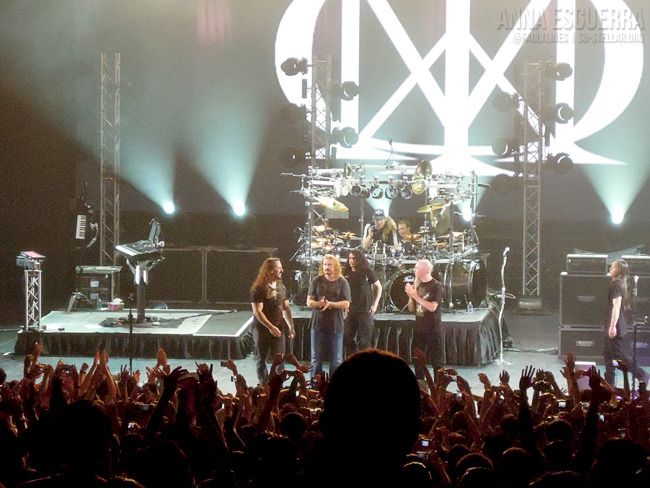 This is my first time to watch a progressive metal band live. I usually watch alternative rock bands in concerts, so yeah. As for the genre, not so much of a "newbie" at that one. I've watched Fuseboxx, a local prog band a couple of times and from there I got a grasp of what the music is about. You should check them out too especially now that they're gaining recognition in the progressive (genre) music community.
Yeah! So Day 2 is Dream Theater concert day. Going to the venue felt like we were in a mini Amazing Race competition (against no one, lol) because not only did we got stuck in traffic but we were dropped off in the wrong side of the venue and we got lost, too! Two teenage tourists getting lost in a foreign country. Wow, Taken-inspired much?
When we finally reached the venue (saw the crowd of people wearing black outfits from afar and immediately considered them as the concert goers), we were haggard and stuff and panting like dogs. We just wanted to get inside, to our seats and patiently wait for the band to come out and perform. Lol.
Turns out we arrived just in time. People suddenly started to queue when we got inside, but before we went to our line which is on the second floor.. we went to the merch table where @clang_sy got her Dream Theater tour photo book. Lucky here, that's the last copy.
Upstairs we queued to our respective line and got inside the The Kallang theater shortly. The theater itself reminded me a lot of our own Metropolitan Theater where the Wolfgang Live at the MET concert was held last year. It's definitely bigger, more spacious and the air conditioning is way better than ours, though. Haha.
Andy McGee opened up the show for us. I think I made a note-to-self to search for his discography that night. ;)) I dig his music, but for the overall theme of the night, I didn't think he was suitable for this show. At some point I felt sleepy. What made him so interesting to me is that foreign-looking instrument he used and his skillful plucking of said instument. Heh. Well at least he was there or I wouldn't have known of his music.
Dream Theater took a while to start their set.. as soon as the curtains were pulled off, Mangini's extended drum set was exposed and people reveled in it. We were pretty far but we still saw it, and lemme tell you: it looked very majestic. Before they came out, they played this animated intro clip. I asked my friend what's the music they're using in the background and she said it's "Dream Is Collapsing" from the Inception OST. It has been on repeat on my iTunes since then.
"Bridges in the Sky" was the first song. People went wild as soon as the guitar riffs and drums rolled away.. meanwhile, at the back, where the chill people are, we just watched as spectators and took photos. Sometimes, we sang along.. some songs my friend sang along.. while I just kept watching. I wasn't familiar with the lyrics at that time but I was so amused at their presence live and performance. :))
Fangirl-related part: As far as favorites go, I think John Myung would be my pick as a "favorite band member". I think it'll be a tie between him and Mike Mangini because he's such a sweet looking dude (reminds me of Mike from Incubus, hehe). Myung looks like the mysterious type. Ooh. Plus he's a badass bass player. Seeing John Petrucci play live is amazing, too. He used to be just a name that I hear among my friends who talk about bands.. that guy you see in DT videos on YouTube, but now he's more than that for me. Really amazing live, that man.
They also played "Build Me Up, Bring Me Down" which is an instant fave when I listened to their album prior to the show. I think this is their radio-friendly song (if only radio stations here would play songs from this genre), given by its catchy intro and easy to follow lyrics. 😛 Three more songs were played before they took a break and announced something..
Apparently, from the start of the first song up until the last one (before the break), they couldn't hear their instruments and the crowd. In short, they played the songs "blindly". Seeing the happy reaction from the audience gave them assurance that they sound OK so they continued with it until the 7th song. I'd say that was pretty awesome for them to play without any idea if they sound OK by accident and still pull it off so effortlessly. :)) So, while the tech fixes up the issues with the sound system, they did a short acoustic set for the meantime.
I like both the songs in their acoustic set. Both of them moved me, and for some reason that's a weird thing to associate with DT. :)) Like feeling sad, mournful, and remorse kind of moved. Does that even make sense? Go listen to Beneath The Surface!
In the second set, they performed 6 more songs..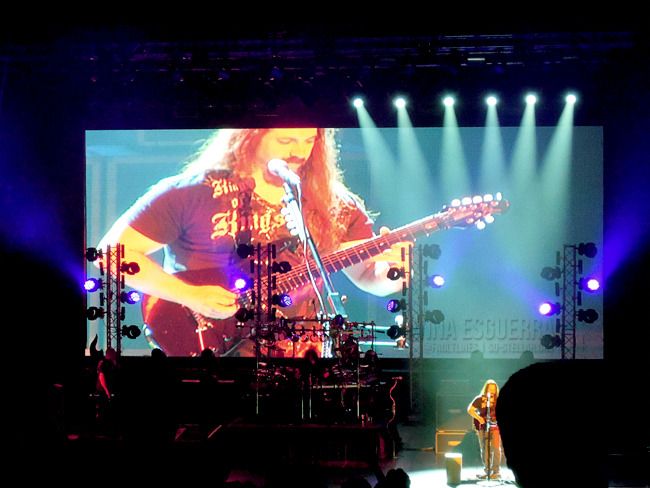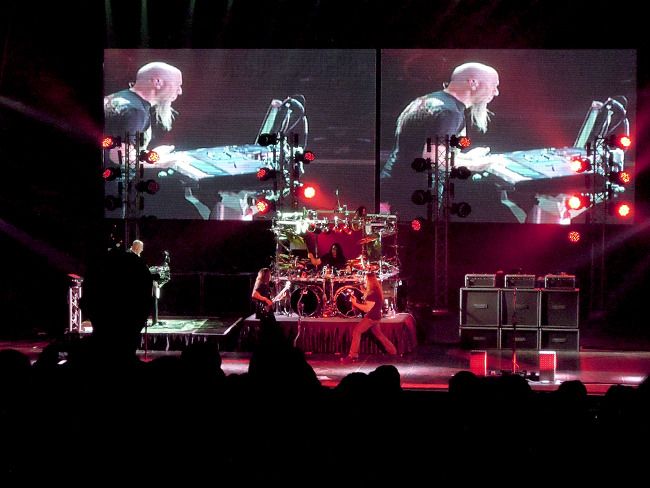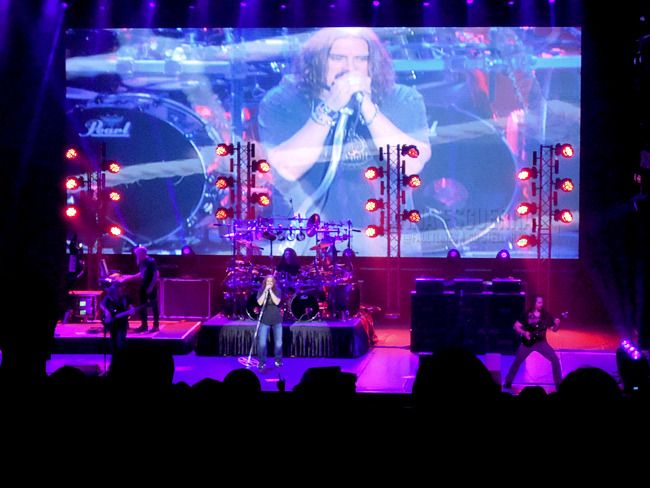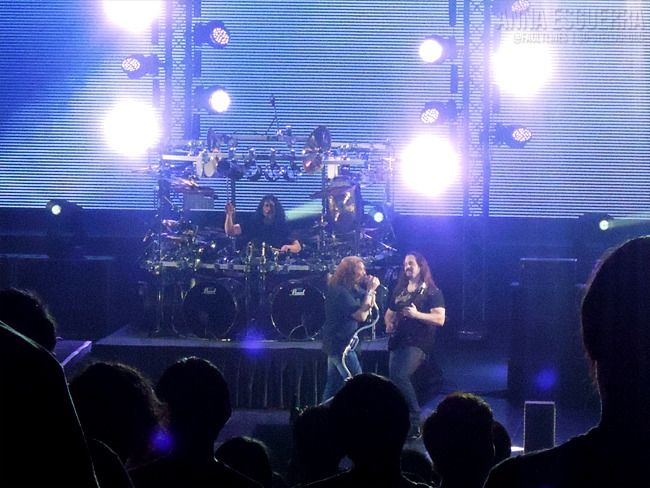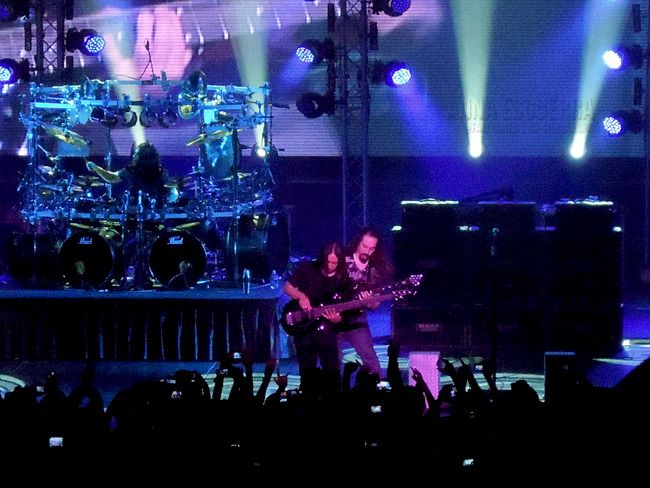 "Breaking The Illusions" is the 6th (last song) from the second set, encore was "Pull Me Under". Nice close to the show, Dream Theater! Here are photos from the end.. some bromance to be seen, as well. 😛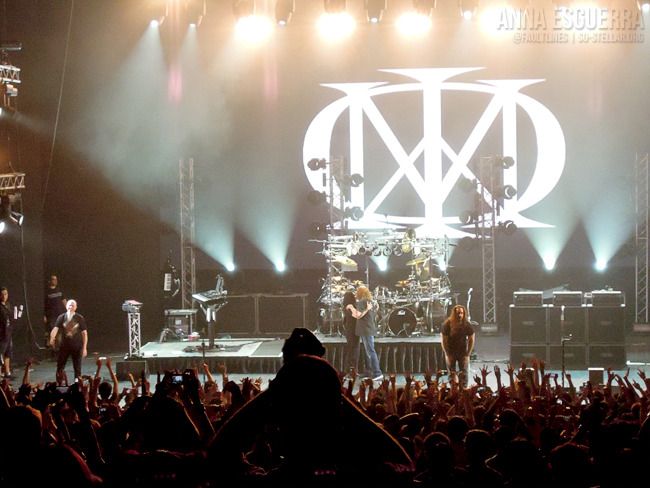 Great show, guys! I hope sometime in the near future, you'll swing by Manila and play for us too. I know a lot of people are waiting for your arrival here. Actually~ we were not the only ones who flew all the way from the Philippines just to watch them. We met a guy who's a Filipino and flew to SG just to see them. Another Filipino dude got lucky and scored himself a meet and greet pass.. now his visit and money spent on his SG visit was worth it!
Dream Theater Live at Kallang Theater, Singapore 2012
SETLIST
Bridges in the Sky
6:00
Build Me Up, Break Me down
Surrounded
The Root of All Evil
Drum Solo
A Fortune in Lies
The Silent Man (acoustic)
Beneath the Surface (acoustic)
Outcry
On the Backs of Angels
War Inside My Head
The Test that Stumped Them All
The Spirit Carries On
Breaking All Illusions
Pull Me Under (encore)