Yet another concert-related post from the last show I went to in the previous week! I seem to be on a roll with going to concerts, don't I? Rest assured that this phase will be over soon. For me, at least! :))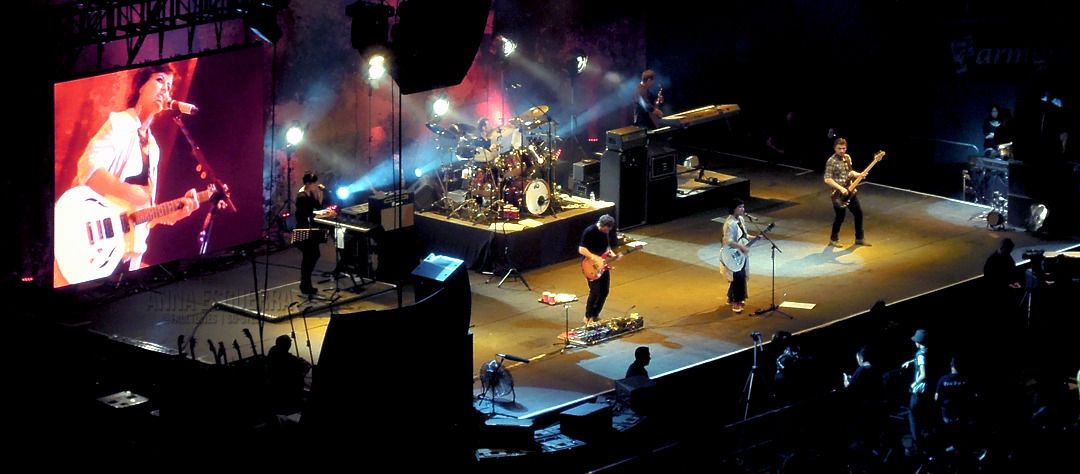 So last Tuesday was the concert of the Cranberries here in Manila. I had serious plans about this show 2 months ago, but all of them were scrapped and forgotten as the day of the concert came closer. First, the person who was treating us tickets to the show backed out the last minute. Second, I kinda reached some kind of personal quota for going to night events and staying up late so I was hesitant to go to this one. Third, I was supposed to watch this show with a group of friends that I've been dying to hang out with for a very long time. All those plans were thrown out of the window and I had to make ends meet for myself to get to watch this show.
Okay, so I was ready to give up and not go altogether.. but I thought, maybe it won't take long. It also said that the "show will start on time". I don't know why I even bought that story, no shows here EVER start on time. Then again.. maybe if I join some contests, I would win at least in one of them.
I joined contests, lots of them. Only to lose even at the last minute. I looked at it in a POV that I simply was not meant to be in that show that's why out of all the promos and contests I joined, I didn't win in either of them. Tuesday afternoon, I was at the mall but I decided to go home early.. then I got a note that some winner didn't want the tickets. That was my chance!
Fast forward to the results and how things turned out for me. Obviously, I was delighted and smiling from ear to ear that I will finally get to watch after all! The whole night I was in a carousel of emotions, mostly ranging from anger to frustration because of everything that happened. =))
As it turns out that the tickets were just general admission tickets. At that moment, my world fell apart. All that commuting, getting squished among people in the train (I hurriedly left the house to beat the rush hour, but I failed), money spent from the cab rides, the heat from commuting.. all that just for a pair of general admission tickets!
What the hell, man. At least you're going to watch them, AND you got them tickets for free. Now stop complaining and watch the show!
But but but! If I add up everything I spent just to get to the office where I was suppose to claim the tickets, it's way more than the actual cost of the tickets! 🙁
I guess I was still pretty lucky on that day because I was able to find a person who wanted to watch it with me, never mind the fact that I was treating this person to free gen. ad tickets. Thanks for saving me, P!!! 🙂
The next part of my entry will be about the show. I'm getting a little lazy cuz it's 10PM here so I will just put everything in a list.

I thought the sound system was bad. I couldn't pinpoint if it was the fact that I was in the general admission area (way, WAY far from the stage, obviously), or because the big dome wasn't full (maybe the sound was bouncing all over instead of getting mixed up with the noise from the crowd? IDK), or faulty sound tech people or machines. Even my friends who were fortunately seated upclose had the same sentiments.
Again, maybe it's because I'm in the gen. admission area OR I was too tired.. I didn't "feel" the show at all. I thought some of the people in my area felt the same way, too. Bored, just there for the sake of being there, seeing Dolores live, etc. It's my first time to be in that area, mind you. I was a little overwhelmed at first; thinking being in that area would be the worst of the worst. Like I wouldn't even see their faces, but I did! It wasn't that bad, being in the general admission area. Perhaps if they had fixed their sound system (Araneta or the fault of the roadies, I will never know), I would at least enjoy hearing the songs I wanted to hear if I won't get the privilege of seeing the band live.
A friend commented that the band didn't had any stage presence. I agree with her, but only a little. Part of it I blame being in the very far area. :)) I guess I just got used to being close to the stage and actually hearing the vocalist interact with the closer audience ok. Half the time it looked like they were doing soundcheck.
BEING IN THE GENERAL ADMISSION GIVES YOU A DISTORTED PERSPECTIVE, OKAY.
Not even the people I sat with looked like they were enjoying. They looked more like they are being spectators to the party happening down there. BTW, only the general admission, Upper A, B boxes were the full areas. Below that up to the patron area wasn't full. Like that matters, it wasn't even noticeable once the lights were dimmed and the show started. But I'm proud that my area was full hahaha.
Since I had no chance to enjoy the "visuals" of seeing these artists up close, I had to be contented with the sound.. but even that was a flop. Though I did hear most songs that I wanted to hear, I'm bothered (still) that I saw some songs in the setlist that I like that were played (such as "Tomorrow", what's worse is it came after "Linger"!) but since I couldn't hear them clearly, I had just shrugged that number and continued to chat with my companion that night lol.
I still wish I had the privilege of shooting them professionally that night. It sucks when you don't have any connections yet you are capable of using a DSLR and confident that you can shoot better.
As for the positive feedback for the show.. I am SO glad that I still got to go and watch them AND hear the songs I wanted to hear. I was surprised when they put Linger in the first batch of songs. To me, in a concert setlist, the popular tracks always, always go near the end. So yeah, that was a little bizarre. But that's okay, hearing Linger and Ode To My Family earlier on is cool because I had to leave early. Also, I mostly got goosebumps for every song they played that I know. Feelsgoodman.jpg
I was waiting for Stars, too bad they didn't perform it! 🙁 The other songs that I wanted to hear were: Stars, Hollywood, You & Me.
I left around 10pm and did not finish the show. I think Schizophrenic Playboys was my last song. Not too bad, that was the 17th song. They played 22 all in all. I applaud of their setlist!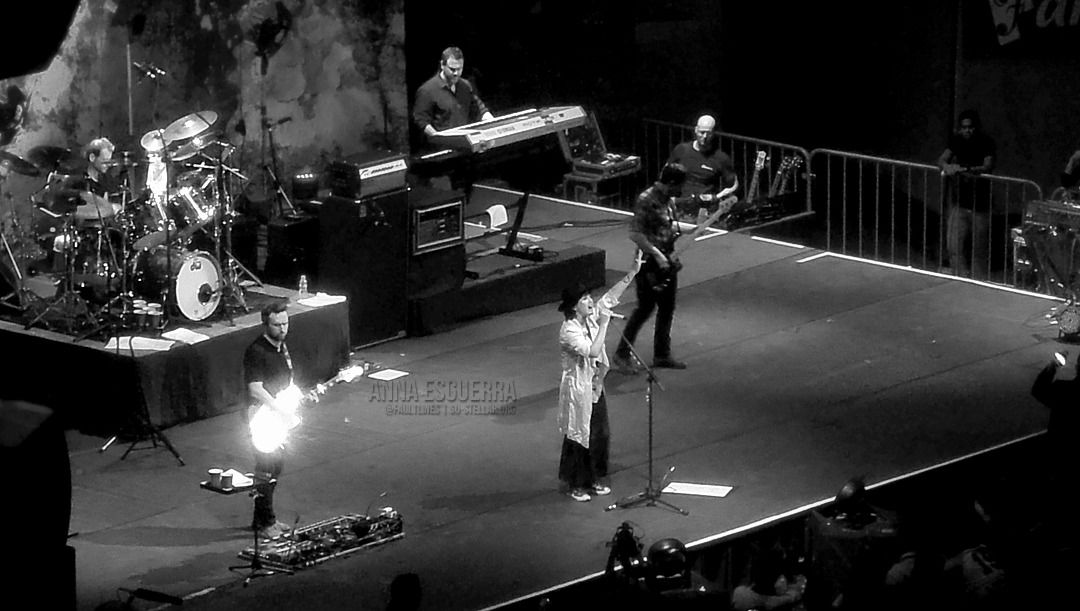 Got in for free, although at the very back (general admission). Still, it beats than not getting to watch at all. And this is the Cranberries! A band of my generation, the 90s! No way I was going to let myself miss that chance. They will probably not come back here for another 5 years or so, at least I took the chance. 🙂 Another band to add to my list of bands I've seen in the flesh and watched their concert live, then. Haha.

Here's their setlist
Set List: (Thanks to ricksinz and xusersx from PinoyExchange forums)
1. Dreams
2. Linger
3. Tomorrow
4. How
5. Animal Instinct
6. Just My Imagination
7. Ode To My Family
8. Put Me Down
9. Analyse
10. Desperate Andy
11. Daffodil Lament
12. When You're Gone
13. I Can't Be With You
14. Waltzing Back
15. Raining In My Heart
16. Free To Decide
17. Schizophrenic Playboys
18. Ridiculous Thoughts
19. Zombie
Encore:
1. Conduct
2. Losing my mind
3. Salvation
Now, if you're going to ask me if I have any plans to go to Lady GaGa's concert.. let me break it to you: NOPE. :)) Not only is it super expensive, I just don't like her that much anymore. I am curious how that show will turn out, though. There is a show in mind that I want to go to in June, hopefully that will be my last. I seriously need to find a job after that, hahaha.
Perhaps one of you generous readers who might have any connection to a company that produces concerts would like to try hiring me to do a photography coverage of a concert? 😛 I don't have a strong live events photography portfolio cuz obviously concerts don't allow their audience to bring DSLR, but I am confident that I can do it and I'm ready! #humblebrag #shamelessplugin
These photos were shot by my Nikon P300. My post about the concert was also supposed to include a review of how this camera performs in lowlight. It performed good under my standards, actually. Sound from the videos were good, too. Can't really say much about that cause the sound is floppy haha. Low light photos = check (VERY GOOD in this area!), good focus = check. This camera surprised me because my previous camera has a 4x zoom too and if I go past it, the images turn noisy and blurry.. but the results with this camera just surprised me. The photo on top on this entry, as well as the other 3 in black in white, were shot from the general admission. Imagine how far is that. I think it did superb considering how far I was! Maybe because I am familiar with the area but I am able to tell facial features from the photos (look how good looking and beardy their bassist is, for example.. haha!) and distinguish them even tho it's far.  Now if only my camera had 20x zoom, it would have been the perfect camera! 🙂