These past couple of days have been crazy because I was back to my fangirling state again. Not for Incubus, but for this band of brothers otherwise known as Hanson. Truth be told, I'm not one of the diehard fans, more like just a "casual" fan, if there is such a term. One of my friends is the fan, and she needed a comrade and I happily told her that I'd go with her.
See Hanson upclose and possibly have a photo with one of the members? Count me in.
Our attempts were shattered when we found out that their manager (or was it their roadie?) was strict and didn't allow any photos with them. So this was all I got from our Day 1 sighting..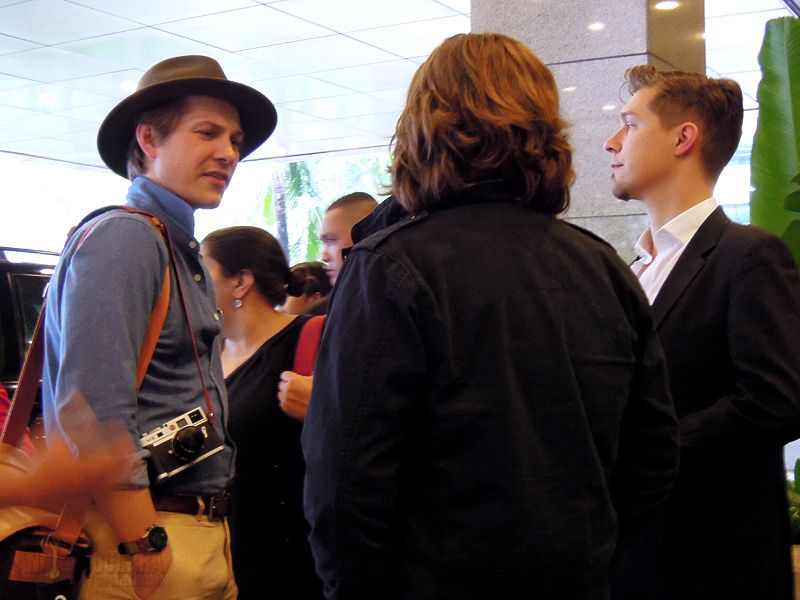 Yes, we were that close to them when I took this. Ike stepped out to throw something to the nearby bin. That was my chance to maybe try my luck in a photo but I got shy. MOTHERFU. Zac wouldn't turn to us when we called him.. IDK if our voices were too low or he just didn't feel like noticing us. 🙁
Later that night, we spotted Taylor at the poolside bar and that's when I finally mustered my courage and asked him if we (my friend and I) could take a photo with him. He said yes and that was it. I don't wanna post it here because I don't look good in it, haha I looked wasted there. Though it was probably our biggest achievement out of all of this because I heard we're the only group who he agreed on having a photo with. 😛
But I wanted a photo with Isaac Hanson. 🙁 Oh well, okay. I guess that profile shot of his on that photo on top will do.
Day 2: Hanson Concert at Araneta (March 30, 2012)

I didn't expect that I would get to watch their concert. I got tickets from a friend in the last minute because one of my friends wanted to watch the show. So, we got in the venue close to the time it's supposed to start, but when we got there, Araneta was barely full.. so many empty seats! 🙁 The show started late, too..
I think Hanson came out for their turn (after the opening act) a little past 9PM? Perks of being a casual fan is that I don't really know most of the songs they performed, so I just took photos most of the time and recorded videos of songs that I knew. Haha just kidding, I was being sarcastic with the perks if you didn't picked it up early on.
Some photos from the show! Not too happy with it cuz I was too far, but hey, I got in for free (sort of XD) stop complaining!
I got to hear Thinking 'Bout Something, This Time Around, Penny & Me (definitely a crowd favorite!), Mmmbop, and a song I dig but only realized it later: If Only. Hahaha. Setlist at the end of the post.
I had fun watching them.. and they were fun to take photos of. First show to attend that's not a rock concert. Achievement! :))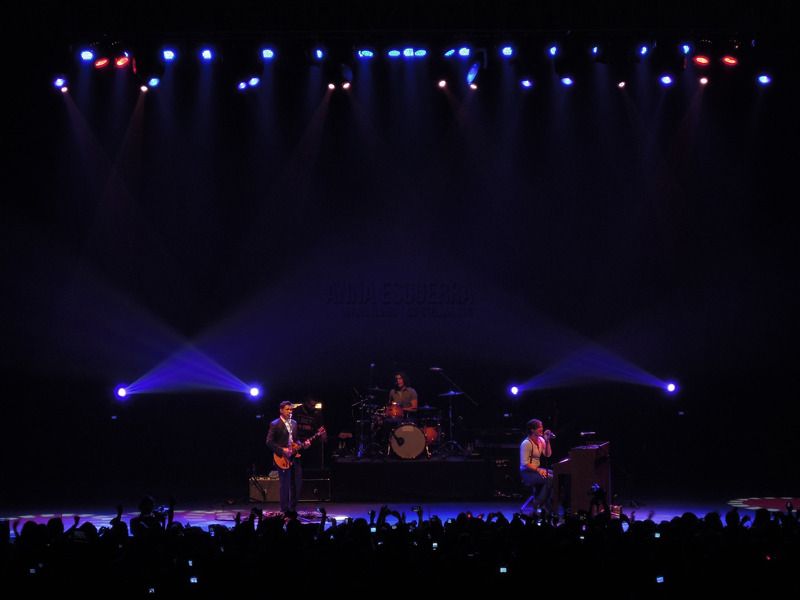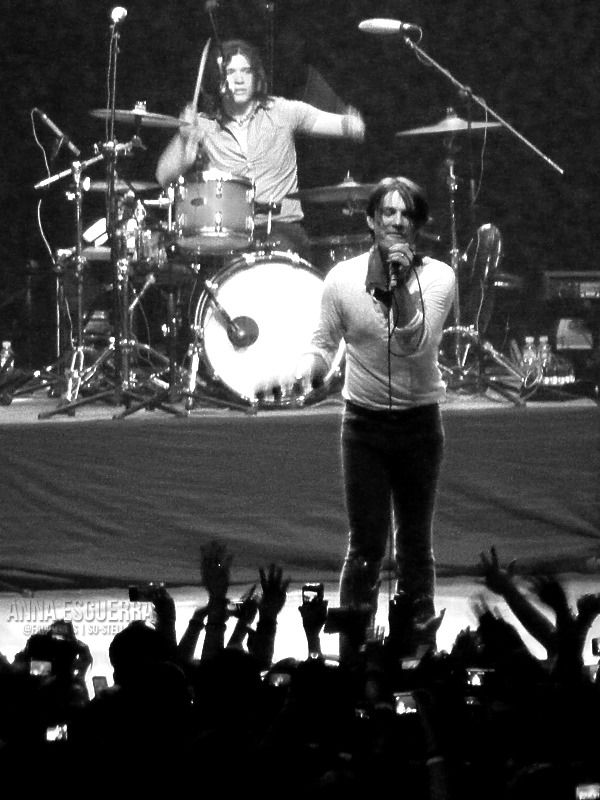 Zac Hanson on drums, Taylor Hanson werking out the mic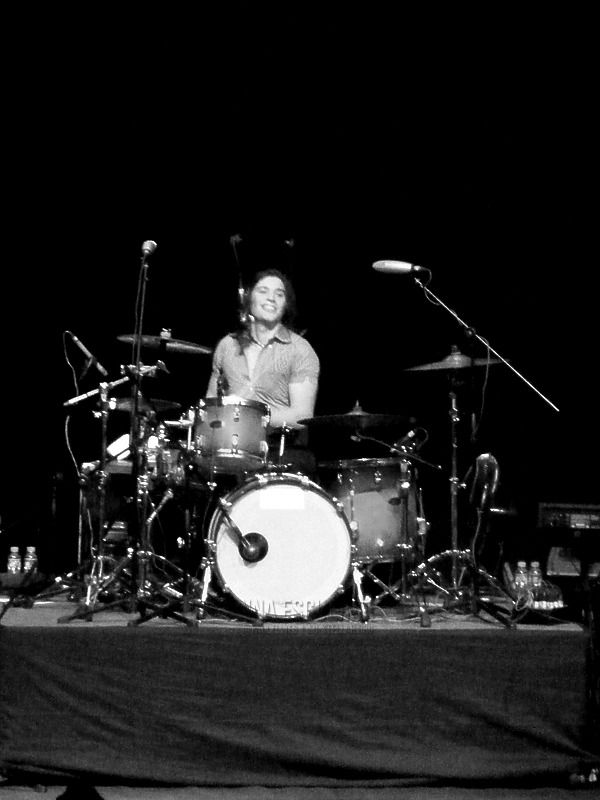 Zac Hanson
Isaac Hanson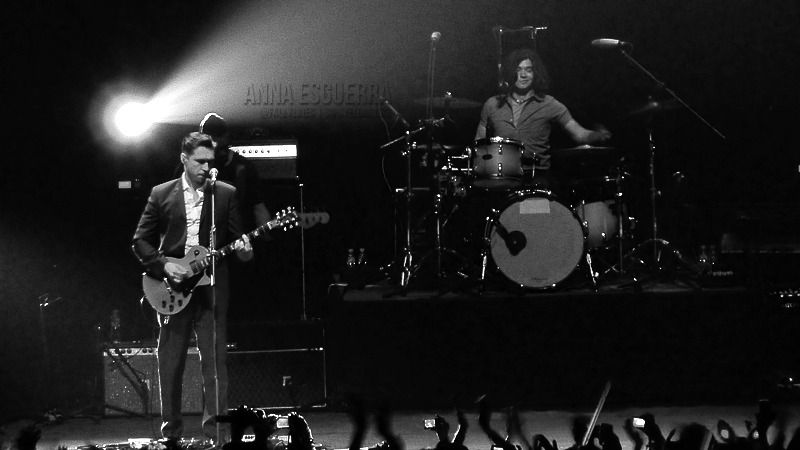 Hanson during their short acoustic set. Zac on the kajon.
Hanson about to jump, lol I didn't get the jump shot.
At the end of the show. AWW BYE IKE.
HANSON 2012 SETLIST (Manila, Philippines @ Smart-Araneta Center)
Waiting For This
Where's The Love
And I Waited
Thinking Bout Somethin*
This Time Around***
Penny and Me*
Watch Over Me
Look At You
MMMBop*
If Only*
Give a Little
Voice in the Chorus
Great Divide