Kisty, a friend whom I met around the blogosphere years ago (back at the time when tumblr didn't exist.. that's how long!), was in town for a week (I think) and part of her agenda was to meet with her friends. We met last Thursday, along with other Erika and Cariza, and she brought us together to watch live this variety show in ABSCBN called Showtime.
Like any other person who wants to see celebrities in the flesh and meet them, I was stoked when Kisty invited me. This was on the same week as the Evanescence concert, so my week was fully booked already!
Fast forward to finally arriving at ABSCBN, we were told to go in line, then they gave us these mini numbered placards and they handed chips to Kisty and some of us. I think it's for the game portion of the show. I didn't take one because I didn't want to participate. :))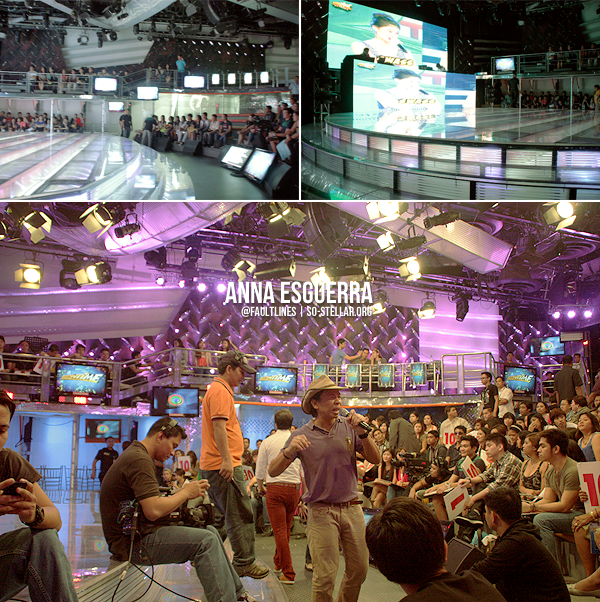 Once we're in the studio, I saw that it's really small and rather cramped compared to the TV. Ah, the magic of wide angle lens!! Surreal, yes, and a little bizarre. I saw the section where the "Hurados" sat during the performance part of two groups in every episode. It was tiny. 😐 The stage seemed small, as well.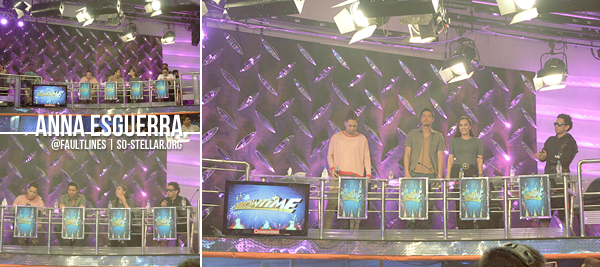 Thirty minutes before the show aired, the staff gave us a briefing on what we should do and how to act once the camera starts rolling. The main rule was to enjoy and SMILE! Oh, lastly, NO YAWNING! Or else they'll put the camera in focus to your face. :)) They said something about smiling and having fun decreases stress in our body or something, I don't remember! I was too nervous because the next part was… they were going to make us DANCE!!!!
Do you know when's the last time I even danced? 3RD YEAR COLLEGE, IN P.E.: DANCE CLASS!! That was more than 2 years ago! Ughhhhh. I felt awkward the entire time, I'm glad no one I know saw me on TV! Well, no one tweeted me about it! 😛 Though I felt a little stingy when my friends were making a big deal that people were telling them that they saw them on TV and no one said anything like that to me…. #no1curr4Anna. 🙁
What's important is that I enjoyed it right? It felt right, and fun, for a while.. until it got tiring from all the clapping that I just wanted to do a pokerface and pay attention to the show right infront of me.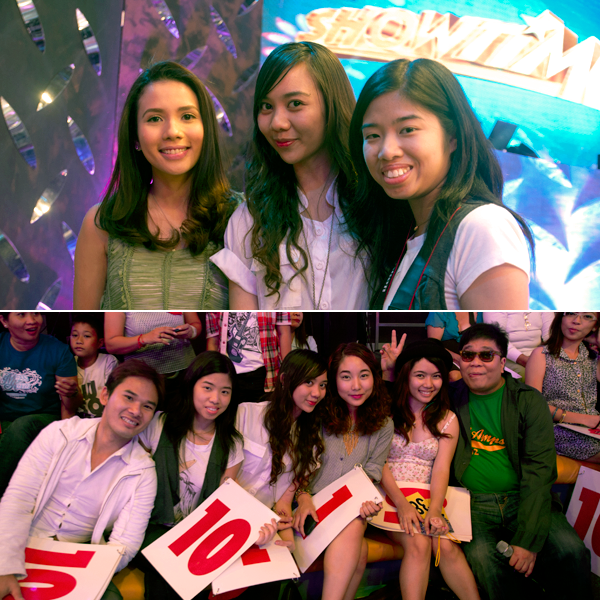 Heee.. and then the show finally started and everyone's 15 seconds to fame started. Kisty got to greet her friends at SG, me and Cariza were trying to avoid the camera at all costs.. hahaha! During the dancing at the beginning, Karylle looked at us and I told her "hello" in a very enthusiastic tone. :))
The hosts came out and I was starstrucked at each one of them. Somehow, that disappeared as we watched the show midway and I thought that these people are just like us.. doing their job to make people smile. Lol, what even right? I was most in awe with Billy Crawford when I finally saw him in. the. flesh. I'm sorry but I'm still a fangirl!!! =)) TBH, I wish he'd resurface as an international RNB artist again! Sucks he disappeared at the 2nd half of the show! 🙁 Anne Curtis and Karylle were both really white and pretty in person, Vice is so funny (and I was looking at her shoes the whole time, haha), Jugs and Teddy I kinda want to ask them how their bands are doing now but didn't get the chance, Billy was stunning (and hot!), Jhong Hilario looked like a rockstar in that Baliw-anne segment, Kuya Kim was the approachable one for me as well as Ryan Bang.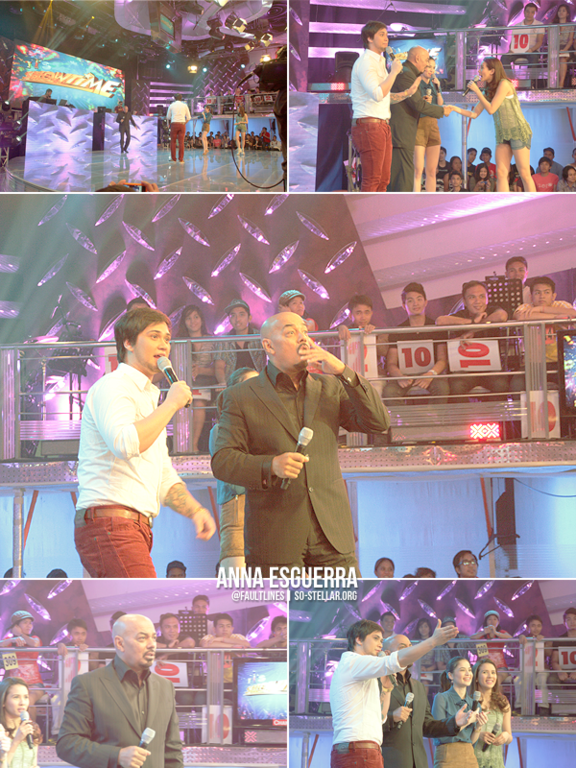 Twas lucky also for us that when we visited and watched live, a foreign artist visited the show. James Ingram visited Showtime to plug his concert. A black man (with confidence, as I'd like to call them, hehe) was sitting a few feet away from me and I wanted to have a photo with him! He must be James' manager. After that they gave away free tickets, only they were GA. Ah well, would be good for memorabilia of that special day! 😛 Cool, must be my lucky week eh? I've seen on foreign artist, and also will be seeing a couple more on Sunday.. I hope!
Here's us during the break when they handed out these score banners for us to use to rate the groups who will perform for the studio and tv audience and for the judges, too. Kuya Kim gave us a short briefing on how to use it and when to show it.. and the wave you see on television. 😛
As the show went on, we watched two groups dance and the other group got a sadly, bitter judgement and it was obvious they weren't going to win because their performance pales in comparison with the first group complete with action stunts and Lara Croft-inspired moves. Rayver came out when it was Zanjoe's turn to do a sample (their version of 'talen portion' for the judges, haha) for the studio audience. Oooh, people were going crazy alright. LOL. He looks way better and more appealing (Rayver) in personal!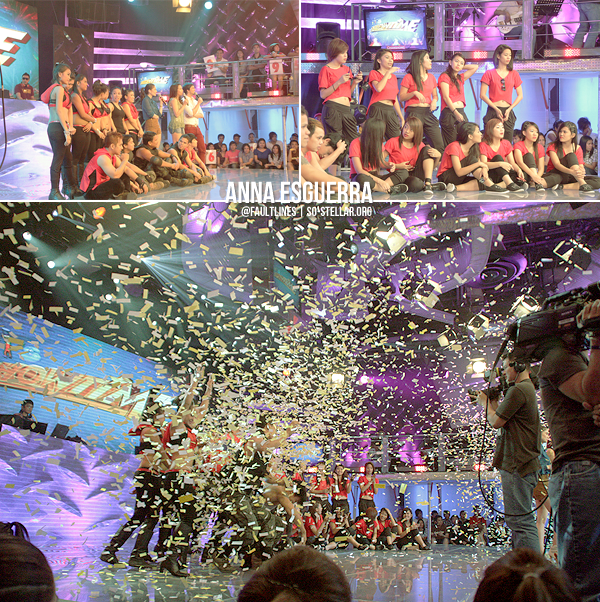 Can you guess which group won?
Next was the Singing V game, which Vice G. hosts and has Anne Curtis singing. :)) Wasn't bad, her voice.. maybe if she sings more, eventually it'll get better? IDK haha.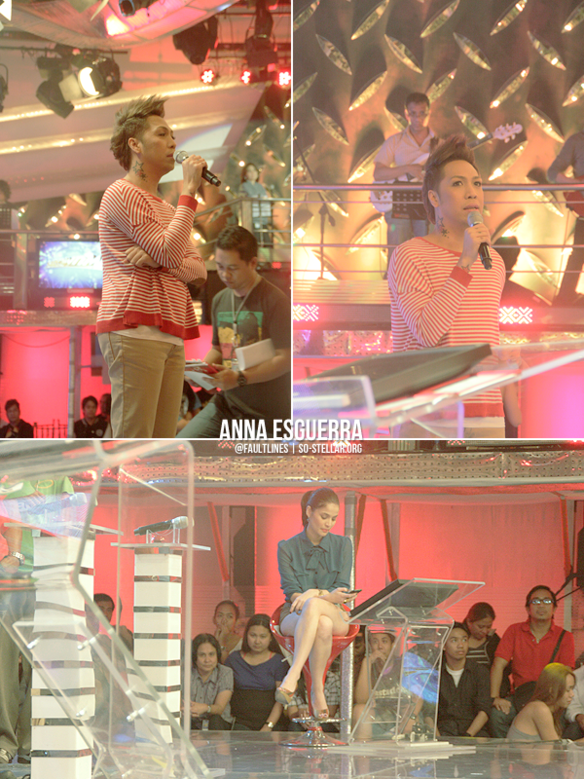 The show ended quarter to 3PM. It didn't have a feel that it was about to end but when suddenly the hosts bid their goodbye and thanked us for spending our afternoon with them, that was it. It was done. And just like that, the studio lot emptied and it looked like a dumped warehouse without the fancy lights and props. 😐 It looked a little scary, actually.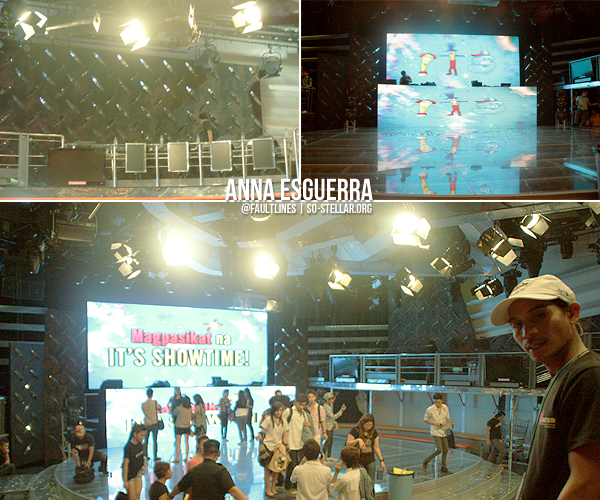 Lol IDK who that guy is..
Overall it was a fun fun experience! I wish to watch again.. and sometime soon, watch in ASAP as well! I want to see Bamboo in the flesh. 🙂 I've seen him once or twice, I think. Wayyy back in 2006 or so when I was just starting to watch live bands. 😛
We had late lunch after at Gram's Diner inside ABSCBN's building. We saw Vice and some other artists passing by outside as we ate our lunch. Ugh, I wish they have a closer branch to my area! So far they're the ones with the BEST fish and chips!!!
Thank you Kisty and to your mom for letting us tag along! 😉 (Note: Photos without my watermark are Kisty's photos)