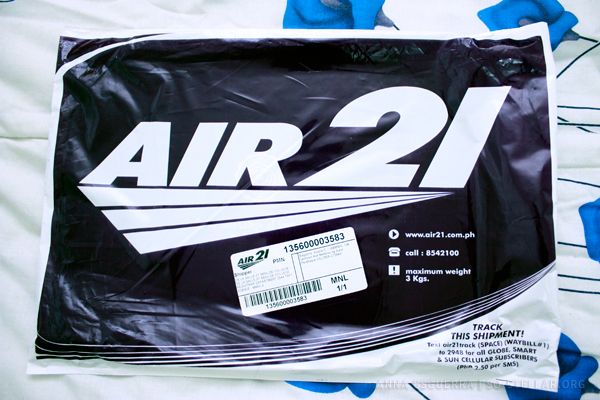 This came in around late in the afternoon today. The only thing running in my mind when I saw is that I'm so glad that the shipper sent it through Air21 and not through the local post office. God knows how unreliable those corrupt fucks are with handling mail, especially international mail from online shops.
Let's find out what's inside the package, shall we? 😀
Oh hey, look! It's addressed from my dear college! :)) I think I know what this is now.. Also, if you look close enough, you'll see the school seal peering through the Air21 plastic packaging.
Opening the package reveals…..
TA DA!!!!!
That's my diploma and transcript of records inside the hardbound folder, boyyyy.
I intentionally blurred my name in the next set of photos you're about to see. Just because I graduated doesn't mean I am going to reveal my real name to you, stranger. =))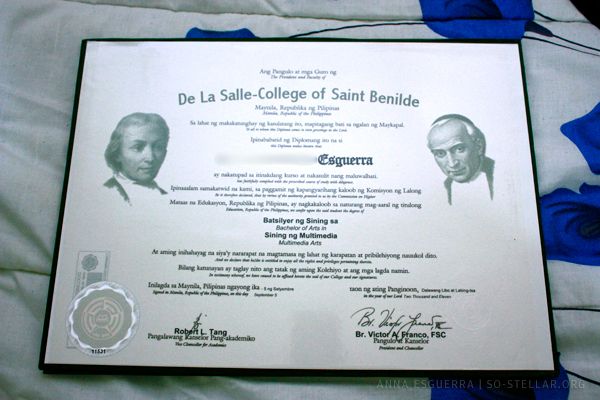 First the diploma. Surreal moment right here! There are times that the fact that I graduated escapes my mind. Like, all this time it only feels that I am taking a break from school (LOA/Leave of Absence) and that pretty soon I *have* to go back to school again. When I received the package and saw my diploma for the first time, I was pulled back to reality that I, indeed, graduated and am finally, for real, done with school.
No, I didn't cry or shed a tear. That's preposterous. Crazy! Ridiculous!
Though I did laugh at this… "Bachelor of Arts in Multimedia Arts" sounds so funny in my local language which is Tagalog. Hahaha! =))
Is it usually like this that diplomas from colleges/universities in the Philippines are written in Tagalog then then its English translation is treated like its subtitle? :))
Pa-bida yung school seal, it's everywhere.. be it a dry seal or a sticker or a stamp on my TOR or this diploma. =))
Closeup of my TOR.. lol at my face. I scanned the records and I saw my Rs from that one subject I kept failing in college. Hello, hello Algebra. All this time I thought I took that class three times and failed them, but turns out I only took it twice (and failed them both haha). The next two times I took math classes, I passed them both.. that was when I took two summer classes. Those two summer classes were worth it, I wish I did them sooner. *sigh*
Bottom part of the first page of my TOR. The succeeding pages just contains a list of classes I took throughout my stay in college and the grades I got from it. Again, there's the stamp, this time in sticker form lol. My total GPA. Don't know why it says September 05 on the date of graduation, I graduated on the 29th of October.
—
I guess that's college for me. It ends here. It's official; I am done with school and I've been living in the real world since then. I miss school, I really do. Sometimes I wish I can go back but then it would be another series of sleepless nights, and not having any freedom. Maybe attending an online school might be different, though. Besides, I already have this mentality that I am better because I'm done and I've been through what these people have gone through and if I do go back, I'd have to deal with the lower batch students.. HAHA. I kid. =))
Also, it would cost a lot to study again.
It's been good, DLS-CSB, I loved going around the hallways of SDA and being queen around Taft (again, I'm kidding) but we all gotta grow up sometime and face the real world. I miss my friends, heck, I get days when I crave food from the SDA cafeteria, I miss school. Time to face the real world and its problems.
PS: I'm still a bum as of this post.