Before the lines get busy tomorrow since it'll be New Year's Eve by then, I'm gonna do this year-ender post a day early! Lol as if the lines around the internet does get busy! Well, it only does when you get disconnected from not paying the monthly DSL bill. =))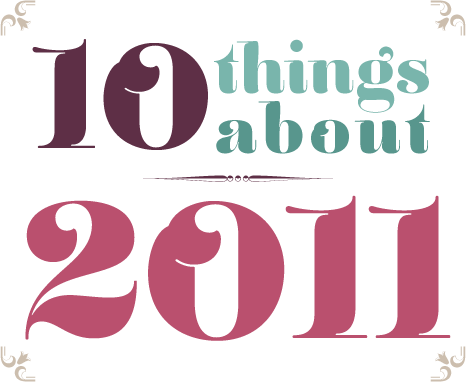 Last year I wrote my year ender post in this kind of list format that I made on the spot. I read the post last night and thought to myself why not do the same thing for this year since the questions were good and so were my answers. :)) Also, I'm curious if there are any changes from last year to this year. So, the only way to find out is to do this quiz/meme/survey thing for myself again.
Originally titled "10×10: Ten Things About 2010". I also changed some things on this list for this year just because. :)) I made an effort to actually photoshop the list.. design chuva! Hahaha.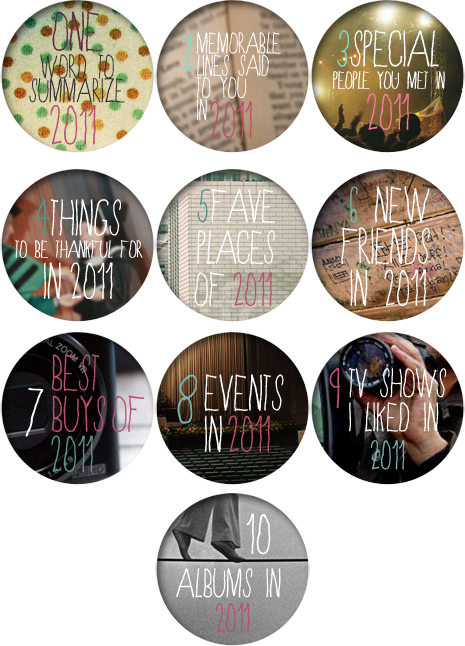 Okay.. on with my answers!
10 Albums in 2011 Show ▼
9 TV Shows I liked in 2011 Show ▼
8 Events in 2011 Show ▼
7 Best Buys of 2011 Show ▼
6 New Friends in 2011 Show ▼
5 Fave Places of 2011 Show ▼
4 Things to be Thankful for in 2011 Show ▼
3 Special People You Met in 2011 Show ▼
2 Memorable Lines Said to You in 2011 Show ▼
1 Word to Summarize 2011 Show ▼
Happy new year, everyone! 🙂