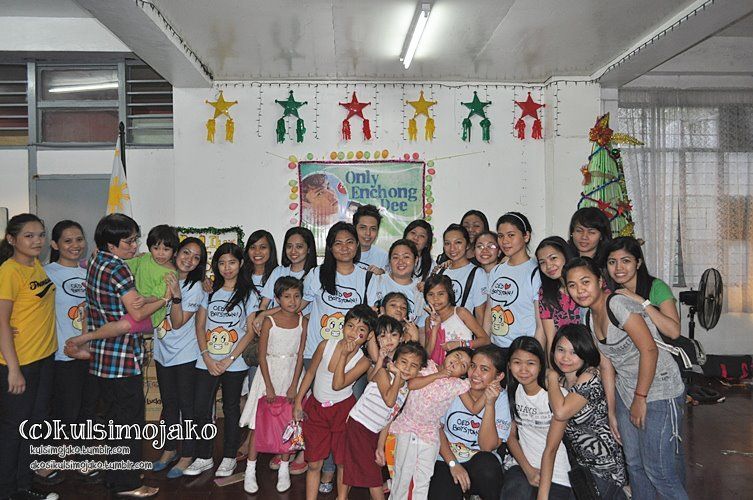 Before the year ends, OED (Only Enchong Dee, Enchong's fan group) created another project for its members and that is to hold an outreach for the kids of Boystown (girls quarter). The first time, they held a same event but for the boys instead.. unfortunately I wasn't a part of that event, and Enchong was there! :))
BTW, this event was held on December 15, 2011 at Boystown Marikina. Yep, I commuted all the way from down south to there! See my efforts, Enchong?! You make me do good things and at the same time I may have dirty thoughts about you. =)) JK.
No matter, our main goal in this particular project is not Enchong Dee himself, but to a) make these kids happy, b) give back to the less fortune and/or privileged, c) go out of our way to share quality time with them since it's the Christmas season. Yep, you heard that right, he wasn't there. We felt like we made a handful of girls disappointed because he wasn't there to party with us. Darn those spontaneous TV shoots/TV commitments! I was expecting him to show up because I wanted to see Enchong in this kind of situation. 😛 His mom went instead, though.
Oh, you might be asking, of all children youth groups, why Boystown? It all started from Enchong's show way back years ago called "Boystown", where he played the role of a Boystown kid. Apparently, from that role that was given to him, somehow he was exposed to their way of life, and that inspired him. Simple living, simple joys, as they say. Since then, as much as possible he tries to give back to them in the form of donation or outreach programs or parties (like the one we did). Das a good boy right there. :))
During the planning stage of this event I was dreading, tbh, because I was afraid I won't get to socialize properly, especially with the children.. having a rep to be a bully towards kids. HAHAHA I KID. I'm quite the antisocial and the last time I did something similar to this was during our NSTP course back in college. It was a nice experience, too, but not my cup of tea.
I'll tell you a secret: I did help out during our NSTP but I was in charge of distributing food/treats to them. Dakilang server, kumbaga. :)) I wasn't around to socialize with them, they were bratty children. 🙁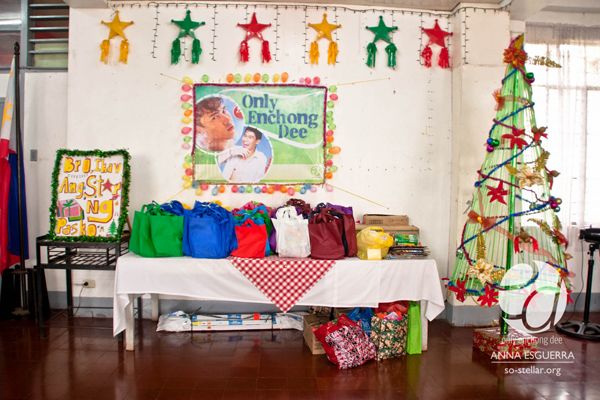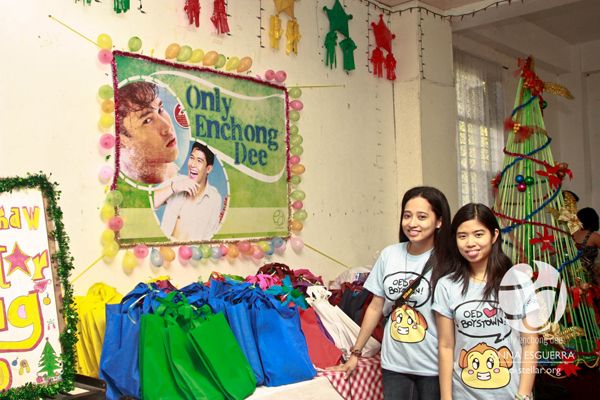 I did get to redeem myself and do some socializing with the children. But I was more of the photographer for the event so I didn't have "my own" kid during the whole event. I felt happy when this certain girl kept approaching me though. Aw, it feels nice when a child you barely know personally approaches you like she especially chose you!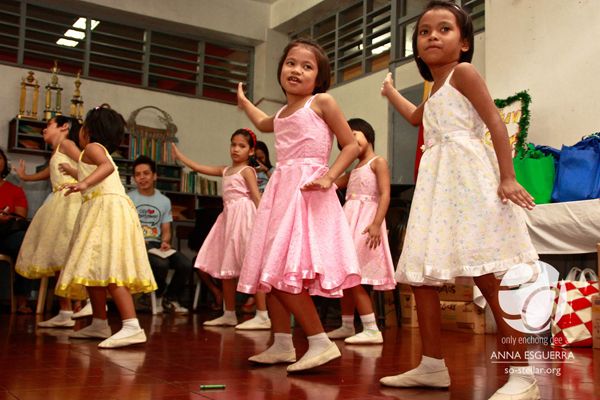 We went overtime, beyond our schedule, because some guests showed up and added themselves to our program. :)) There was a group of women and men aka a choir (PMPC, according to my co-admins) who brought in caroling tunes to the children. Also, Enchong was in charge of the food.. haha, and apart from that, he also had his own set of donations delivered to the place. Mayn, this guy is the definition of generous.
There are a lot of photos from the event and it's hard to go through them all, even with these certain shots I've already picked from the pack and tell a story as well what the photo is about. :)) So here, I will make your life easier in case you're still reading and provide you with highlights instead. 😛
Highlights of OED's Boystown (Girls) party:
Lotsa games, dancing and singing
There was a singing match between the teenager girls of Boystown
Mrs. Tess Dee (Enchong's mom) was his proxy
It was Tita Tess' birthday the day before
Lotsa food were served for the children
Massive giveaways including goodie bags and donations from the OED group
It was a fulfilling event and a big success because we were able to do our objectives and made our audience ery very happy
I had 500 photos lolol. First time to be an "event photographer". Apparently, some folks got bothered by my external flash. My bad. :))
Our very own admin Mark Paul (MP/Empee for short) showcased his singing skills.
I just feel the need to say this but our hosts were Tin, Empee and Carol. 😀
Party started around 1PM, ended around 5PM. Kids weren't tired yet but we were.. they still were full of energy.
Overall a fun fun fun fulfilling experience for me!
To sum my experience up: I'm glad I went. Seeing smiles on their faces is enough 'payment' for my hard efforts here.. well, I feel like I didn't do much on the pre-production stage. But boy was I beat during the day itself, going round and about taking photos left and right.