DAY 1
I only got a few hours of proper sleep the night before since I was busy packing in a hurry. We left eventually after we woke up and sorted our things. I saw the puppies going around and one of them just stood there looking sad, I remembered that he was going to be given away to one of my friends later in the morning so I had to take a photo of him for the last time.
And then that was that. Good bye, housemates. See you in three days!
The trip to the airport was fairly short. We got there in less than 20 minutes since we live pretty close to it, lol. My level of excitement was comparable to how a fat kid reacts when he sees cake, but I wasn't showing it publicly.
Finally! I'm going out of the country after 5 years! Oh my god we're going to be in the new NAIA airport?!?!
In reality I had my "meh" face on while trying to keep my composure. =))
Got a little lost around the airport. I wasn't a good help to my dad at looking for certain places because it's my first time there. The immigration area (border?) of the new NAIA airport sucks, btw. We got to that area 40 minutes before our boarding time and we were greeted by a really long line. Twenty minutes passed and the line is barely moving. I don't understand why there is only ONE immigration person who's checking our passports. This is hopeless.
Ten minutes later, the immigration staff made an impromptu effort to speed the process by dividing the long-ass line by flights and adding more immigration person to check the passports. Gee, why did you guys only think of that NOW?!
We got to the boarding area and then they announced that the flight is going to be delayed by 10 minutes. I'm not in a hurry but ugh, I wanted to leave already because my bag is bothering me. LOL not a valid reason. My bags are usually heavy in trips like this.. my DSLR is to blame.
Sat down and waited for the plane to arrive and settle itself so we can finally get inside to get this over and catch some zzzs in the plane. Took some photos.
Passengers for Cebu Pacific flight bound for Hong Kong
Okay that's my only photo pala from the airport. :)) Some minutes later, they announced that the plane is ready for boarding. People started to line up, and while I was secretly giggling to myself at those people who were in a hurry to get in like they didn't have reserved seats.. my dad was fast asleep. Taking a 5 minute nap, I guess.
They had the last laugh because when we got inside the plane, I found that it was too cramped. I don't remember the last Cebu Pacific plane I flew in being this cramped. Wow. I had to squish myself in the aisle to get to the row where my seat was in, and I had to squish in again to get to the seat itself. :)) Cost-cutting? Budgeting? Or because this is a budget sale kind of thing? Stop complaining, if you wanted a luxury flight you should've spent 50% of your allowance to book for PAL tickets instead. I stopped to make a big deal out of it and a few mins later I fell asleep in my little nook.
There isn't much progress with this new airport yet. The second floor is full of restaurants but that's just about it. If anything, the ground floor looks pretty pale, everything looks bare except for the section where there's food joints. Even their "Duty Free" looks like a crappy makeshift shop, the one you see in malls (of anything, in general) is much much better. The building only looks good on the outside, the inside doesn't say much. Wifi wasn't working on my phone, too.
So imagine me pretending to see things with a wide-eyed expression when we finally arrived in HKIA and got inside the airport… even better when we got outside and I got to see thingsssss~! Massive photo spam coming through!
I've always loved their airport, so many shops, so many restaurants and things to keep you entertained while you wait for your flight. I think it's a lot more cool looking than Singapore's airport and definitely MORE visually-attracting than our own airports. :)) I heard that HKIA has two buildings now? I don't have much info but that's what my dad told me.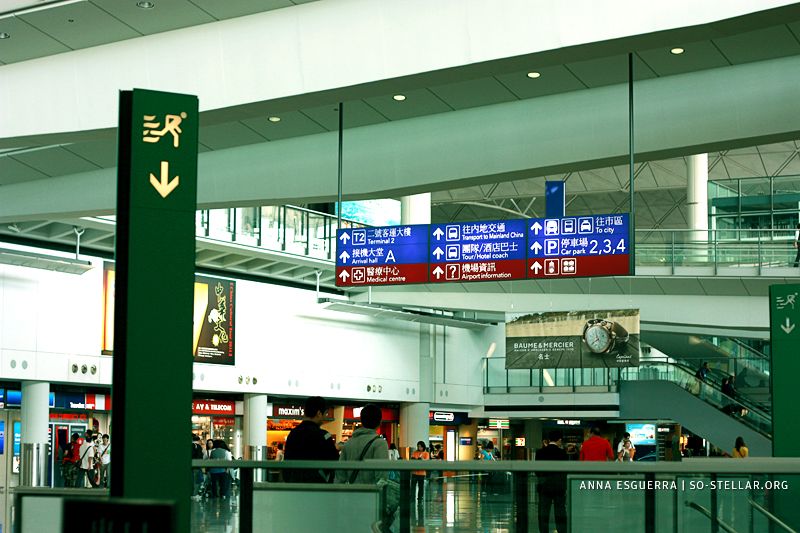 Hong Kong International Airport
Trains heading to the city
We rode in one of these and like the last time, it was a nice experience. Quiet train with people who aren't breathing down your neck. And you're actually sitting in a comfortable chair and you don't have to worry about your things getting stolen. Its funny that in situations like this, there is always a group of Filipino people and of course they're so easy to distinguish. How? They are going to be the ones who keeps taking photos of whatever they can take a photo of and very talkative in their group. I SPEAK FOR US, hahaha. I kept talking and I was probably the only one inside who was noisy (but not in an annoying way). I kept taking photos, too. What? It's not like I'm going back here anytime soon.
Instead of boring you with more specific details, here are more photos from day 1! This one, of a Benz ~luxury sports car~, that I saw on the road while we were stuck in traffic. I'm pretty sure the driver saw me taking a photo of his car, lolz. Out of respect, this is the extent of what I can do to protect your precious car~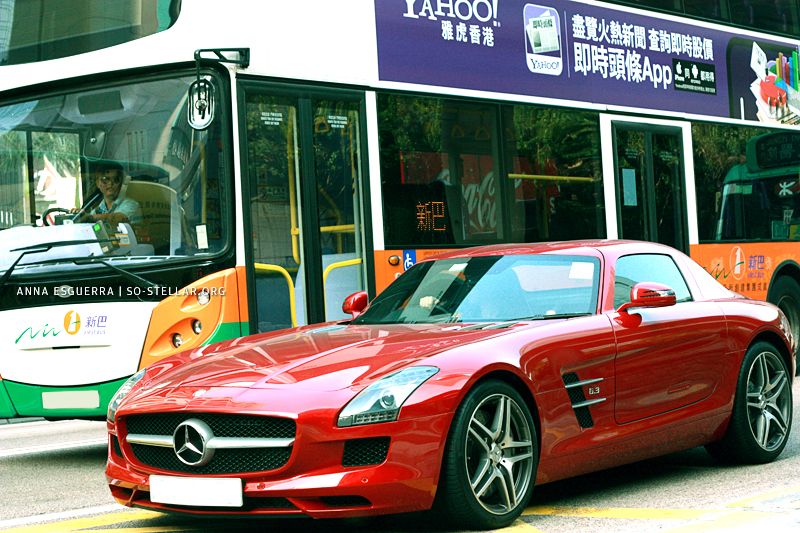 That's not the only car I've seen around there that's expensive. Tons more, actually. But this one takes the award. It's red and shiny!!
Later in the afternoon, we finally found a place to rest after moving from one guest house to another because they couldn't accomodate us anymore. My dad left me to myself at the place we're staying while he had to deal with stuff so I took it as the best opportunity to.. take a nap. Best sleep ever.
Woke up a couple of hours later feeling refreshed and totally ready to go out and enjoy what this place can offer!
First stop was to have late lunch. We went to this foodcourt inside Times Square and ordered this Gyoza meal at one of the restaurants. I didn't get any photos, too lazy to take my camera out. Plus, camwhoring with an adult? Spell awkward. :)) We passed by this bakeshop after we had lunch so I went on a mini hoarding spree. Needless to say, I spent a lot and we've only been in this country for 6 hours.
The next on our to-do list was to bring this antique picnic box to one of dad's colleagues. Then do some business talk, and hopefully seal the deal by selling the piece to him and getting the dollaz. It worked out well enough in the end. 😉
We finished up early with business #1 of our trip. But it was still quite early, like it was only 7pm that time. Strolled around Hollywood rd. next until we reached this hardware shop where my dad usually gets tools for his workshop. We took a cab after that and headed back to the guest house.
The room we rented kinda sucks because for its price, it's not really worth it. The TV didn't work well until the next day, comfort room felt messy, etc. Since it was still early, we went out again to have dinner at one of the places I swear I will go back to when I get the chance to visit this country again.
We ate dinner at this "cafe" located round the back of the building where our guesthouse is. I don't really know what's the name of the restaurant but upon inspecting the photos I took (good thing I did!), turns out the name is clearly printed on their menu.
Sun Ying Kee Cafe's Chinese menu
Sun Ying Kee Cafe, Causeway Bay @ Hong Kong
To me, it didn't look like a cafe. It looked more like an Asian diner to me. =)) An Asian diner where there's a wide variety of food that caters from breakfast to dinner.
In terms of prices, it's alright. I can't say much because I'm not aware with what is considered expensive and cheap. Though I did mentally compute everytime I was about to consider purchasing something. 😛 Basta, go try it when you guys visit HK.
The place is also packed most of the time, but you will get a seat at some point (didn't take us long, fortunately) so don't worry about it much. They serve their teas for free but their water has a pricetag — I'll never understand why is that.
Our orders are finally here! So excited to nom on yummy dinner~ I apologize tho, I forgot the names of these. 🙁 Half of the places we went to I don't remember the name anymore so I am relying on my photos and Google as I go along.
No idea what these dishes are called 😳
My god, my water is just mouthwatering when the waiter served it. My tongue got burned as soon as I took on my first bite. My fault for diving in without checking it. Of course it's going to be THAT hot because it was baked. It reminds me of that baked rice melt from Greenwich but this one definitely had a lot of servings. It's like the one from Greenwich is just 10% of this.
Twenty minutes later and still digging around my pile of chicken, cheese, veggies and rice… I couldn't finish it. 🙁 I wanted to have it prepared for to-go so bad!!!!! I just couldn't finish it for the MEANTIME, but when I get back to the guesthouse, I'll surely finish it.
Boy were they tasty!
So we left the place and went back to Times Square to look at stuff. I ended up just strolling from floor to floor while fiddling around with my phone and leeching off the mall's WIFI to check my social networking accounts. I even passed by a B&J ice cream stall. I wanted to try one but I didn't have enough monies yet. 😳
I also saw the camera I have been eyeing for the longest time, the Sony HX9v, in person. It looks like a beauty. When I told my dad about it, he just ignored me. 🙁 I wanted that camera because of its excellent HD video, dad! I know a DSLR upgrade is probably not happening so I'll stick with the next big thing instead.. even if that means sacrificing the quality of photos just so I can have a up to par HD video quality.
On our way back to the guesthouse, we passed by a store that's like the Watson's here in Manila. Bought some toiletries and then some fresh fruits and headed back to the guesthouse. Spent a few hours playing Angry Birds and taking note of today's ~highlights~ that ended up being posted here, as you can see, before dozing off.