OHAI! I'm finally using the latest WordPress as of this post. There's no yellow bar on top alerting me to upgrade to the new one otherwise, haha.
Anywayyyy, here's the post-Incubus concert blog entry post everyone's been waiting for. Took me a while to write this because I simply did not know how and where to start!! Lots of stories after the jump. I hope you like how this entry turned out and I hope to god I didn't disappoint anyone if ever I left out any parts of the story.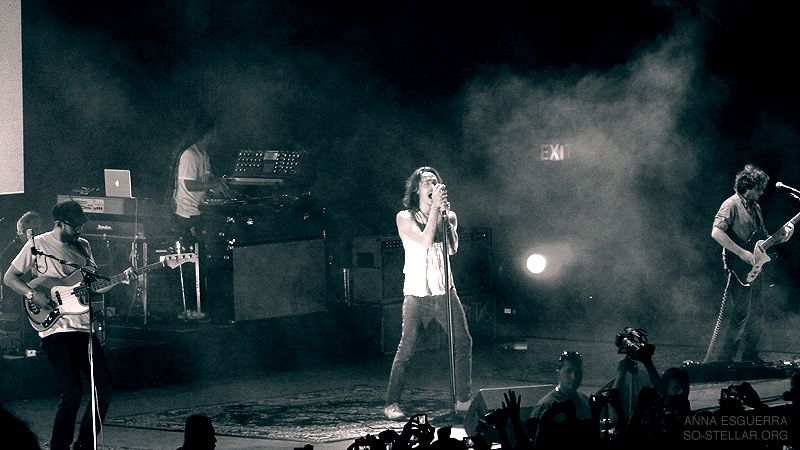 3rd times the charm for INCUBUS!
Hear, hear. It's been a week since the concert.. have you guys moved on? I have been trying so desperately to move on but as the days go by I seem to be craving for more Incubus! I have watched too many videos, reblogged too many photos, ranted and raved about different aspects related to Incubus in my other blog, talked about it too much to my friends to the point that they don't care anymore, found out too many things that I couldn't handle about the band BEFORE the concert and AFTER the concert.. lastly, got disappointed at one point.
You have only been gone 10 days, and already I'm wasting away… – I Miss You, Incubus (Make Yourself)
As much as possible I'm going to be civil here and not unleash any fury of fangirliness.. I hope. Also, this will be a looooong entry because I didn't blog about the last concert back in 2008, so I'm going to make up for that!
Concert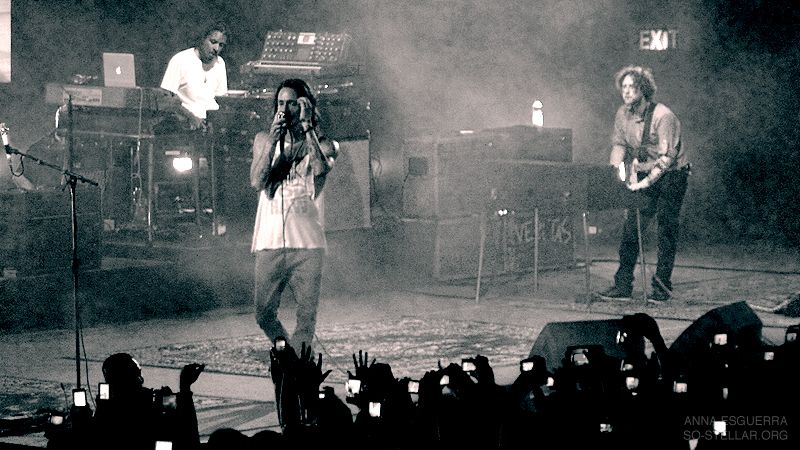 Brandon, Mike and DJ Kilmore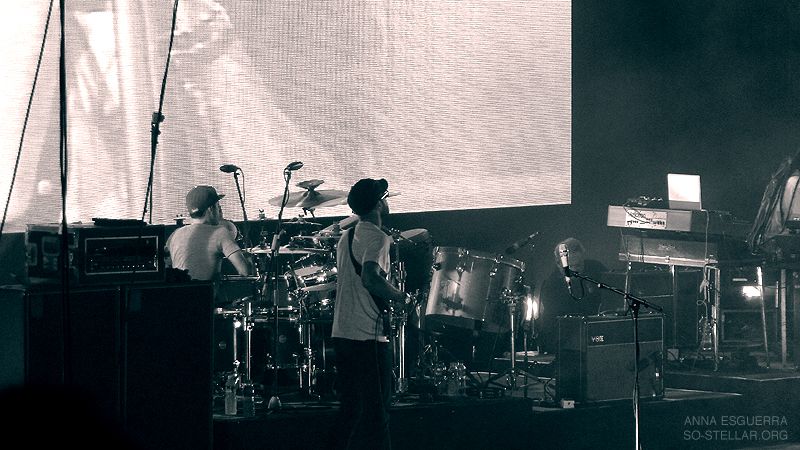 Ben Kenney and Jose Pasillas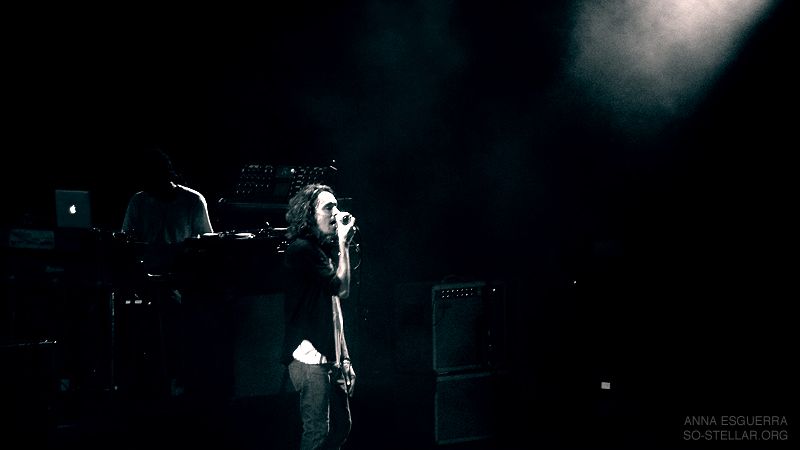 Brandon Boyd (Incubus in Manila 2011)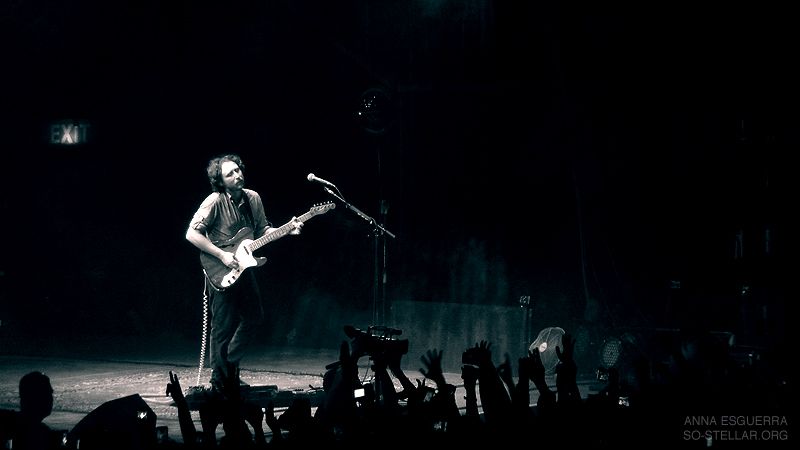 Einziger's solo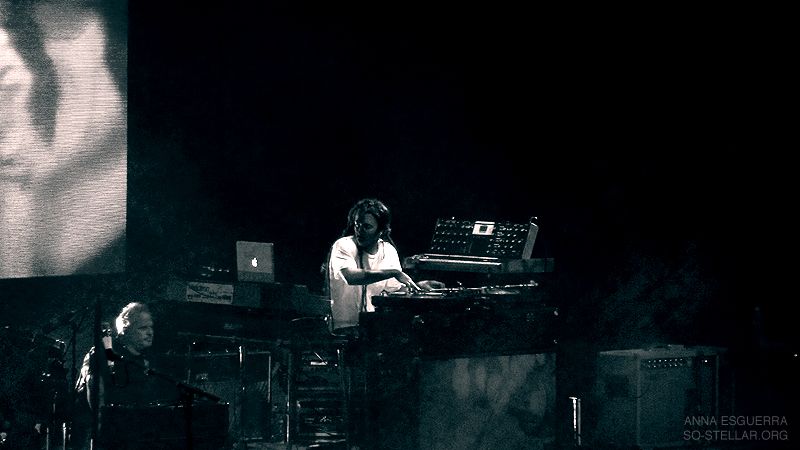 DJ Kilmore
I have more photos but it's best if you just view them on the gallery at the end of this post.
Based from my observation from the previous Incubus shows I've attended, this is the best one so far. But if we're going to talk about the setlist, I say the one from 2004 is the best because they played more of their old songs on that one.
Here are my highlights from their 2011 concert (last week's show):
Einziger smashed his guitar and pushed his amps away somewhere in the beginning of Megalomaniac (their first song). Not many people noticed it because they were too busy moshing and what not. I noticed it, I feel lucky that I did. =)) Hahaha yes this is my #1 highlight of the show. It has to be the first one mentioned, too. Also, I think it somehow put us up among the other Pac Rim shows. Isyu! We still love you Mikey!! I noticed you were all smiles here in Manila. 🙂
The audience were definitely more lively on this one… or maybe because this time I was at the lower box section and I got a good overview of the whole Araneta Coliseum compared to last time. I saw that the gen. admission section was FULL. A bit sad to see the moshpit wasn't that full like I anticipated, though. I expected to see all spaces filled, but no, there was one huge space right smack in the middle of the two moshpit sections.
I went with other people aside from my usual companion (my brother). Hi friends! Thanks for being part of my Incubus experience. Haha. My brother looked bored at the time when the concert wasn't starting and we didn't have any photos together.
The opening band was alright. Not really my cup of tea, if you're my friend you will understand why I am limiting my words to describe this band. 😛 Well, at least I got to see them live.. that's it.
I WAS WAITING FOR A CERTAIN SHADE TO BE PLAYED AND THEY DIDN'T PLAY IT. :'( Incubus, you disappoint me. LOLJK. Okay there were good songs, that's a given. Obviously the real reason why I wanted to hear ACSOG is for the DJ SOLO like this one from AARR. Oh, maybe it was for my own good.. not hearing this song live. I might die of a heart attack if I witness his awesomeness live. (Can I just say though.. look at that time when Kilmore only had about 2 keyboards on his gear, haha. Time flies by so fast. My baby! Hahahaha!)
But they played ACSOG in Malaysia.. if memory serves me right. Basta, they played it in one of the countries they dropped in during the Pacific Rim tour. 🙁 SURE, they played ACSOG in 2004 but I wasn't a fan-fan at that time.. heck I did not know they played that song until I looked at my bootleg.
I legit lost it (aka I cried, shed a tear or two, what the hey) when they did "I Miss You".. 🙁 At that moment, it all came rushing back to me, everything that happened. The planning for Incubus night, the meet up, the encounters w/ the band.. everything became personal and I thought to myself "I'm not gonna see these people again for the next 4 years". 🙁 This is why I hate to get too attached to bands. It's not like they would even remember you!! Too much happened. I can't.. I just can't. NOT NOW.
During the concert, and I'm ashamed to admit, I sat down when they performed songs from the new album. I just wasn't feeling it.. 🙁 I've heard most of it and memorized them but what do you expect after just playing "Circles" and rocking out to it? More hard songs, right? Incubus decides to mellow it down a little and introduce their new stuff to the audience. It felt like the INNW songs were somehow unwelcome to the crowd. I'm not hating!! The strange effect on me was after hearing Isadore and Wolves live.. it got stuck to my head and I have this urge to put those two songs on repeat (hence the title of this post). To think my only INNW captured video from the show was the 2nd half of Wolves, hahaha!
People got wild when they did Glass next… okay, it's either Glass or ACSOG or no S.C.I.E.N.C.E song at all. I can live with that. What do you know, maybe Incubus will be back next year. THEN they can sing ACSOG and it will be perfect for the occasion. We'll take anything, haha.
I got excited when they performed The Warmth, duh what else could be the reason?!? Awesome song and awesome lyrics and awesome beats. 5 seconds into the intro, I had goosebumps. That's how powerful that song is and what it does to me. Lol. I was even more ecstatic to find out when I read the local papers (online, haha) and these writers took notice of the song and Chris Kilmore's "added texture of sound" to it. FINALLY HE'S GETTING THE ATTENTION HE MOST DEFINITELY DESERVES. :heart:
I was expecting more freestyle djing though.. but I guess I'm never gonna see that in an Incubus concert. I have to exert effort to get my ass to the US and catch him and Ben at some bar gig.
EVERYTHING IS CHRIS KILMORE AND NOTHING HURT. (Most people would probably bring Brandon up, I'm gonna stick it up and go with Chris ALL THE WAY)
Brandon thanked the Incubus Philippines Street Team before they started w/ Nice To Know You. YAAAYYYY! That's all we wanted, just a teeeeny bit of appreciation/shoutout. Thank you Incubus! I was yelling to my mates when he mentioned us but I doubt either of them understood what I was yelling about. 😐
I just need to bring this up but the stage could really use some work. After watching 30STM's concert the night after, their stage setup and the lights were INFINITELY better. Sorry, Incubus. I love you and all, and definitely much more of a fan than Thirty, but the promoters who brought you here sure could use a better set designer. Too much fog, the visuals were meh, and the lighting was off most of the time. But performance wise, 10/10 because it's Incubus. :))
They opened the show with Megalomaniac, and ended it with 3 songs for the encore. A total of 20 songs for this year's Manila show. Not bad! Not bad at all! Here are the list of songs in order:
SETLIST (Incubus in Manila 2011 "If Not Now, When?" World Tour)
Megalomaniac
Wish You Were Here
Consequence*
Pardon Me*
Anna Molly
Love Hurts
Circles*
Look Alive
Promises, Promises
The Warmth*
Drive
Sick Sad Little World
Isadore
Glass*
Talk Shows on Mute*
Adolescents
A Crow Left of the Murder*
Encore:
I Miss You*
In the Company of Wolves
Nice To Know You
* = Songs I liked that they played
Post-Concert
After the concert, I stayed until the coliseum was empty to meet up with some people and take photos of us three (minus my brother who immediately left to meet with his friends at the nearby bar, lol). I was going to get the set list but someone already beat me to it. Damnit. Outside the venue, I met up with the street team.. one of the people I originally went with to the show mysteriously disappeared. 😐 Bummer, she missed on what was about to happen that night. Anyway, more photo ops with the street team folks ensued and I got to take a good look at the set list and even have a photo with it!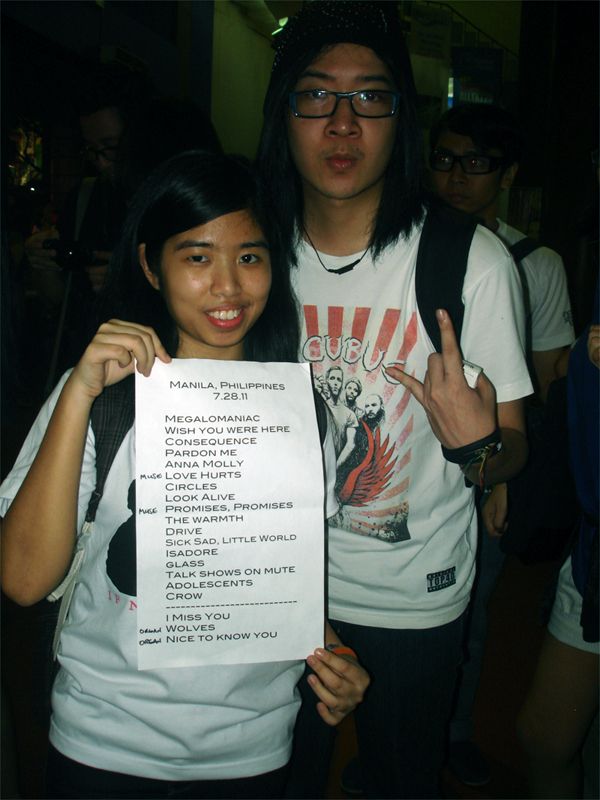 Setlist photo with my friend in the back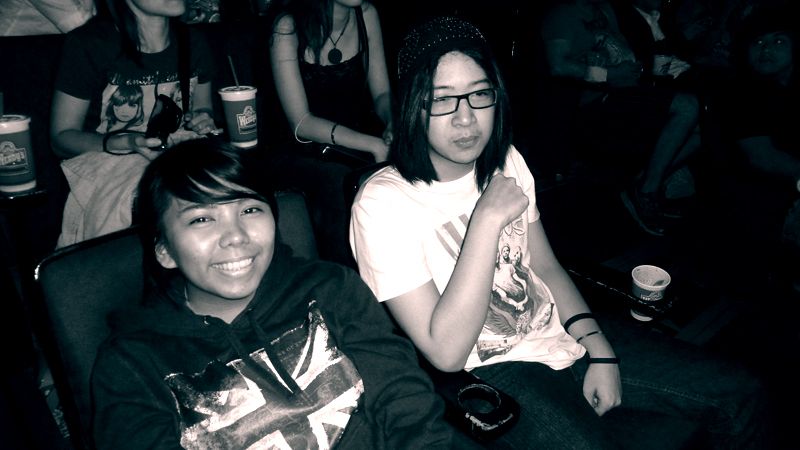 Thanks friends for coming with me!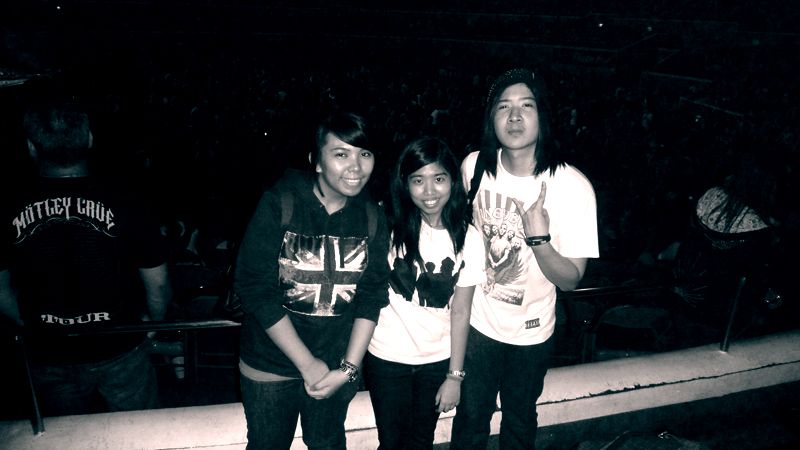 My friends and I minus Alex after the show (notice the dude wearing a Motley Crue shirt haha)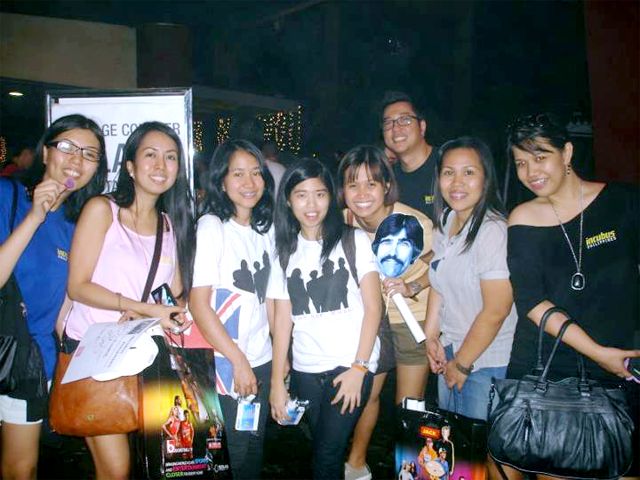 w/ the Incubus PH Street Team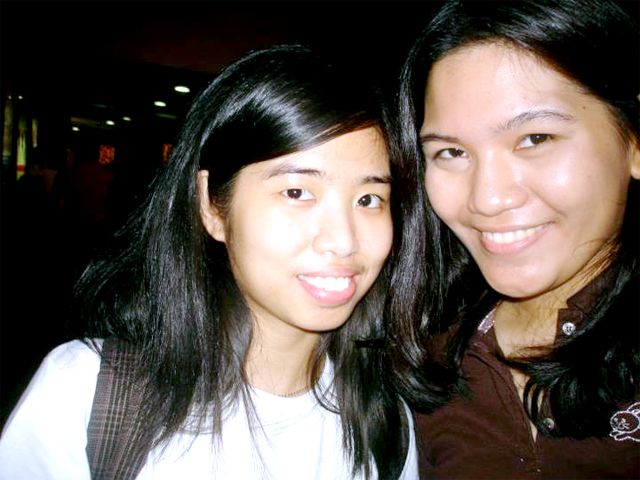 Pazzy and I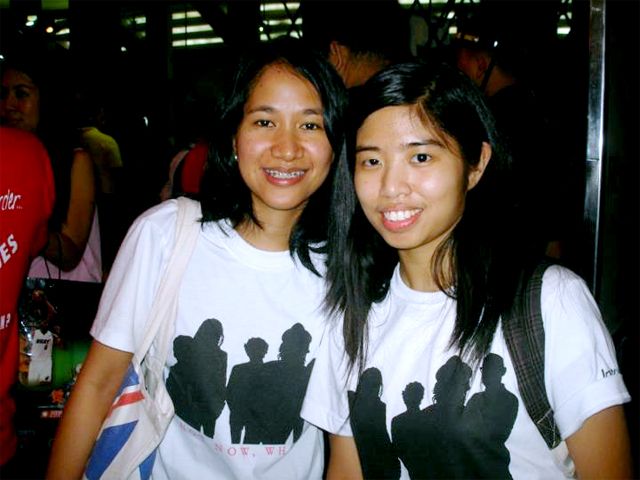 Liz and I (She's the one I met at the Tree Planting activity!)
I also got Mikey's guitar pick that night.. for a price. 😐 Okay, whatever. I got it for half a price compared to the other guy who approached us first. I thought it was a steal, haha. It's a prized possession so no big deal.. as long as it's within my budget (that night).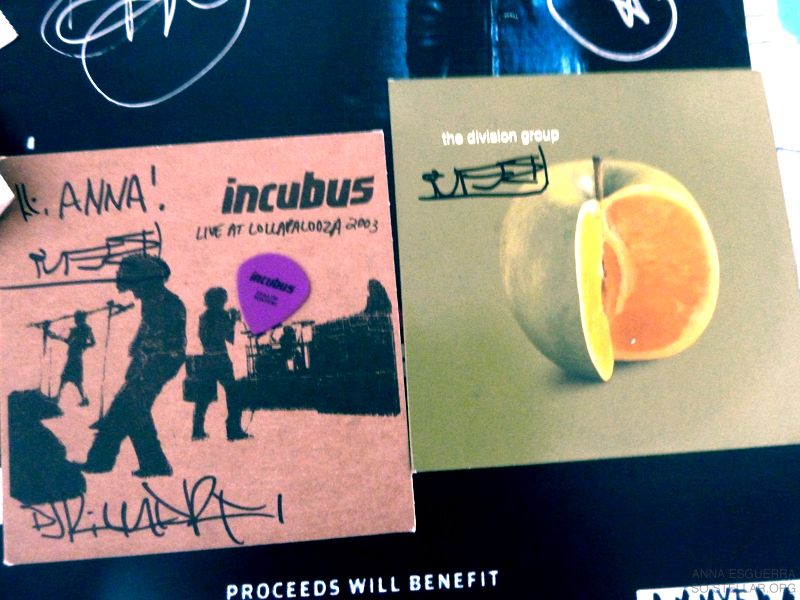 Signed CDs and Mikey's Guitar Pick
The CDs I got those signed after the show, not during the meet and greet.. more on that later. 😛 Anyway, that's the pick that I bought. Lol I don't know how to play a guitar nor do I have the patience to do so (at this age? haha I'm too stubborn for new learning!) but this definitely goes straight to my own Incubus "vault". Along with the other stuff I got signed during that night, but as of now I don't know where to put them all.
I find it funny and cute that people are tagging me on most DJ Kilmore photos from their own photo sets from the concert. Hahaha, love you guys!!! :heart: Check it out on my Facebook account if you want to.. but it's basically just a variation of photos of him from different angles, lol. :heart:
Shoutout to the following people who I met during this "Incubus" phase from April to to July: Kat, Leia, Ian and RJ, Andre, Bev, Ais, Kato, Kathy, Sheereen, Chie, Rashey, JV, Rex, Pazzy, Carol, Charm, Clarizze, Charo, Tasha and Rob, and the whole street team and the people we met during the tree planting. Also, the guys we hanged out with during the adventure at Shang and the people we met during the Incubus Salubong. Lastly, people who supported the Incubus night and people who bought our shirts! Best believe the money went to a good cause, meaning the MYF. 😉
Meet & Greet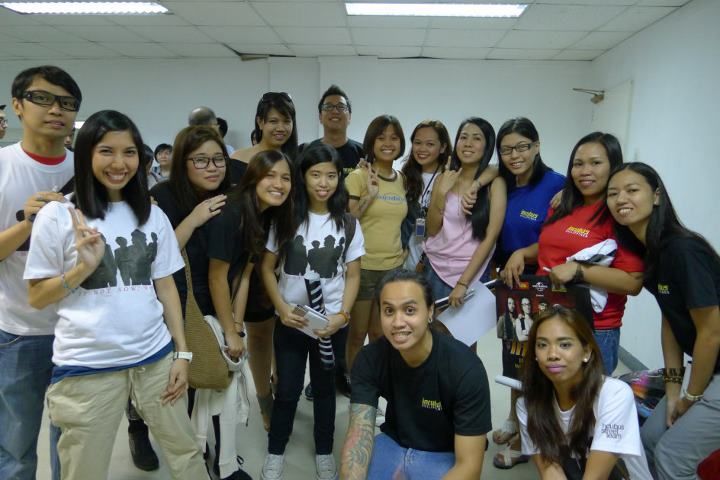 Incubus Street Team PH ready to meet Incubus!
To be honest, all of it didn't sink in until the moment came when we were in the room and Incubus were only a few feet away from us. The promoters told us to fall in line and be ready to approach the guys, one item per person and to "make it quick." LOL, ya right.
By now it should be obvious that who I really, really, really (do we really need that many 'reallys' to get the point out there? xD) wanted to meet, and I couldn't be more excited!! I'm just going to skip the 4 guys and go straight to meeting the DJ Kilmore.
Here's a brief description of how everything went: Jose was the first dude in line, and Kilmore was the very last one. "From awkward to SEXYTIME" is how I want to call it. 😛 😛 😛
Dude, it was so CRAZY. It's as if as I got closer, my smile got bigger.. I can't even. And I couldn't calm down because I feel that even the slightest movement/break in my smile, I could break down and tear up. I wanted to look good in the group photo! So, NO, I mustn't let that happen.. not when I only had 5 minutes with the guy. Hahahaha!!!
Props to Brandon and Mike for being very entertaining guys. While watching the video of that M&G, they were the ones who were really talking and I thought they were too sweet to us. IDK, maybe I wasn't paying enough attention with Ben and Jose (bec I was too excited to get to the last person, duh, lol). Jose seemed distant, as always. I understand your situation, bro. Ben, however.. hmm. 😛
My only regret was not thinking of getting my silver pen out when Jose, Ben and Chris were signing my poster. Goddamnit. Only Boyd and Einziger's signatures are visible in my poster and both of them put my name in. D'awwww.
ALSO, I FINALLY GOT TO SHOW DJ KILMORE THE SHIRT I WORE IN THEIR 2008 CONCERT. (I told you, this is not going to be a Brandon appreciation post.. hahaha)
I'm happy he liked it. Well, he was smiling when he saw it so I assumed he appreciated it the least bit. 😛 Maybe he only said it to be nice to me. IDK, haha. What if he really thought I was too much addicted/obsessed about him? LOL. Hey, it's nice to feel appreciated once in a while especially by someone you really look up to. I distinctly remember he showed it to Mike and he giggled at it like a wittle girl, lol.
CK: "Anna Wants More Kilmore"? Sweet!

ME (as in me, not Mike): 😡 :heart: 😀 :cheer: (I just about died, good GOD)
He signed the shirt after.. after having a little bit of difficulty writing on it, haha! OH, one of the photographers got to take a photo of him looking at the shirt. Just find him in the photo, and me! 😛 LOL, bouncer I wish you didn't looked at the shirt.. I know you thought I am very nuts. HAHAHA. Oh okay, Matthew looked at the shirt too. conscious =))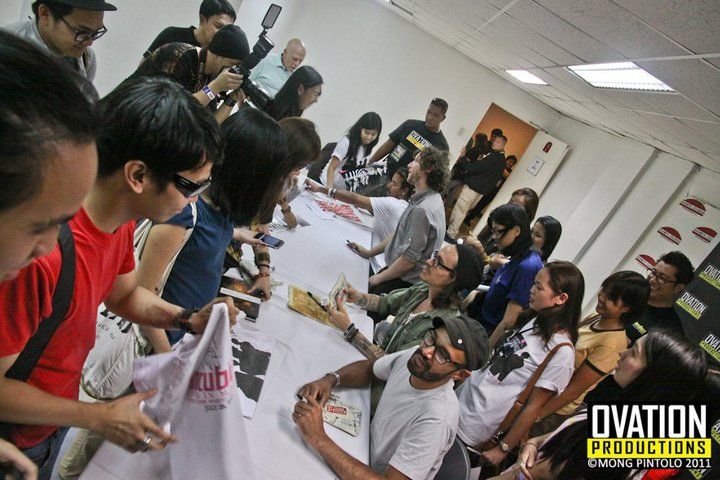 DJ Kilmore looking at my AWMK tshirt (photo by Mong Pintolo)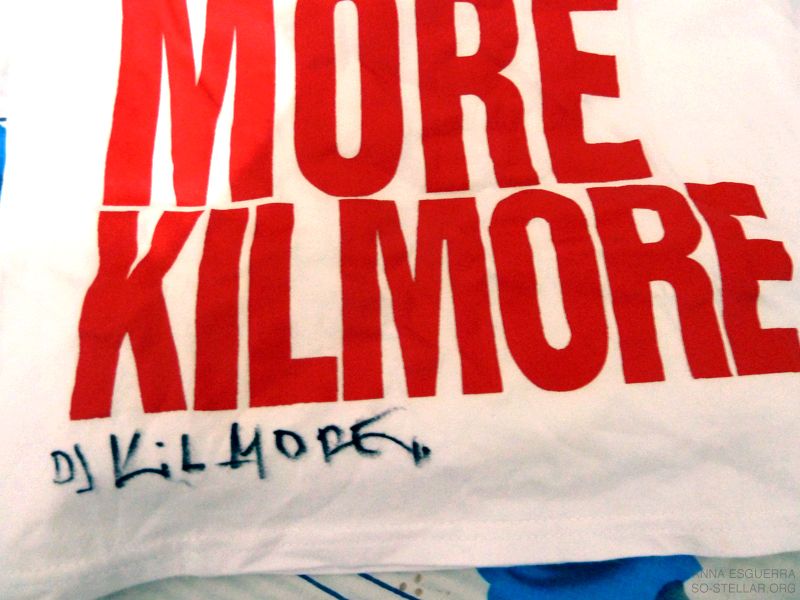 Dem T-Shirt signed by Dr. Chillmore himself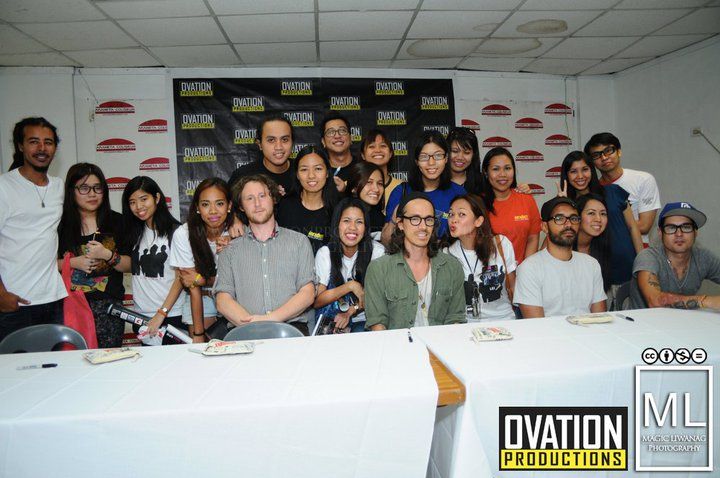 Group photo with Incubus (Photo by Magic Liwanag)
There was another group photo after this one, with the MYF cheque, but me and Kilmore (and half of Mikey's body and Sheereen) wasn't included so I won't bother posting that. LOL.
ME/CK: I think we're not included in the photo. 🙁

CK: Nah, that's alright. 🙂

ME: (creysss! It's alright, s'long as I got to stand next to you thinking we were included)
I told him where those funds that we were going to donate to MYF came from (Incubus night) and he's all thankful and happy about it. Yeah, that's basically the moment. =)) Seriously, I wished we spent more time with them. Why did they have to only stay here for a short while? It's kinda unfair TBH. : We'll have our (I mean for their sake, to see the country better by staying longer) time.
I asked a hug, too. Before the group photo and before leaving and another one in between that. This isn't really relevant and interesting to you but I just want to bring that up because.. 😡
After the meet & greet, we were sent back to the holding area and waited until the boys got out.. I got a video of that. Lol, no Jose Pasillas caught on video though. That man suddenly appears and disappears without anyone's knowledge. There's a photo of him caught by the photographers holding one of the shirts we included in their gift bags and he didn't looked too pleased about it. :))
The night is not over.. hence the title "It Was the Longest Night of My Life". July 28 ended for me at approximately 3:00 AM on July 29, 2011 inside Edsa Shang.
The Hotel Encounter
After some mishap I had to deal with around Araneta while my other friends were scattered to different groups and in different locations, I decided to call my brother and we'll head to the hotel where the band was staying hoping for some miracle to happen. The trip took shorter than I had expected, felt like we got there after 20 minutes!
I saw the street team on the lobby about to check in to a room, said my hi-hellos to them and proceeded with checking out the place. :)) I went to the 2nd floor and I saw Chie! We were waiting outside this bar hoping one of them would come out.. then I thought of going to the washroom.
Apparently, while we were in the washroom, Brandon and Mike went out. Chie only went there to have her BB books signed. I felt like I just destroyed her night, then I was determined to make it up to her.
TLDR version: She came back the morning after and got her books signed after all, plus they got a photo together, yay! She says I twisted her fate, lol. She even got a bonus in the form of witnessing Jared Leto and Incubus in one room. Yes, 30STM was in the same hotel as Incubus but it's too bad Incubus was leaving on the afternoon of that day.
Back to the story… a few minutes later while waiting and crossing fingers not everyone left, Chris came out and he wasn't accompanied by anyone so I thought it'd be a great chance to ask for a photo. Haha, I got more than that. I got him to sign my CDs and take a couple of photos and have a decent conversation with a drunk DJ. :)) S'cool though, he was poised even when drunk lol.
(This is where the conversation would go in but I'm saving it for close people only, hehe sorry.. TBH I don't remember every part of it and I still have to ask Alex what went on that night in the hoho. I don't want to ruin the moment for myself.)
My love and appreciation for this man upgraded to ten-fold, fo sho. It's personal now. =)) JK.
We also caught Ben when he went out and I got to snap a photo with him! I showed him my Division Group EP and he was thrilled when he saw it. He was more drunk than Kil, though. :)) Alex got to share a few moments with Ben while they were smoking outside the hotel.
Heehee, no photos here, sorry. 😛 Oh here's one I'm going to slip in.. only because me and Chie did not have any photos together in the hoho, and one of Alex and Ben.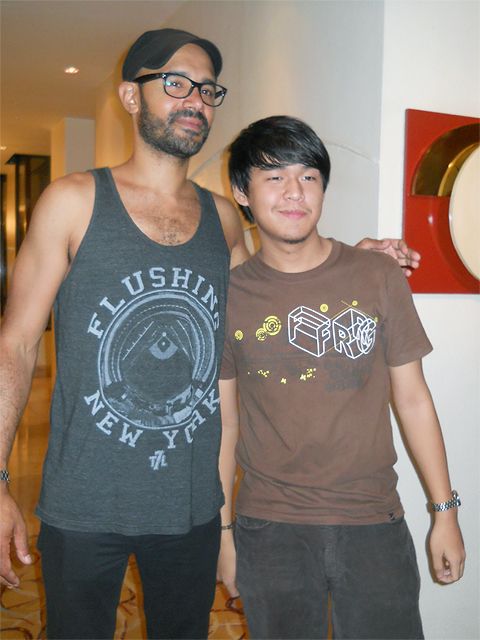 Ben Kenney and Alex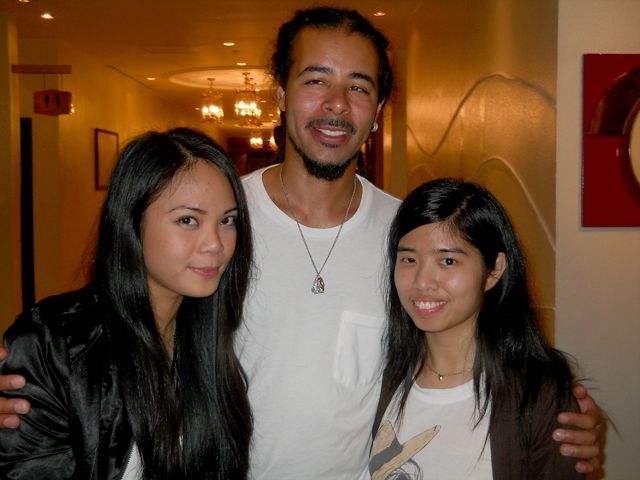 Chie, Chris Kilmore and I
---
Overall, this is as good as it gets. Everything I did in the past 3 days that's related to Incubus were mostly "firsts". First time to participate in the band's arrival at the airport, first time to actually go to the hotel and "stalk" them, first time to actually have the guts to go up to a band person and just talk (am one shy mofo, in case no one has figured that out). I'm very very thankful for the opportunities and the acquaintances I have met then turned to friends along the way. It's nice when people get together sharing one love for this band, a band who has existed for more than 10 years and just keeps getting better at every studio album release.
Next item that I intend to be signed: My Brandon Boyd books under my real name.
I hope I get another opportunity next time. It doesn't matter how old they're going to be when they come back, I will always go to their shows!!
For now, here are some of the items I got signed.. quite a lot, I just realized! Surely it beats last time when we had an impromptu M&G with them and everyone got an item signed by them but me (because I arrived late haha).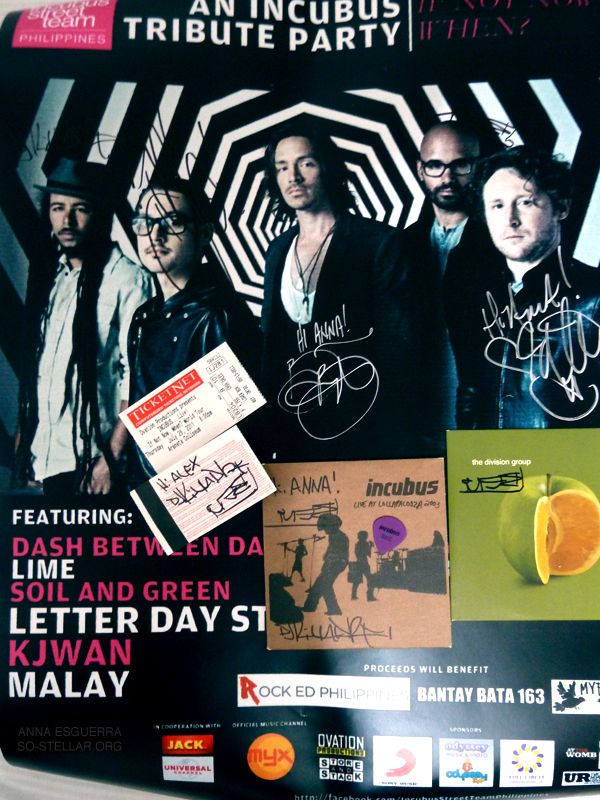 Incubus items that I got the members to sign
Gallery
Please spend even just 2 minutes browsing the photos because I did not post process them for nothing! Also, I did not post every photo.. most good tidbits are in here.. somewhere. 😛
(The rest of the photos will be uploaded in my blog's Facebook page soon, thank you!)
Photos belong to their respective owners. I only take ownership of my photos which can be clearly seen given the watermark and the post-process style I did. Okay? Alright. Let the sharing and Incubus love begin!