The 14th of July last week was definitely an eventful one for me. One, it was the day for my portfolio to be evaluated by an external panelist (aka a possible employer when I'm done with college, will talk about it on another entry). Two, it was finally Incubus night!
The event that we (the Incubus Street Team Philippines) have planned since April is finally happening. We know that the planning process wasn't perfect. A lot of things happened during those 3 months of planning. But as we all know, a successful event isn't successful if not for its bells and whistles in between.
I'm happy to announce that it has been a week since the event and it has been a very big success! Around 300 people attended and we were able to reach our goal of getting enough funds to donate to our chosen groups and charities. It was a night filled of fans, bands and music all for Incubus. A night of Incubus music BY Incubus fans FOR Incubus fans indeed! (I hope I got that right, haha!)
We were first timers to do a big event like this. It all seems so easy now that we're past it, the experience we gained and the "lessons" we learned. For some, they had hangovers that lasted well over 3 days. Me? I was alright with it. I kind of did not have any hangovers because I had other things to think about such as the exam the following day… and the post-Incubus related stuff that we did after.
Of course it did not just end at that event. Right now we're working on some pasalubongs for the guys that we hope they would enjoy once they receive it.
Here's a rundown (in bullets, yay for easy reading!) of the event last 14th of July.
I was tasked to sell tshirts and tickets at the front gate so I was able see most people I had expected to come and also some online buddies! Thanks for coming!
When the clock striked around 10PM, the line was getting long and people started coming in. I kinda felt claustrophobic and panicky during that moment because I'm not used to entertaining a lot of people let alone handle money and entertain them. Good thing my fellow street team friends helped out too.
By that time, I was assisting people w/ the tshirts and the other people were in charge of the tickets and money.
All in all, we sold out almost all 300 pieces of tickets. Yay!
The bands who performed were all great! They did good covers of the Incubus songs. I personally liked the last 3 bands who performed.
Which brings me to recommend you to listen to this band I discovered that night: LIME Go to their FB, guys! Or look for their covers of (mostly SCIENCE) Incubus songs on Youtube, worth your time!
I remember they did Crowded Elevator and Glass. The vocalist really sounds like Brandon and somewhat resembles him, too. o__O
That's band #1 that I liked.. the following bands after that I enjoyed watching and liked their cover would be Kjwan (of course this is a given, their cover of Mexico was great!) and Dash Between Dates.
It was sort of a star-studded event too. I saw other musicians from well known bands here in Manila drop by the event (assuming they were there to a) support fellow famous bands who were playing too, b) a fan of Incubus and want to be a part of it). No shame in it though, everyone's welcome! Thank YOU for coming! 🙂
The event was raining with tickets. The contests are a proof to that claim! People who didn't have tickets should've came to the event, and also participated, they would've probably won tickets to the show. Seriously guys, the opportunity is right there infront of your face. :
I'm kinda disappointed that I didn't fully grasp this event and take advantage of it in ways that I cannot say in this public blog. 😛 Such ways include approaching someone and asking a photo op with them.
I'm annoyed that I wasn't in a lot of photos. Not that I'm being a cam whore of anything, I was just too preoccupied with selling and roaming around that I forgot that I have to be in photos, even in those group photos where it matters the most because it's supposed to represent Incubus Philippines.
With that said, I am not in the group photo as well. Breaks my heart seeing the photos and the team complete.. without me. 🙁 😥 Oh well, I have done enough to get recognized one way or another. I guess I can let the works speak for my presence or something lol.
Also, I left early.. because my friend who went with me had to go home early. And, well, my laptop was in her house so I had to leave, too. 🙁 No one to blame but myself!
Seeing that huge ass 25000×25000 pixels backdrop printed IRL made me feel sooo accomplished. I remember my laptop nearly died on me while I was trying to do it. It was so big, therefore the file was heavy as well. Yes this is a must to take note of! IT WAS MORE THAN 10,000 PIXELS BIG, FOR GOD'S SAKE. Also, I really enjoy seeing my stuff printed. Like a proud papa, indeed.
I'm also well aware we were in the way of the Harry Potter 7.2 Philippines premiere. 😛 I watched the movie a few days after, didn't really made an effect on me like I had anticipated it would. I was speechless for a while. No tears, sorry to say! I'm quite confused as to why that didn't happen though.
I'm tired of typing and it's 3AM.. I've procrastinated long enough. Here are some photos. I would've attached them at each paragraph to guide you along as you read (if you reached this far, congrats!) but, meh.. decided to put everything at the end instead. I'm not patient with photographs and I'd rather type away, so there.
This is it, Incubus for the third time.
It's time.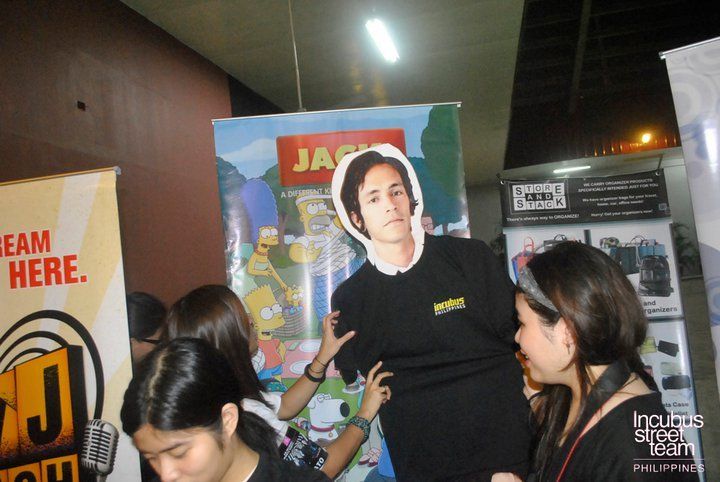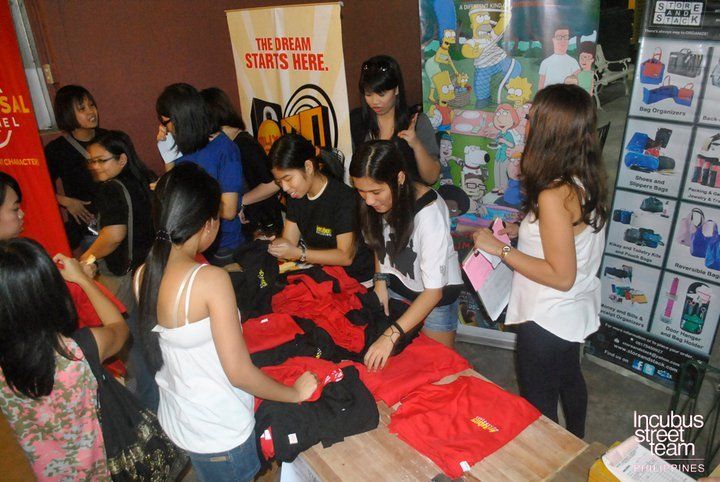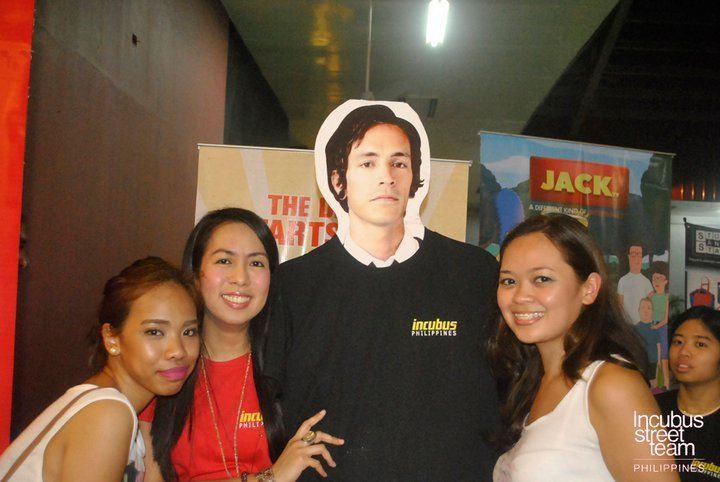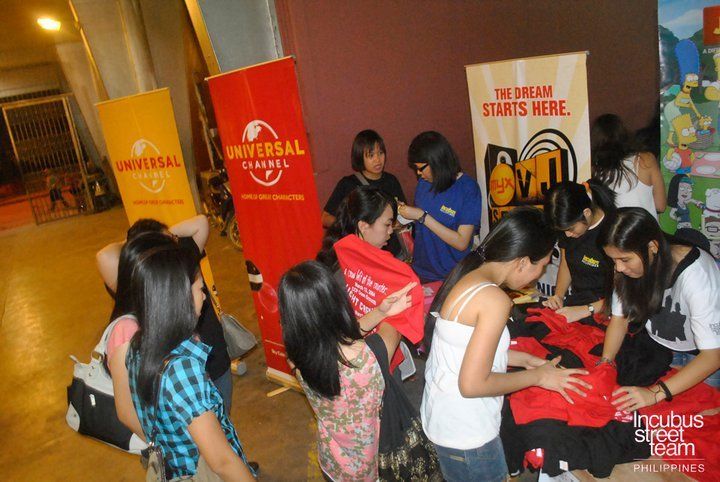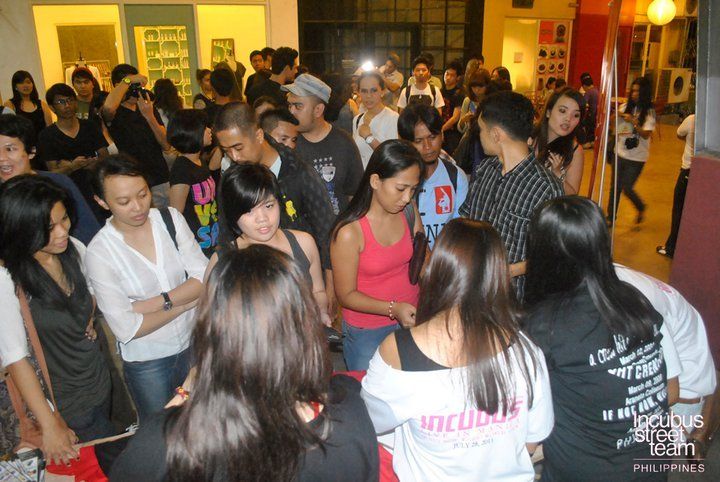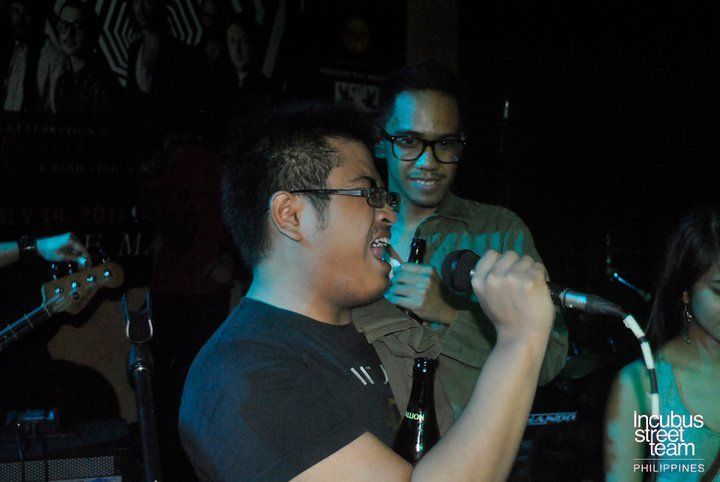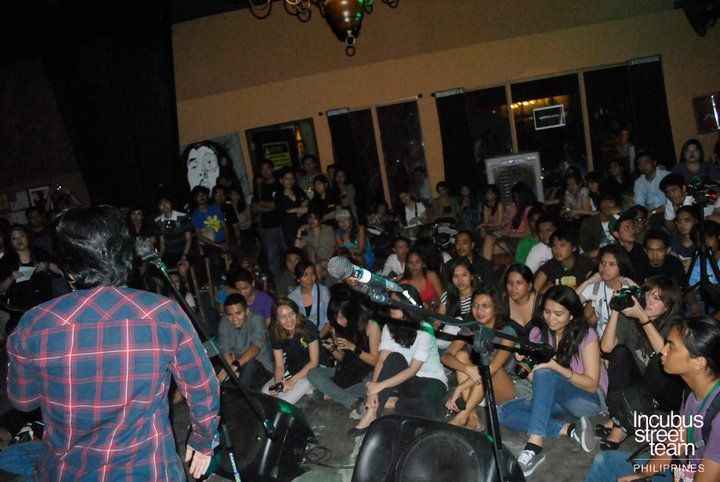 Photo credits: Rob Tuazon and Andre Melanio. Will add some more photos soon when I can!