Hi-o! Just taking a break (procrastinating, really XD) from reviewing for my quiz tomorrow and gonna make a quickie post here about the recent Incubus Street Team Philippines activity last Saturday.
So, one of the activities that we planned a couple of months ago finally came in to play and I'm happy to announce that it was a success! :cheer: Which event am I talking about? The Post-Earth Day activity aka Tree Planting activity, of course.
It's convenient that I already have photos from this place beforehand because I had a hard time thinking of what "design" should I do for this poster. As always, I wanted to keep it minimal, and focus on the text. I thought the photo looked pretty tho. The photo is from the same place that I shot way back in December when I went to La Mesa Eco Park for the first time to do our project in NATSCA2.
Well, we're not here to talk about my project last December, are we? Find out what happened to our first activity after the cut!It was a mix of feeling stoked, happy and anxious/nervous that I had the day before the big day. Number one reason is because I will finally see this baby in print for the first time. Also, finding out the reactions from other people who will finally see the face behind the design, haha.
Most of the time I get the reaction that people don't think I am capable of doing such things. Oh well. (insert "okay" meme here)  I've gotten used to it throughout the years so much that I just shrug it off. Matter of fact, I'm thisclose to just having a motto of "Let my works speak for themselves (because there's not much to know about the artist behind it anyway)."
Ooh, that would be a witty motto to use for my online portfolio project required for my Portfolio class! More on this "class" talk later! Or it will be another story in a different entry sometime. 🙂
Back to the story! It took me HOURS to get to the venue because we kept going on the wrong turns and directions on our way there. It's like some unknown force is prohibiting me from getting to my destination. XD LOLJK, we're just not used to going around the North part of Manila! See, I live way down South. 😛
I rarely go to the North, and if I do, I usually just go to Trinoma (by tram, so it's easier).. It's hard to get around that place (pertaining to Commonwelth), I swear. That place has a really long road and uhhh.. just very complicated place to be especially for a newbie like me. XD It baffles me that people just randomly cross the road there, too.
By the time I got to the venue, I had to look for the team.. and along the way I met a new friend. She approached me asking if I was part of the tree planting peeps, I said yes and she tagged along. I made an oopsie by going inside the main park when I shouldn't have (and dragging her in, boy, I'm sorry about that and your PHP 50 getting spent in the wrong time!!).. the team was just actually at the back of the meeting place! We only realized it when we came out of the park, walked back to the meeting place and saw these group of people wearing white shirts digging. LOL.
Okay, I saw those people when I got there but I did not think it was them because they looked like they sat on the floor listening to a facilitator aka sa retreat person. I thought they were people in a retreat!!
My newly met acquaintance and I went inside the hut where these people were digging, and I confirmed that it is them. They greeted me and one of them yelled out I was the one who designed the shirts. I heard the girl I was with silently express her disbelief or was it shock (?) and I just smiled at her. =)) I'm sorry I really just don't feel like bragging about it. I'm happy just seeing the shirts and people appreciating them. I felt ashamed for getting acknowledged; but I won't lie that it felt good for a little while. 😛
Now, if someone rips it.. steals/reproduces it and claim it as their work.. SHIT IS GOING DOWN, SON. That is a different story. I do not appreciate and tolerate people who rip other people's work.
Here are some photos that I nicked from the album at Facebook. Credits go to their respective owners. Hey, it was uploaded in just one account w/ no mention who exactly uploaded it.. 😛
I did not get to shoot any photos from the tree planting activity itself because I was late and people were busy when I got there so I got into the fun part immediately which was to dig in and start planting!
That's me, enjoying this moment of interaction with the soil. That's Bev, in blue, she came in a little after us. It's also the first time we've seen each other IRL, I've known her for a couple of years but saw each other just that day. Liz the one before me. I met her while looking for the other street team members.
Don't you think this slide just makes everything sound legit? xDDD It sounds so formal and shit. AWWWWWWWWWW YEAAAAH! We also got a certificate after the activity. Unfortunately mine is a bit messed already cuz I just stuffed it in my backpack. 🙁 If I had known they would give this out I would bring a document envelope for it! I want to have it framed, too, next to my Incubus poster. 😀
Fun fact: This day was also the birthday of my younger brother. :cheer: We celebrated that night.. separate entry for that later!
If I had arrived early, maybe I would be included in this photo. Hahaha. They are wearing the shirts I designed! 🙂
See if you can spot me here! 😛 I guess this photo will be sent to Renman soon and let him know of our efforts!
After the tree planting activity we went around La Mesa Eco Park looking for shelter so we can discuss our plans for the next activity we have (which you should attend especially if you're a fan *hint hint*) in store for you guys soon! We gave up after a while of going around and failing to find a proper place and decided to go to Trinoma instead. Most of the members were getting hungry already and tired so we went to Trinoma in 3 different cars! 😛
I got in there late because we got lost and missed Trinoma. One of the people noticed we're almost near Megamall.. good thing she did or we would've gotten to Makati and still not know it!! 🙁 Anyhoo.. I want to end this entry already because my hands are tired from documenting this day and I have other things to get back to! 😛
Here are photos from our lunch slash street team meeting at Taco Bell, Trinoma. I had a yummy lunch, btw. I am so going back to that place!!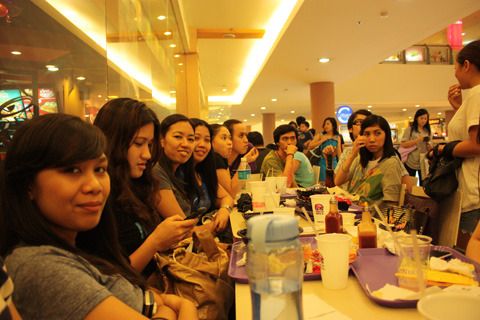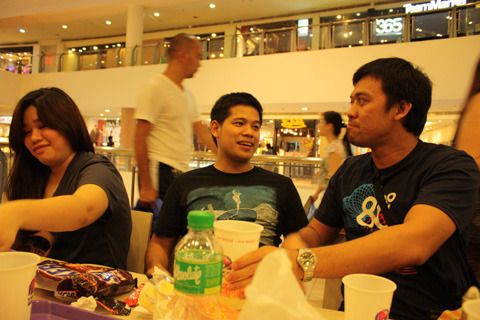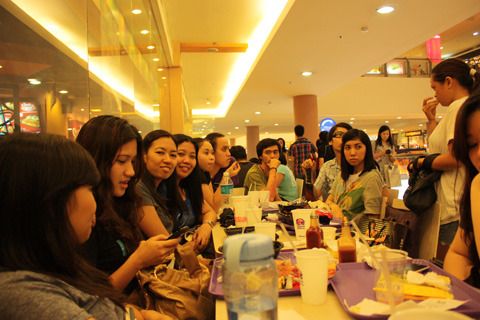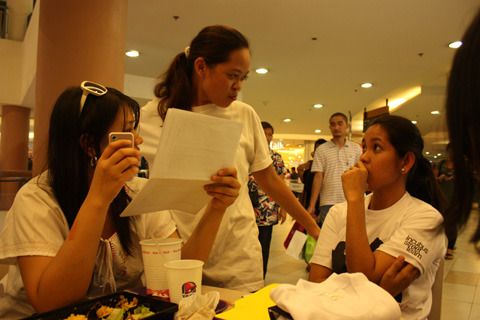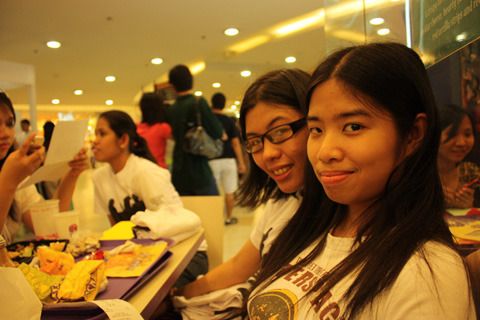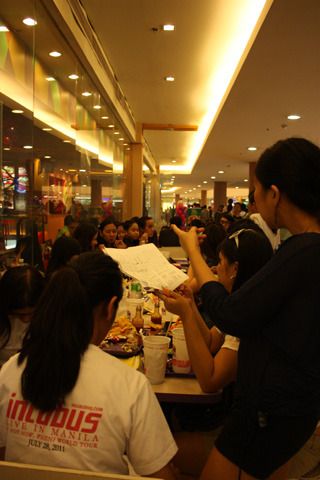 Thanks everyone for buying the shirts and appreciating them. It was also very nice to meet everyone. Hope I see you guys again on our upcoming Incubus Night! Lastly, I hope YOU enjoyed our little get together/tree planting activity. Expect the next one to be AWESOME. 😀