What up? Just posting an update on a few notable things that happened lately..
It gets better once you start reading it. Gonna put everything fun under a cut, hahaha! 🙂
1. Some (really itty bitty small but) updates on my thesis! I've finally started on my post production. I think I have a clear path now on what I want to do on terms of animating it.. I just hope it will be enough for the panelists. Though, ever since that first time I've tinkered w/ my thesis DIR file (last Sunday), I haven't touched it as of late. I can still smell the stench of failure somewhere in this one. 🙁
2. Good grades in my classes this term. I'm taking only 4 subjects and I think my grades in 2 of these classes are good enough.. Not so much w/ my thesis class and business class though, methinks.
3. The unexpected surprises that pop up in the most random moments. :whistle: :heart: Seeing people you haven't seen in a while. Hanging out in places you haven't been to in a long time. Making moments w/ people you might see for the last time this term *cough*. TALKING to some people who you never thought would ever get to talk to.
4. Won tickets to the Stone Temple Pilots concert TOMORROW. It was sudden and it got me shaking for hours, lol. I innocently tweeted the required tweet for the contest held by Dig Radio PH (They're a new net-based radio station, similar to NU 107 from what they say on their Facebook page) and PinoyTuner. After that, I continue surfing the net and eventually went on a break to clean my computer.. When I came back I got a message on my twitter saying I won.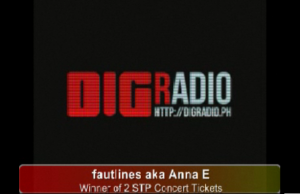 My plans for later actually consist of going to school to get that new waiver for my thesis class, go to my friend's house later to give her that spare battery for my DSLR that she borrowed and meet up at a cafe with another friend and head home to procrastinate, haha! New plan is to to the following things PLUS going back and forth to Makati and Manila for the tickets and head to Araneta Coliseum at night just in time for the show.
Gosh, I hope tomorrow turns out smoothly. I actually expect something wrong to happen along the way and something embarrassing.. gah!! I thought of giving the ticket to someone who deserved it but after missing out on the Deftones concert last month, I wouldn't let this one slide! 😛 Okay, hope to have fun tomorrow.. fuck's sake this is Stone Temple Pilots!! I'm sorry if this is disappointing to anyone but I've listened to more Velvet Revolver songs than STP, and I only started listening to them last week. Ok, sorry again for being a disappointment.
5. Getting mentioned in Enchong Dee's KTXT. It happened upon coming home at the end of stressful, tiring, annoying, badshot day. Night classes didn't go well, my afternoon ended awkwardly, I passed the wrong homework to my teacher, tldr etc etc. Well I had dinner w/ my friend at Jollibee after that class and food makes my tummy happy so it all worked out in the end.
Though, the surprise waiting for me at home (as soon as I went online) was, by far, more rewarding, hahaha! Here's the text that he posted through his Ktext:
I would like to say thank you to these people for updating the tumblr site managed by caroline, Anna E. (our site developer) Marj n.( the one who always bring her dlsr, our main photo contributor and Tin m.(c0-admin, she updates the site regularly from cabanatuan:) thank you caroline for updating me about this and always being there for the group:) hoping to meet all of you in maria la del bario:)
Mehehehe, I hope I'll finally get to meet him soon! I feel a tiny bit of accomplishment and efforts definitely paid off. I enjoyed working on the layout!! It ain't my style but I made it work. 😀
6. Last but not the least…
Remember my shitfaced iMac G5? Look at this photo to refresh your memory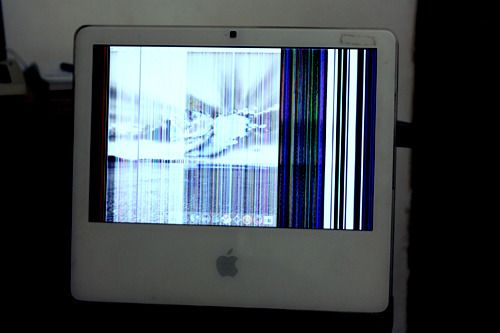 Anyway, I had it fixed.. for free, thanks very much Apple! One of the reasons why I love and stick to this brand is because they care for their customers.. hehe. There was a recall on the G5 units because of the defect with the LCDs.. After 5 years!! Glad we sticked by this.
So I gave them a call one afternoon and told them about my case and they granted my request for a free LCD replacement. I brought my computer to PMC Mall of Asia Branch and got it back just tonight.
Tadaaaaaaaaaa~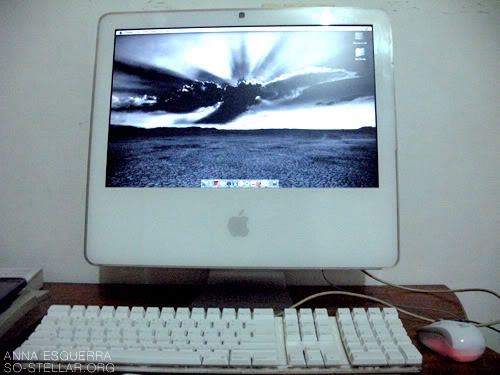 No more lines! I surely hope it stays this way.. last time we had it replaced, with a fee, the problem came back eventually. After a month, the lines came back again. Somehow I think it will happen again, the lines I mean, but at least for the meantime I'll get to use it in its normal state again.
Enjoying it while it lasts! Might need to scout for a small but sufficient computer table for this and a new mouse (cheap one will do) and a 1GB RAM chip for it.. 512MB is killing me and I'm not to the speed it offers anymore hahahaha.
Later days! 🙂 Hope your March is as eventful as mine is!