Note: My title comes from one of the songs this band has did a cover of. Check out Deftones' version of The Cars' "Drive" song. 🙂 I'm sure you'll enjoy listening to it too.
November 2010, I saw the news break online that Deftones would be having an Asian tour next year, or as they commonly referred to, a "Pacific Rim tour" in 2011. Manila, Philippines was one of the places they would stop over and play a show for the Filipino audience. Of course during that time, only a short amount of information was released to the public to get some hype and attention.
After realizing that Pacific Rim was also the same name of the Incubus tour they had here years ago, I was OMG-ing all over online and trying to calm myself and not panic at the same time because, good god it's way too early! It's only November and the show's not until February for fuck's sake. Calm down and post on tumblr, twitter, facebook the news. SPREAD TEH WORD~!
I remember the poster had a "special guest" note in it. Many people had their guesses and speculations on who might that "special guest" be. My guess was Brandon Boyd (lol, IKR!).. Oh, I know it's pretty impossible.. but there might be a big possibility since Deftones and Incubus are friends anyway. MAYBE they're the ones who convinced Chino and Co. to add MNL to the list, LOLJK.
ALSO! I'd love to hear Be Quiet And Drive (Far Away) live, if you've heard the live version of that song with Brandon, you would understand why I want him to be here in Manila performing that song along with his buddy Chino.
A couple of weeks (-December) later, it was revealed that Urbandub's that "special guest" that was mentioned in the poster. I wasn't that crushed (emotionally), jsyk, I'm like "oh okay, no biggie." The priority here was to see Deftones. 🙂 You have no idea how badly I wanted to watch them live here, ask my 16 year old self.
Here's the final poster plus details of the show:
You can purchase tickets at any TicketWorld outlets. Check out their website for outlets close to your area! I'd get them at one of the NBS outlets because one of them is close to my school, so less traveling time, yeah.
Lol, I also did some ~*shirt designs*~ but unfortunately not many people liked them but I'm still posting them for the sake of looking back at this years later and uh, think if I did any progress from this.

Idk if it's obvious but it's inspired from the silhouette design of their White Pony album. Silhouette of an Owl (as shown from their Diamond Eyes album but the one in the shirt is not the Owl from the album, obviously, haha) plus the details of the show on the back print. Eh, it's one of those spur of the moment projects that I'm still proud of even though not many appreciated it. 🙂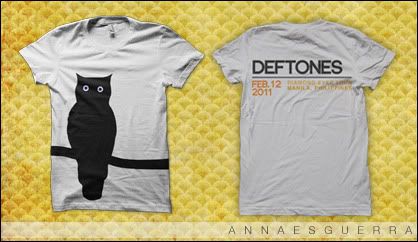 The owl needs some reworking methinks because some people thought it looked "cute." IDK it looks fine to me, plus I'm thinking of ink costs that's why it's rather minimal design. Ah well, it's scrap work now. :
I first heard the band around 2003 back in High school, when Rock music was the "in" music to me and my barkada and hiphop/rap/rnb was very much unwelcomed (but all that changed in 2010, fyi).
You know how 14 year old kids are in this "time". This was the time when nu-metal, alternative, metal and sub genres like that were at its peak and kids recently grew out of listening to pop music/ala-Britney Spears and N*Sync. I was one of those kids, ngl. Evanescence, Limp Bizkit, Linkin Park (!!), etc. were one of those bands who were famous in that year.
My 21 year old self is sorry for not remembering ALL the famous rock/alt bands during that year, huhu.
Okay so back to the story, back in '03 we liked listening to bands like Deftones and discovering a band similar to them was like finding a new treasure in a deserted island. They're one of the bands I still listen to up to today and upon finding out they have a new album out, I got excited and listened to it immediately. I've a handful of tracks that I liked from the album, sure, but there's this one song I keep putting on repeat aside from their singles and that's "Pink Cellphone". It's a dirty song, I know that, but I guess that's what makes it stand out. Plus I'm really into those songs (ok, instrumentals-ish songs?) with awesome bass beats.
A year later, in June 2004, Linkin Park visited Philippines for the first time and did a show here. I went with two of my buddies and that was the very first time I experienced to be in a real pit, haha. Luckily in that year, concert tickets were rather affordable compared to this year especially FRONT ROW tickets. The only thing between the band and I were the bouncers and barricade. So after seeing LP, that's one band crossed from my "must -see bands before I die". I know, I know it's rather childish. K.
If I would get the chance to really see them, I'd put this night under the "mission accomplished" section in my book. I was 14 and in Highschool AND dealing with teenage/love bullshit and going through the whole "I hate the world/fuck you all" phase when I first heard of them and instantly got hooked to their songs, I'm 21 now and close to completing college and graduating (soon enough, I hope!), and about to enter the "real world" by the end of this year.
I'm not one of those hardcore fans who knew them from the start or while they were just starting out or the type who knows them from the depths of their inner being, but I enjoy them for the music they've shared to us throughout the years and.. what else? I listen to Minerva everytime I get angry or mad. Yeah, Minerva is MY Deftones song.
Isn't it about the music in the first place? So I'm here for the music, nothing more nothing less.
Seeing this band and hearing their songs live would be like giving myself a pat in the back for those teenage years I successfully survived and left behind with no regrets and with a smile on your face. /OHGODOHGODEMOPOSTOF2011FTL.
Oh yeah, it would be another band to cross out on my "must see bands" on my list. It's not like Deftones or any other international band I enjoy listening to visits the Philippines EVERY YEAR, so might as well seize the moment.. one time opportunity, blah blah. I did that when John Mayer went here last year, money well spent indeed.
Look, if you had one shot, or one opportunity
To seize everything you ever wanted in one moment
Would you capture it? Or just let it slip?
Lose Yourself – Eminem
HAHAHA. But I hope you get the point of what I'm saying. 😉