I remember that sometime last month, last year I wrote in my tumblr that 2011 would be an eventful year. It's only January and I think it's too early to say that this year is already eventful or awesome, BUT a lot of good things are starting to happen so it's all good and I'm not complaining. I can only say that I hope this continues for the next 11 months, haha!
Right. I'll cut to the chase and tell you about my gadget.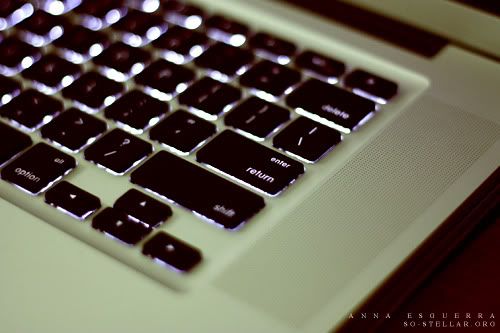 I recently got an upgrade from my Blackbook (Macbook black) that we bought in 2007 to an Aluminum MBP! Most of my friends know that I've been wanting a laptop for SO long, and finally it happened. 😀 I never imagined that I would own one of these computers that I only saw in photos and videos around the net. Oh yeah, call it an obsession if you want, I googled that shit more than the average number of times that I should. I got so used to just seeing it and gave up that I would actually get to own one of those.. I guess things happen when you least expect it or not want it so badly. Funny how that works.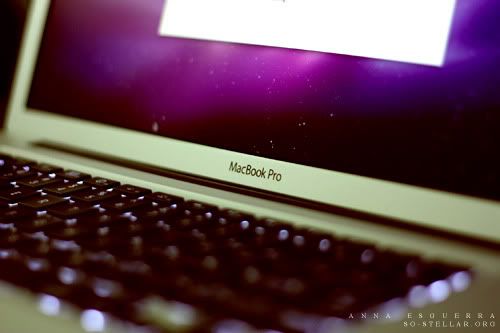 It all happened so fast: Dad told me to book tickets for his HK trip, then we had "the talk" and after that he told me to print out the model I wanted (I added the specific specs on purpose, haha) then two days later he left for HK. The next day after that he called me while he was there, at the shop, telling me he's finally going to buy one! It's a bummer that the HDD is the stock (meaning not the one you can get optionally which is the 500GB 7200 RPM, or an SSD drive but that's mega expensive haha) model but I can live with it since it (and the RAM too I didn't max it out) cause they're both user-upgradeable. Meaning, I can upgrade the HDD and RAM myself when the time comes that it needs to be upgraded and when I have enough money on my own to get those. For now, everything is quick and snappy, the way they should be.
<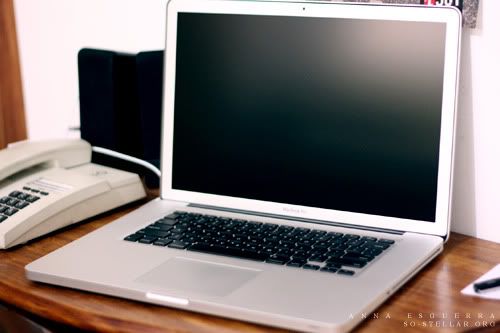 My only requirement here is the processor and the LCD type.. I really wanted the HQ Anti-Glare (Matte) screen that they were offering for BTO orders at the Apple site (because the res is bigger than 1440×900, and I didn't want to get a 17″ because the screen res would be TOO high already, the one here is just right and perfect for me) and the new processor (2.8 GHz i7).. can't tell the difference with speed but at least there's assurance that this one is one of the fastest processors at the moment.
The matte screen is especially helpful to me because I'd like to do more print work in the future and matte's colors are more accurate than glossy. Also the resolution of the screen, plus points for that. Now I can see my documents clearly and my viewing is not limited when working on graphics.. I can work on my thesis more clearly now!! That's one thing I've struggled on w/ using a 13″ laptop especially on my thesis interactive, I made the res of the document too big for my resolution so I struggled so much that I lost mood and ended up with a amateur output. It was definitely hard deciding which one to go for that it took me months before sticking to my decision to move on to matte from glossy. Look, the black borders of the glossy screen is just too sexy and eye catching, TBH the silver bezel (or is it border?) for the matte version is not too eye catching, that's what I thought AT FIRST. Once my dad showed me the laptop and I opened it, lo and behold the almighty matte screened MBP. Hahahaha! You get used to it over time and begin to wonder why you ever considered glossy in the first place. It's really pretty.
Lastly, Applecare! It's a definite must-buy for ALL your Apple products because it's like an investment for your Apple products, it extends the warranty by two more years. I got to maximize my use of APP for my previous laptop: (1) Got the keyboard replaced, (2) Got the battery replaced. Now I don't know how much that costs but it sure beats the time when we didn't have APP for our first Mac and we had to shell out a huge amount of $$$ just to have the  LCD of our iMac G5.
Of course the decision is in your hands if you want to get APP for your Apple product or not, but let me just show you what happened to our old G5 after the default 1 year warranty expired (perfect timing!):
Don't say I didn't warn you, ok.
I've been really OC about this computer lately, too. Like I want it to be SUPER clean because I plan to put a protective skin on it like on my old one. In fairness, the BSE skin kept my Macbook very clean and protected from scratches. No visible marks of battle scars right there! 😉 It's a challenge to decide which one to use on this laptop cause the surface is matte, having used it for more than 3 days already made me get used to the texture and I think I will miss it if I put a glossy protective skin on it. People often recommend Wrapsol for the aluminum Apple products because it has a matte-like texture but I'd like to know how thick the film is.. maybe a scratch of a pin might poke thru. Also, it's expensive (like 3x than BSE) that's why I'm having 2nd thoughts about it.
Alrighty.. what should I name this computer? I noticed there's something common with the names of my gadgets, they all start with the letter C. There's Chris and Casey.. so technically this one should be a C too. Ohhhhhhh YEAH, I have a name for it already hahaha but I'll keep it to myself. 😉 Hint: It's a fucking BAMF name. FUCK. YES.
Thank you again for this, dad! Thankyouthankyouthankyou! I also noticed you are starting to do small acts of kindness around the house.. hope you continue doing that. Yeh, seriously. 🙂 BTW, there's also another product he bought along with this laptop.. it's something that rarely gets used right now but it will in "due time", also he makes me do all the work in it for him like put photos and stuff. LOL.
If you must know, my Blackbook has been passed down to my little brother. Hope he really takes care of it.. but right now I noticed there's fingerprints on the screen already and a tiny piece of plastic on the lower right side of the palmrest is gone, its starting to chip off. 🙁
Later days!