Last time, I left my entry hanging with a so-called plea of asking for "more time" to do my thesis text content because it was due the following week and I was nowhere near 50% with my text content typed out in MS Word. Are you interested to know what happened to that? Was I able to finish everything and made it to my deadline OR did I gave up and failed my thesis production subject entirely and watched movies the entire week?
Of course I had to give you another cliffhanger to the story, haha. Read more after the jump!
Below is the envelope I was going to use to pass my content had I went through with this text content evaluation deadline.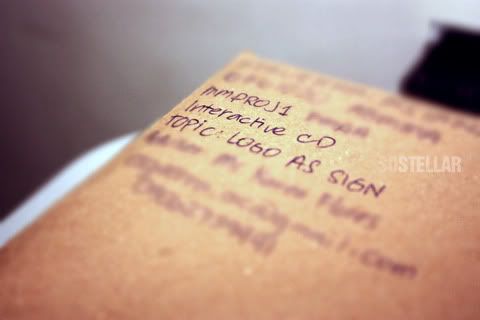 I'd say all my hard work and procrastinating paid off because I was able to finish it (hurrah!) on the day of my set deadline, last Wednesday, and I got to submit it to my content evaluator on the same day as well (I saw her in school by chance and handed the envelope to her personally).
Sleeping late, not eating on time, watching TV and doing other things unrelated to thesis, staying nearly 24/7 in front of the laptop and the back and neck pains caused by it was so worth it! NOT!
Unfortunately for me, on the same night I seemed to have caught a virus from someone at school because when I went home and slept, the next day I was feeling sick and it got worse throughout the weekend. I realized that it could be either I got sick from someone who was also sick OR it must be from too much stress of this project (I don't get to eat on time anymore, take my meds, sleeping late all the time, etc.). Either way, I got sick and up to now I am still on recovery mode. Ugh, I hope to get well by the end of the week because I have to attend two very important events starting next week!
Long story short: I got the whole package when you get sick (cough, colds, fever, and the worst: SORE THROAT). My sleep last Friday was nearly unbearable that it almost made me not want to attend my Saturday morning class the next day. Funny thing is, when I got to school (yeah I pushed myself to), I started to feel better. :))
OK! After that horrible week, I saw a post from my content adviser in our online groups just this week. The post contained names of people who can now claim their envelopes on her shelf at the faculty to see their grade. I saw my name in the list and I felt nervous and happy at the same time. What if she rejected my paper? What if she gave me a low, really low grade?
I know, I know, I'm being much of a pessimist. It's better (for me) to expect the worst before jumping to a positive conclusion instead of the other way around because it would be harder to get over something you expected so much about. Anyhoo~ I got my envelope back last Wednesday (approximately a week after) and here's the result.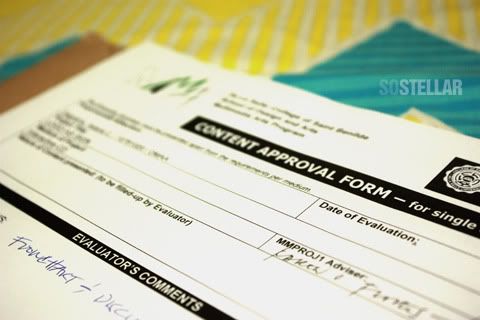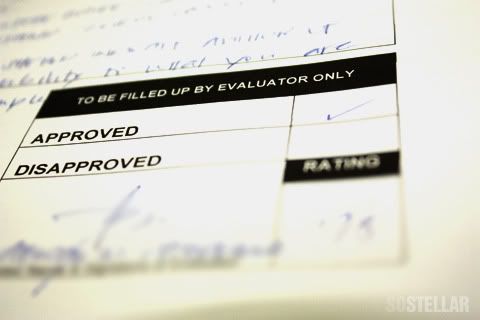 APPROVED! Indeed all my procrastinating and pains paid off in the end! She had some comments and suggestions how can I improve my paper and there are also parts of my paper that she liked which I am happy for 'cause the other forms I saw were blanks on the approved section.
I don't think I'll be revising my paper anytime soon, especially right now, maybe during the weekend. Now I gotta do the design stuff asap so I can finish way before the actual deadline and just in time for our internal defense next month. Hmm, so that's why November feels like a slow month. Please be more slower, so I'll have more time again!
That's it for the meantime. This week is our midterms and tomorrow's the final day for it. I think I aced every "exam" except for that one class about the Environment and Advertising. 😐 K, bye!