Ugh, I'm starting to develop a bad habit this term and it's not helping with my thesis subject at all.. I've been going to malls almost non-stop since last week and probably have used 70% of my "savings" already. I feel so tired and annoyed at the same time. Must go back to being a tech person and not a shopaholic person!
FML for being a girl. Shoulda been the boyish type.. their clothes are more cheaper. I don't even know why I am in the mood to buy shoes or clothes lately.. /:)
I never liked shopping in the first place. Shopping is very tiring and it doesn't help both you and your wallet with saving up moolah. In my defense, shopping is not on my like-to-do list for these reasons:
I cannot find a pair of jeans that will fit me perfectly. By "perfectly", I mean the right length.. I got the measurements covered in the hip area.. just the length of the pair of pants. Because I'm short. =))
I have a hard time shopping for clothes/shoes/bags when I have to use my money. Maybe this is more of an issue of "letting go of my money."
Either the shirt/top or pair of shorts/jeans/shoes don't have one in my size OR it's the last stock and I'm stuck with buying the item on display (argh, DNW).
The third one is what I've experienced on the past three days that I've tried to "shop". I wanted to give up once I got to the last mall I went to today and asked the sales lady if they have this pair of sandals I wanted in my size and she said the one on display is the last one and there are no more stocks.
Obviously that was a sign for me that means to stop trying (been going back and forth for a pair like the one I want!) and save my money. Sorry to say, that's not what happened.. Three days, three purchases. Read more on what I've bought.. and might've regret buying.
But first, a photo of our dog! 😀 :))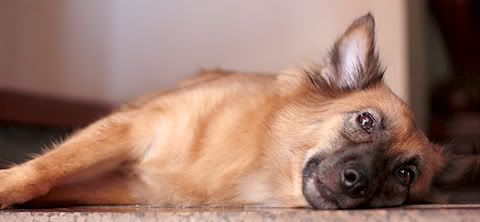 Saturday: Mall of Asia
Went here after class with my buddies.. what started out as an innocent lunch-then-movie-after turned out to be a "shop for food" day. Oh, and we dropped by in a couple of clothing stores.. mostly the expensive stores cause my friend liked looking at the clothes there. Expensive clothing. Not my type. NEXT!
BTW, we watched Piranha in 3D. Not so scary IMO, lol. Should've known that there's a clear copy of the movie out in torrent world already.. grrr! Sucks not to have a DSL connection and be unupdated when it comes to downloading movies. I could've saved that PHP 300 I used to watch that movie. Ate at White Hat after.. mmm yogurt was alright.
Sunday: SM
Met with my other friend yesterday to give back CDs I borrowed from him. I was supposed to only stay there for an hour but I left there 2 hours before the mall's closing time. I only bought this bag from the department store cause it looked similar to my brown shoulder bag I use for school. I was hesitant at first because it was expensive (for me, only cuz I have to use my money, haha!) then again.. My bag was starting to wear out. : So I bought that and window shopped for the next 3-4 hours.
I saw a couple of tops (in the kids section, of all places!) I wanted to buy but didn't think they were practical for the price. The fabric was thin and it was priced about PHP 200. IDK, it bothered me, heh.
Left the mall with this purchase + food (lol):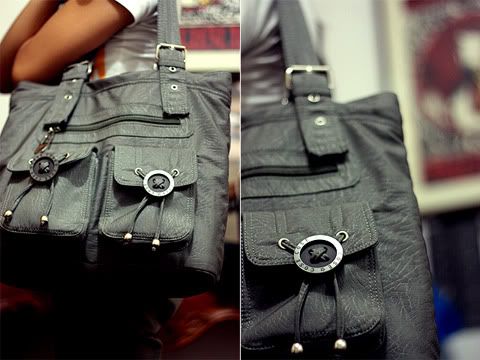 Monday: School, and then two SM malls
Probably the worst out of the three days because I did some "serious" wallet-burning activities at this day (today). First, I went to school to pay for my retreat (take out $20 from my savings) and then I had some free time.. so I went to the nearest mall so pass by time before I can go home to meet with my friend (the one I had met up just yesterday!).
I left the mall an hour later with a pair of Crocs imitation: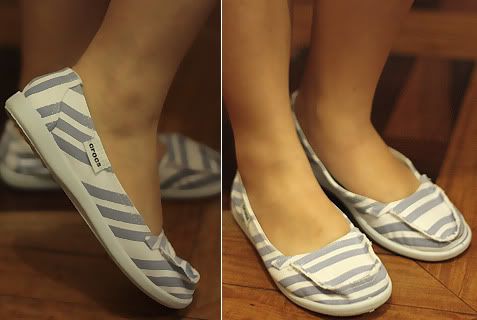 Yup it's not an original.. right now I am concerned how far the real one looks like from this one. I googled and there isn't much difference except for the distance of the stripes in the front. Maybe I'll wear this when I'm out.. but not to school. Hahaha. Surprisingly, it is comfortable. Usually rubber shoes that are imitations are uncomfortable.
After my lunch at McDonalds, I took a cab and went home.. but stopped by the SM here to meet with a friend.
An hour later, when he got there, I was contemplating if I should buy this pair of sandals I saw.. while trying to get over myself not buying the other pair I saw at the mall I went to before this one. 😐 I hate it when the item I want is the LAST one and its on display.. I don't want to buy that anymore because other people tried it and it doesn't look presentable anymore. : Too bad, I really wanted it.
Anyhoo, here's the other pair of shoes I bought (last one in stock, ugh.. still bothered but I will clean it before wearing it):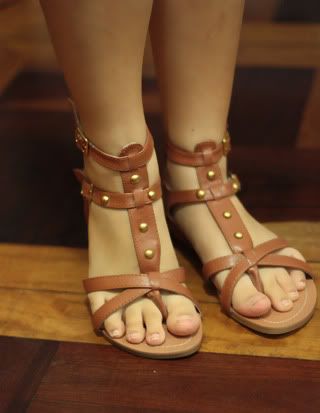 Not sure if I would wear this to school though, hahahaha! I'm a tad bit shy to not blend in. I'm the shirt + jeans + chucks type.. I don't see the point in dressing up especially if it won't make me feel comfortable. And I walk a lot to/in/at school, so I need durable shoes, lol!
So that's it.. the stuff I've bought recently. All in all it ate around 70% of my savings.. and now I have to make up for it. Starting tomorrow I will not bring any more than 30% of spare money to school and I will eat at affordable places.
Absolutely no more restaurants, and if I will eat at fast food joints, I will not buy anything that will be harmful to my health (lol). Absolutely no more spending more than 150 starting tomorrow! MUST ABSTAIN FROM GOING TO ANY MALLS UNTIL I FINISH MY THESIS.
I thought about dropping the subject, but that's not the problem. I'm the one who's the problem here. Just gotta set my priorities straight and not get lost in the process. I gotta have to graduate soon!!
I'm good at this.. I can finish requirements in a short time better than anyone, my friends can attest to that. 😐 What's happ'ning to me? 😐 Gotta get my head in the game!