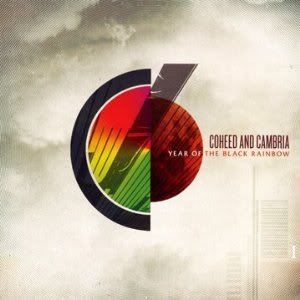 Apparently, Coheed & Cambria has a new album out.. and a world tour Manila concert to complete the whole new-album-therefore-we-have-to-tour-to-promote-it mood.
I've had this album sitting in my harddrive for a couple of weeks now.. maybe for a month even, but I've just started listening to it recently. I wasn't expecting much from it because their last album (No World for Tomorrow), for me, wasn't that good. Maybe it's my own fault in the first place for not really listening to it.. from what I remember, I only listened to the album 2-3x and after not getting any feel from it, I gave up.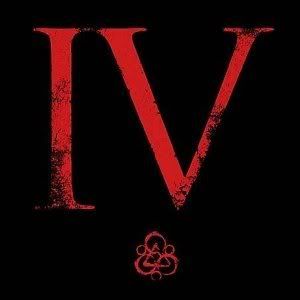 At that time, I was still attached to Good Apollo, I'm Burning Star IV, Volume One: From Fear Through The Eyes of Madness album.
* I copy/pasted the album name, lol, I really don't like albums with really (not exaggerating, as you can see) long titles. See FOB and PATD's earlier albums and you'll know what I mean.. oops, I forgot to include Mayday Parade on the list as well.
But this album, Year of the Black Rainbow, seems to have proved me wrong. A random song plays from the album, I have no idea what the title is, but it's good. Same with the next 5 songs. Good in a sense that is upbeat (but not the pop-upbeat type, of course), loud, etc. No good with describing music, sry. It sounds similar to Good Apollo, I'm Burning Star IV, Volume One but with an added flavor. If that album was 2x powerful, loud, heavy on riffs and the lyrics, multiply that by 2 more and you have Year of the Black Rainbow.
Part of the reason why I enjoy Coheed & Cambria's music is the lyrics they have in their songs. If you should ask, my favorite song from them is Everything Evil.
My favorite lyric?
Blood hungry
Cannibalistic unfit
Family ties
I'll give myself a couple more soundtrip sessions of this album for it to sink in to my system, hopefully just in time before they come here and do a show for us Filipinos!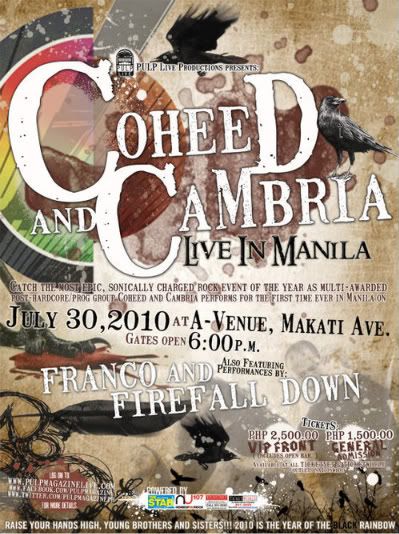 Yup, they're going here in July. That gives me a month to save up? I hope so. I have classes on the day the show falls on, I want to be near on the front row. 😐 Ack. Shit, I haven't bought a ticket yet.. should I be worried? I was thinking of buying it like 2 weeks before the concert day, and it just hit me now.. what if tickets were sold out by that time? 😐