School started for me last Thursday. I was right all along to be nervous, because my first day wasn't easy. I mean, having two drawing subjects in a day and the profs gave us a head start on what we're going to do in 14 weeks. Draw, draw, draw! For my 2D animation class, we're told to start thinking of our character, then on my Technical Drawing class, the prof gave us some worksheets to start working on. I like the lettering activity sheet best, haha.
Nervous, yes. Hopefully I won't breakdown in the middle of the term. Good thing I'm a person who does things in advance. *panics* =)) Just need to think of an easy character.. *sigh*
I've yet to attend my Monday and Tuesday classes. I have Web Development, Video Production and 3D Animation classes for Monday and Tuesday. I don't want to assume that I'm going to do well in Web Devt. subject just because I know a little bit about it, I know it's always going to be hard. Just like in my Computer Graphics class before, I thought it'd be easy cause I know Photoshop blah blah blah, but its definitely hard.. harder than I expected. I'VE LEARNED MY LESSON. I'm going to walk in that class knowing NOTHING about web design, haha.
Concept Photography is my only class during Fridays.. I didn't realize how hard this subject is until I actually attended that class. See, my friends took the subj earlier than me, and they're always saying how it's hard to conceptualize. Next meeting we have to shoot still life objects, and portraits too I think. Damn, I seriously need to get my photography mojo back. 🙁 And one of our exams includes a shoot where you have to copy an ad. Say, a photo of a model, you have to do a shoot like that.
To make this short and sweet: JUNIOR YEAR WILL BE THE BUSIEST AND POSSIBLY THE TORTURE YEAR OF MY LIFE.
————–
As for the part of coming back to the gigs scene. I took a break from school and decided to go watch some bands the night after. Friday night I went to MOA with my brother to watch the MTV Exit event. MTV Exit is an event to raise awareness and increase prevention of human trafficking.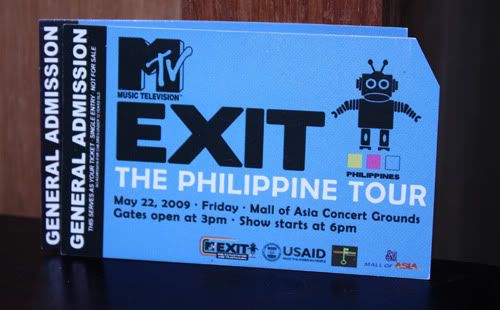 We only watched two bands, Pupil and Itchyworms. Watching Pupil again after 2 years gave me the push to go out and be active in watching live bands again. It's going to be hard to catch up now cause school's definitely going to be busy.. but I hope I can make it to their upcoming Hard Rock show! 😀 I really want to shoot bands again now that I'm using a DSLR, I'm more motivated. :))
BTW. I'm thinking of making this website Tumblr-powered. I have another 'blog', AE on Life, it's basically the same as this one except it's updated every day and I show a photo or two per post. It's like a photo journal, but easier to manage. What I plan to do is, get rid of WP and replace it with Tumblr.
I'm not sure as of now.. the fact that I have more comments and more posts here (dating back to 2005) is holding me back from doing the big switch. It's no biggie for me to manage 2 blogs.. but I thought I'd make things easier, for me.
If I did switch, it won't be the same. I lose pages, comments and posts.. (but still have backup of it). I could put Disqus on the posts but it won't be the same either.
*shrugs off*