I'm glad to report back again after a loooooooong week that I am finally well again after that last post! 🙂
THIS IS GOING TO BE A LOOOOOOOOOOONG ENTRY, TOO. 😎
Today's the last day of April and tomorrow is May, and officially after that.. I have 20 free days and then I go back to school after that. Ugh, not again.. SCHOOL. It's TOO early to talk about school at this point, isn't it? But when you think about it, it's not too long before May 21 comes knocking at your door, it's not too 'close' either.
My brother and I were supposed to go out today.. to Trinoma. Yup, that big mall in the North. People say that it's bigger than Mall of Asia already so it must be REALLY huge and I want to see it! Besides, I've NEVER been to any malls around Quezon City. :doh: 'Supposed to' because its raining now and ugh, dunno, I feel lazy to go out already. I think it stopped for now but the weather isn't looking happy (sunny) yet. I would rather go out in the heat than a rainy weather.. what if we come by a flooded place? We'll commute on our way there pa naman. :))
Anyway.. a lot of things have happened since my last entry. Wait, it has been only just a week since I updated? It felt like 4 weeks! I have posted most of it on my other journal already. Apologize for updating this late, and last. 🙁
1. I passed 2nd year! Well, almost. I failed a class, take a guess. Its okay, not. Big deal, I'm gonna repeat it for the 3rd time and then what? Fail again? See it actually helps to be negative and pessimistic about something. At least I knew this was bound to happen. If I kept on saying to myself that I will pass and then get that grade, I'd end up crumbling down again and crying, just like last time.
Ironically.. I got one failing grade and the rest of my grades are perfect. No grade below 90 and if only I passed that subject.. again, I could have been a Dean's Lister for the term. Fate doesn't want me to be a DL. Fuck you, fate. :whistle: It's always like that.. I get a low (or REALLY low grade but this rarely happens) then the rest are high enough to make me a DL.
2. I finally have a DSLR!!! Horrrraaay! I never thought this day would come that I will own a camera like this. Now, my dreams are complete. =)) But I'm serious with that part. I thought I'd only get a laptop but my parents agreed (mom) to buy me this camera as well since I'm going to use it for school sooner or later.
It's also a good thing that I was patient enough for this because if I bought one earlier, I won't get to own a better model. Actually, IDK if there is such thing as a good camera model.. they say it's on the "photographer" and not on the "camera". (Arrow/Indian quote). Its a tough decision at first, 5D or 450D, then at the store we compared 50D to 450D, and I chose the latter. 🙂 Hmm.. I named it Casey. 😉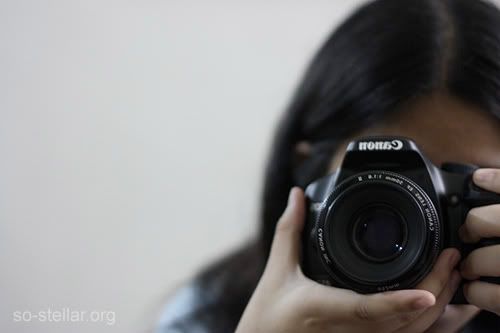 I heard recently that the 500D is out. Argh!! Why did I buy sooner? I should have waited more! But, no worries! =)) I did my homework before doing my purchase (so many times on different cameras) and IMO it's like a 50D and 5D in one, and I heard that one of those 2 cameras doesn't have a good megapixel (something like that) so yeah that made me back off. The 5D is too expensive for me and too huge so I didn't want it in the first place too even though it has 21MP, oh yeah it doesn't have a built in flash.
The HD video capability isn't much of my concern.. but would be good to have one in a camera. S'ok, next time when I'm better and deserving of a better cam, I'll get one with HD recording feature hehe.
3. Hanging out with my high school friends.One of the things I want to do during my summer break is to spend a day with them since I've been missing out all the time one our previous bonding sessions thing (cause of school). This happened last
weekend, after we enrolled our brother, my mom dropped me off at my friend's condo in Manila and the rest is history. 😉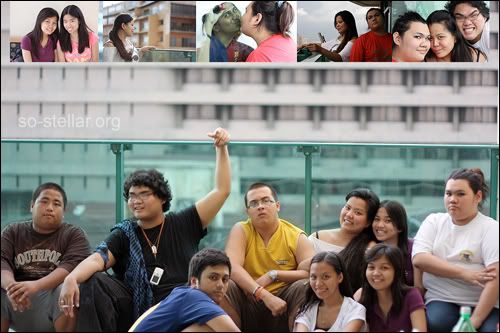 Too bad I didn't go for a swim, though I bought extra clothes all was missing is my pair of havs. I didn't stay long anyway, and when I left that's when they began using the pool. :)) I got a note yesterday that there's going to be another one (swimming) this Saturday, this time at the pool place we stayed at last year.. hope I can go. :)) And I hope the weather cooperates as well. 😉
4. I've started reading books again. I think I started reading again last week but I finished a book just last night, lol. Yes that's an accomplishment for me because the book is really thick it felt like I am never going to finish it. You really need to be patient when you're reading. :))
And I'm glad I read this certain book patiently. I have this book "Beach Blondes: A Summer Novel" by Katherine Applegate that I bought and started reading last year but I stopped on August after that I didn't get to read it again. Until two days ago I got bored and picked this book randomly, good thing I still remember where I stopped. I didn't read from the first part again, I skipped to the last part I read instead.
Its really boring and typical at first (teenager Summer Smith, girl from Minnesota with no boyfriend and living the plain ol Jane life comes to Crab Claw Key for the summer. She meets new people and snags 3 possible boyfriends along the way!) but when you get to the middle part of the book, that's when it gets thrilling and keep you wanting to find out what happens next. Of course before you get to that, there's going to be the boring parts first. Yeah, believe me. :))
There are twists, too. Interesting story, actually. I wish they'd make this to a movie, really!!
So now I finished reading Beach Blondes, I hope I get to finish reading this book that I almost forgotten that I had it. The other book, Chicken Soup for The Soul, belongs to one of my colleagues and I borrowed it from her then completely forgotten about it until I saw it on my mother's table last night, lol.
It reminds me of Paulo Coelho's "Like The Flowing River", its packed with inspiring story, quotes and snippets. Hopefully this won't take long to finish.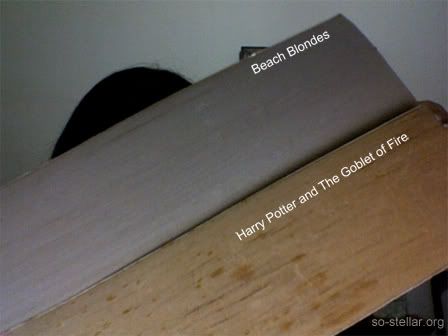 By the way, did I mention that the book Beach Blondes is almost as thick as the HP4 book?? HELL YEAH! That's why it took me a looooooooooong time to finish it. Same with that Harry Potter book. 😉
5. CHUCK COMES TO AN END…. For good or just for now? 🙂 Last Tuesday was the finale of Chuck season 2 and I hope this show gets a season 3. At the end there's a To Be Continued, what does that mean? Some sites say NBC doesn't care about that.. others are hopeful that there is going to be a season 3 to this show.
To summarize the finale: Casey gives Chuck his paycheck for the services he has done for the past 2 years then hugging ensues, Casey gives Chuck is personal phone number :X . Ellie's dream wedding comes true with a bit of mishap at first, Chuck gets the intersect back into his head and learns something new along the way.Heroes finale was also on the same day and there's a sneek peek of Volume 5 alrady, damn!! They're so sure about it already.. D: I love Heroes but the storyline is getting nowhere, really. 😐 Its all the same, save the world stuff.. new villains and dead heroes come back to life. Its getting old. NBC should investigate on Heroes more than Chuck, really. I don't want to talk about cutting shows on TV, its like taking away the jobs of the actors hahaha. 😛 In the end all they want is to earn money from their hard work. Everybody works hard don't they? 😛 (How did I get to this topic?)
With Chuck and Heroes done for the meantime.. I'm out of shows to watch again except for Smallville (and they often go on breaks pa!).. What to watch now? Gossip Girl is starting to look interesting to me but I'm not sure if I can still catch up. I want to watch shows that are still fairly new so I can catch up with downloading new episodes, unless someone would let me borrow their DVDs of the show or something. 😉
6. A friend suggested I watch Firefly since I like Adam Baldwin so much (hahaha YES). I downloaded all the episodes last week and I finished episodes 1-10 yesterday.. There are 14 episodes + 1 movie so today, if possible, I'll watch the last 4 episodes & the movie tonight or tomorrow.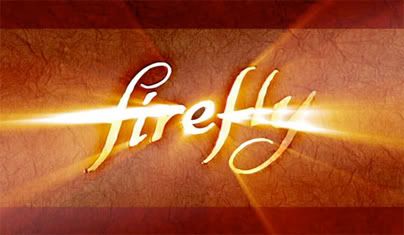 Too bad this show got canceled. Phooey. I can't describe what this show is about, look it up on IMDB. =)) But I like it nonetheless and not only because of Adam, I'm way past that. ;;)
Right now, I'm downloading True Blood.. its taking so long, add to the fact that the internet connection is going bonkers lately. Damn. So much to watch, so little time!!
Okay it took me 2 hours to write this post. Amazinggggg. :)) BYE NOW!