I was one of the lucky people who got to go to the Eraserheads concert last night for free. As I mentioned on my post before, I am grateful to Marcus Adoro for the opportunity. :worthy: Entrance wasn't easy like I expected because I had to wait in line to be served, but I was patient and I got in eventually. But it would be better if I arrived early at the event (like at 4PM), I would've gotten a better spot. But neverthless I'm contented.
I saw many people that night. It was a star-studded night, celebrities who I never thought I'd see there like Francine Prieto was there! I saw Dong Abay, Mich Dulce, Marc Abaya, Kat Alano, Aiza Seguerra (lol, no we're not related), Mark Escueta, Diego of Sandwich, J.Sonic of Pedicab, the others I forgot already. Ack. I saw my online friends, actually, most of my companions that night are people that I met online, LOL. You guys know who you are, thanks a lot for the time. 🙂
Anyway, to continue with my kwento.. The Eraserheads concert was A-M-A-Z-I-N-G! Just seeing the four of the original members of the band that night made me feel proud that I was there, thankful, grateful and simply HAPPY. Who knew they would really reunite again? First started as a wishful thinking for all hardcore fans of the band but it came true, it was definitely a dream come true for anyone who is a supporter of OPM music (minus those pogi rock crappola going on). I got so, so, so happy when they played this songs live: With A Smile, Ligaya, Sem break (I keep stressing this one out, lol, this is the 3rd time I'm doing a Eheads related blog post.. In my case it's 'TERM BREAK'), Huwag Mo Nang Itanong, Kailan, Huwag Kang Matakot, Alapaap. IMO, Light Years was the saddest song they played. It was the last song they played before going to the break, before it ended. 😥 I read up the lyrics of the song online, and it sounds like it was a song meant for Ely's mom. Aww.
Unfortunately, as soon as things started to shape up and WE were having the time of OUR lives, something just had to happen. 😥 During the 20 minute intermission break, backstage, Ely Buendia had heart attack and had to be rushed to the hospital. And yes, you guessed it right — the show couldn't go on any longer without the front man himself. 🙁 Everyone felt a mixture of emotions — disappointment, sympathy, sadness, anger. Okay, people who got angry about the concert being cut short are probably the people who are friggin insensitive and only cares about themselves. Di naman maiiwasan na walang magrereklamo diba? Ely Buendia's mom passed away on Thursday, if you were in his shoes, would you postpone the concert and probably disappoint a lot of fans? You wouldn't do that, right? Cause that would be a selfish act. But the guy still went through the whole thing, serving up hungry fans by playing 15 songs STRAIGHT. I don't want to elaborate the whole thing, if you must know the gist, then click here. Presently he's doing OK now, he's stable. Hopefully there will be a Part II of the Eraserheads concert very soon. :pray: And according to their drummer, it won't be the last, that was just the beginning.
So this is the original setlist of the concert last night, Part I includes the songs that they played live. Part II, however, are the songs they would've played if Ely was not in a bad condition that night.
Show ▼
I know everyone's waiting for pictures from the event. Well, about an hour ago I tried my best to install Lightbox here in my domain to make it easier for you to view the photos. But, fuck! It keeps on messing up on installation, I gave up and uploaded them at my Multiply account instead. I really wanted to install Lightbox for a very long time ago, but what the heck I failed. As of this morning, I found out that there's a Lightbox script for WordPress! Lol. I feel really stupid reinstalling the script itself last night, thanks Juice for informing me. :heart: So no more links to my Multiply, here are photos I took, the best (in my POV) from my mostly-blurred shots, haha. Lightbox-enabled! *dances*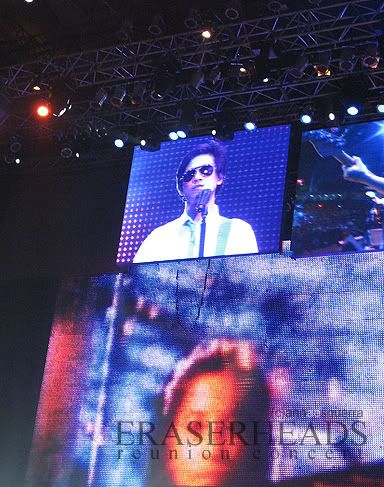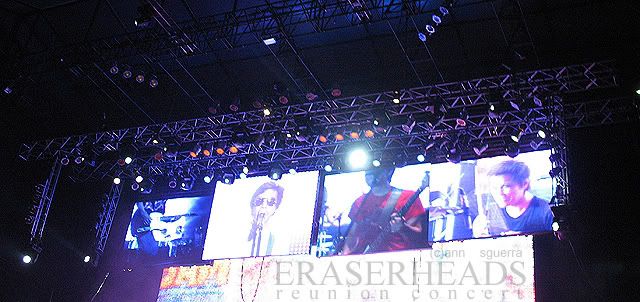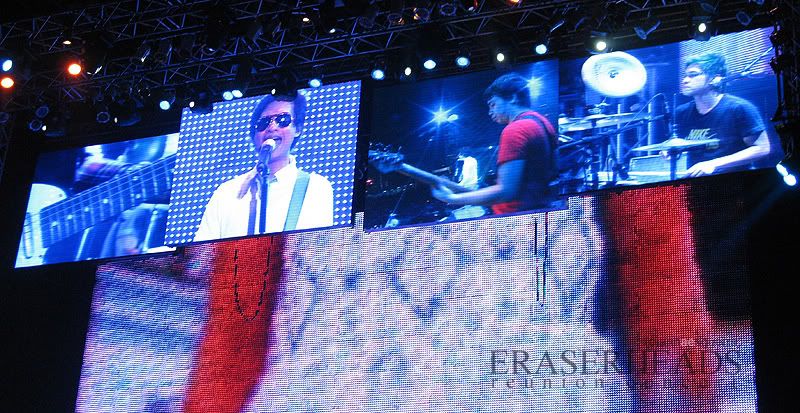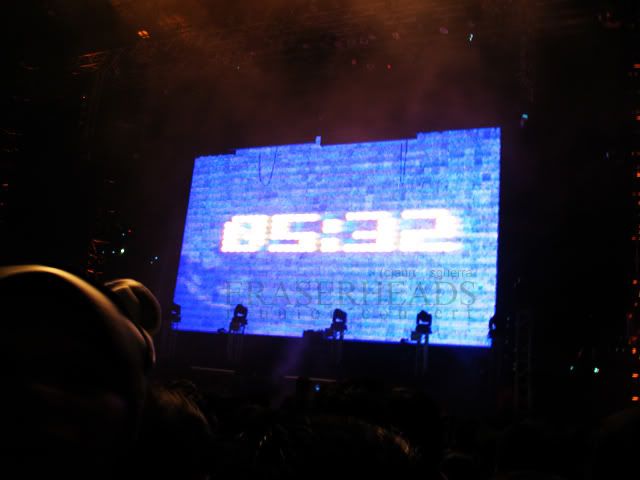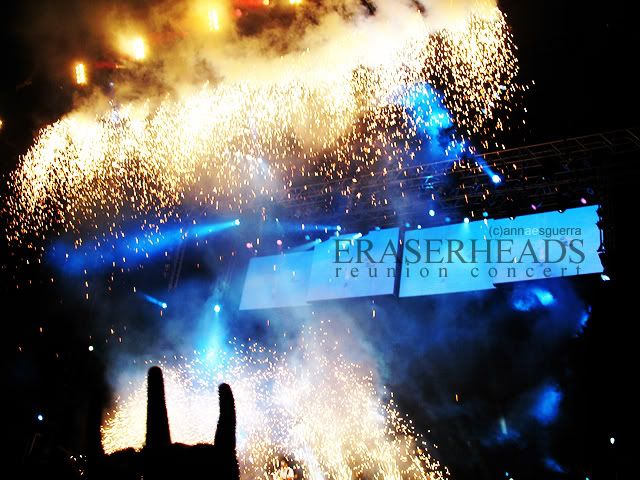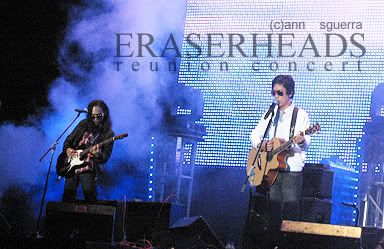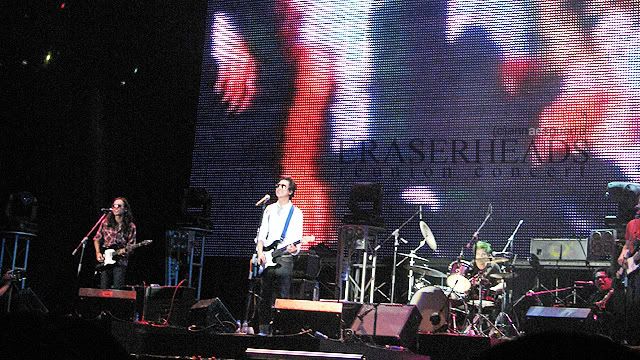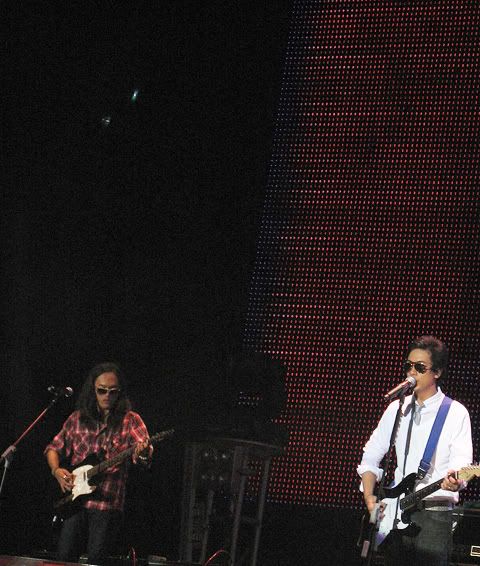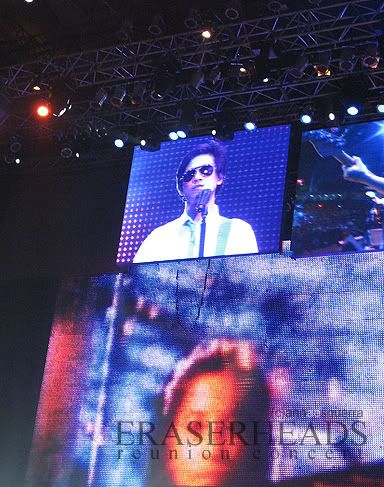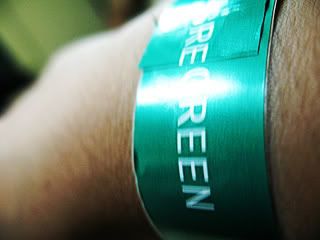 Oh yeah, my term break officially started yesterday! 🙂 I'm going to school tomorrow to claim my course cards. Hoping I don't get a grade lower than 3.0, hoping to be a DL.. as if. 🙂 Okay fine, s'long as I don't have a grade LOWER than 2.0, I'm contented. :whistle: It's September tomorrow as well, first -ber month!
Bahhh, I got sick when I got home from the concert as well. I have mild flu and sore throat. Wish I have loads to lozenges here to take the sore throat away. I hate it, I'm craving for lots of foods right now but I can't eat properly cause of my damned throat. 🙁 I hope to get well by Monday at least cause I've planned my to-do list for Term Break already. I told mom that I will continue my driving lessons, in between I will try to catch up with my HS friends, practice drawing..