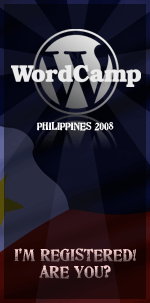 After reading Joni's post about the upcoming WordCamp Philippines 2008 organized by the Mindanao Bloggers this September 06, 2008, I just had to do my research.
I found out that this event is going to be held at my school, De La Salle – College of St. Benilde (Taft Avenue, Manila) at the Augusto – Rosario Gonzales Theater (which is located on the 5th floor of the main building, if I may add). And even more cooler, the event day falls under my term break! Perfect timing, great! Hahaha, so without any further hesitation I looked for the registration link and poof I was on my way to getting to an event that's all about WordPress! Web Developing as well, hahaha!
I invited some of my friends to attend as well, I hope they will come! As much as I love to go to the event, I wouldn't want to learn all these new stuff alone. May I encourage you, then? And just in case you, my dear reader, is curious.. Non-WordPress users can also come, Non-Bloggers can come as well! But where do you fit in? If you're a web developer, the event is also going to tackle on Web Developing stuff so there you go. 😛
According to the site, here's their tentative topics to be discussed:
Blogging 102 – Basics & Beyond
Other Ways to Use WordPress
Video and Mobile Blogging
Cascading Style Sheets
Blog Monetization
Migrating to WordPress
Organizing / Optimizing Your WordPress Blog
Advanced WordPress Management
Developing WP Plugins / Best Practices in PHP Coding
Designing WP Themes
WordPress & SEO
WordPress E-commerce Site
Configuring & Deploying WordPress MU
Developing WP Aggregator Sites
WordPress Security / Anti-Hacking Techniques
WP Development Ethics
Microformats
I know it sounds so geekish of me, but I cannot wait to learn new things about those! I am 100% sure it's going to help me in my course sooner or later. 😀 September 6 is the big day, hope to see some of my regular visitors on that day! 🙂 It's also a way to meet up with you guys, haha! ;;)
Oh, oh!! I heard Matt Mullenweg, the creator of WordPress is going to be there!!! Lol. Geekery moment!11!111!!!
I hope this event won't be as boring as Graphika Manila '07. Sorry to say but it really bore me. Okay at first but me and my friend couldn't wait to get out. But I wanted to see the presentation of this one graphic design company who was responsible for Pupil's Set Me Apart music video so I stayed behind when my friend left early, rofl. I can't even remember the name of the company anymore — screw me. No, I don't know if I'm going to attend GM '08.
I barely attend blog gatherings on real life so this'll be my very first! Hoping to have fun.. and be supported with my friends and *cough*Blockmates, school friends*cough* since it's gonna be held on our school. :))
This event wouldn't be possible without the lovely sponsors *drumroll*
i.PH: the Domain for IndividualsFree Online Flash Games
Wazzup Manila Philippines
Real Estate CRM
Real Estate Website Designers
Orange County Real Estate
Auto Insurance Quotes
Lane Systems Inc.
RedMedia
Orange County Business Lawyer
Cebu Pacific Air
Buddy Gancenia Reality TV
SmartBro Wireless Broadband
SPOT.phMake Money with Performancing Ads
PS: Please comment on my previous entry :dance: