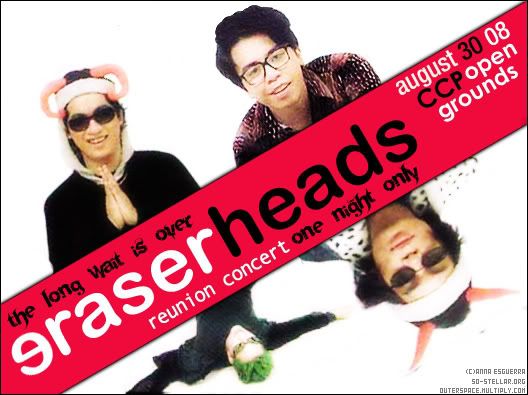 I will shoot people who hasn't heard of this band. HAHA! Jk. Exemptions only to the foreign readers of my blog. 🙂 I know a lot of people, especially the 'hardcore' fans of OPM music have waited LONG enough for this kind of thing to happen. Who knew it would be even possible?? Well, as long as we're alive, there's hope and nothing's impossible (Hahah, whut?!). The news first started circulating as rumors in the internet world1 and no one was really sure if the news was correct or even reliable to be given a 2nd look at.
I myself didn't pay any attention to it when I saw it, my initial thought was 'When will these fans move on and just enjoy the new music by the members of the Eraserheads? Can't they just respect them and move on?' Yeah that sounds harsh and ignoramus of me but I seem to be apathetic with the whole reunion issue of this band because it just never stops. There are people who still wishes for them to get back together and make 'real music' again. I don't know if I'm one of them but I'm 'over it'. I stopped hoping and if I want my dose of Eraserheads, I'd play and listen to their songs on my iPod — problem/sentimental shit solved. Oh God, please don't throw tomatoes at me or something.
So after a week after knowing this rumor to be true, I'm still not that convinced.. I'm still "Oh. Okay. Big yey!" But no reactions like the ff.: OMG THEY ARE GETTING TOGETHER AGAIN, I MUST BE IN FRONT111!!!!11!!, I WILL SAVE MY MONEY FOR REALZZZ!
Official summary of the whole concert + rumors on PhilMusic.com's article — The Eraserheads Reunite – And this time, they're Smokin' . I'm really lazy to elaborate everything and I feel like a broken record keeping on saying the same thing, haha!
The gist of the concert? It's all on the poster! Which you can use to advertise, if you want to use that. 😛 Don't worry I will be making more of those, promise! I'm just looking for good photos of the band. Since I can't draw and I can only work with photos, lol! Sucks to be me. Good enough for a 'medium for advertising', no? :dance:
I want to go but just thinking about the crowd and the method of acquiring a ticket, I feel that I'd be having a miserable time. Lol. Sure it'll be fun. C'mon, this is THE band of all bands here in the Philippines! 😛 One night only.. yeah, that would be pretty cool to see, I'd most definitely feel lucky if I get the opportunity to see them. But yeah, it's not only me who wants them, there's the other 999,999 people all over the world.
Everything's okay in my side of the world… been raining a lot lately. Rain is supposed to make people feel down and sad but I'm feeling happy and sad at the same time when it rains, haha! Crazy much? 😛 There's a new WP version out, I don't think I'll be upgrading anytime soon. Oh I rly want a new haircut, haha! The straight, relaxed long hair needs to get out!
---
Okay that's a link from my friend in Multiply and I think she got all of it, so just click if you want to know the rumor, lol ↩