This is my product of last week's activity, minus the school stuff because they aren't much interesting to talk about right now. 😛 So last week, I had a blast eating at different restaurants around Makati and in Greenbelt. Not only that but I had an awesome time hanging around bookstores and looking for certain books. 😆 So the photo up there shows the books & magazines that I recently bought last week (Tuesday, Wednesday and last Sunday night), namely: The Host, New Moon, Eclipse, 3 Archie comics, Seventeen PH magazine, Burn (PH) magazine, Big Cheese magazine and Thriller magazine (this one is a gift I bought for my brother, late birthday present.. ;;) ).
First stop was last Tuesday when my family decided to go to Greenbelt to (originally) just treat my younger brother to an expensive dinner since it's his birthday the next day (May 28th), we ate at Fely J's, one of the restaurants that can be found at Greenbelt 5 (or whatever the name of the new Greenbelt building is). I also saw 2 pieces of furniture that my dad made on the restaurant and thought that was insanely cool.
Little did I know that they had a bizarre plan of watching Indiana Jones at the mall's cinemas. It didn't pushed through because *I* was the problem, LOL. My dismissal time was too late and they waited for me to come to the mall. I was out of school at 5:45 PM and probably got to the mall around 6-ish PM. My mom was not in the mood to watch any movies that night (actually, she's not much of a cinema person.. she always falls asleep). They should've watched without me. :))
So while they were waiting for me to come, they hanged out at Powerbooks.. this puzzled me big time because normally my parents wouldn't be found hanging out at places like this. Maybe I could exempt my dad on this one, but my mom is definitely not a book person. That was weird, but I looked at the situation as an opportunity to look for a copy of New Moon so I can finally get back to reading whatever it is I'm missing out on that book (since I've already finished Twilight a month ago), to look for a copy and buy another book! :)) Dang.. my hopes shattered to pieces when I asked the saleslady for New Moon and she said they don't have any stocks left then she told me they only have Eclipse in stock. I suppose this will do.. at least I wouldn't have to look high and low for this book, I said to myself and grabbed a copy of Eclipse. I also went ahead with buying The Host as well, maybe I would enjoy it. It's hella thicker than the Twilight books and more complicated. =)) Gah, slow mind. I started reading it last Wednesday and yet to continue with it. Ooh, the Archie comics as well! 😛
Wednesday, I was out of school early (12:40 PM) and I decided to spend a bit of my time at Glorietta. I went there with a purpose: To buy materials for my DESPRIN (Principles of Design) subject (ugh, DRAWING!) and look at the other bookstores that might have copies of New Moon. I got my materials and rushed to 2 bookstores in Glorietta.. FAIL! New Moon was still out stock on both bookstores. Dang. So I did what I thought was my first — have a copy of New Moon reserved under my name. I went home after that and my brother had his party at our house across the street.
His party was really simple compared to my debut (LOL, what a comparison!). But we used the same place where I held my debut.. Mom let the catering people be in charge of the food, I didn't eat much though.. IDK why. I invited some of my highschool friends to go to my Alex's (my brother) birthday. It wasn't awkward at all since he knows my friends as well because I studied in the same school as his. We (my friends) mostly hanged out at one of the rooms at the house, then we did a spontaneous photoshoot with no clear motive at all.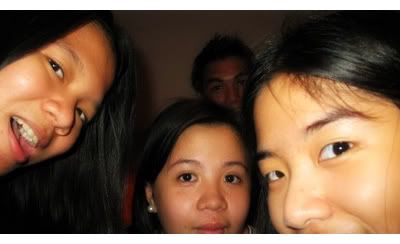 That's one of the many silly photos we have (the rest is on my Multiply, lol). Besides that, we talked and talked and talked.. endlessly talked about nonsense stuff only our batch in our previous high school would understand. I love talks like that, going back to memory lane and laughing about it. :dance: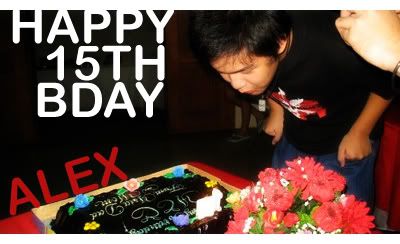 That's my brother blowing his (what seems to be) girly-ish cake, complete with roses on the side of the table! :)) He's 15 and he's TOO big for a 15 year old guy. =)) I'm such a mean sister. Well, happy birthday to you bro! 😛 I gave his gift last night and he definitely loved it. He likes metal music, he plays in a band and they will be famous "undergound" soon. =)) Support when you can, HAHA.
Last night, me and Alex went to Glorietta.. AGAIN to look for New Moon! No, actually I was only going to purchase my reserved magazines at a bookstore that I went to last Wednesday. But when I got to the bookstore, they *finally* have stocks of New Moon! :yay: GAHHH, FINALLY! The sad thing is, I just placed a reservation 6 hours ago at the bookstore near my school and I was going to claim the book at Monday. After quite an hour of deciding I called that bookstore to cancel my order and finally purchased New Moon.
SUCCESS, I SAY!! MISSION ACCOMPLISHED, BABY! :dance: My Twilight books are complete, only missing in the photo is my Twilight book which is in the hands of my friend who just finished reading it today and told me she wants to borrow New Moon next! Sorry dude, not until I finish reading it, which will take me like a month. =))
OK. So the least interesting talk of this post is my TEETH. 4 days ago I felt a part of my mouth specifically on the right side started to hurt real bad, the feeling is like when a tooth is coming out of your gums — something like that. I thought my wisdom tooth was coming out then when I had it checked, turns out its another damn canker sore.
Not only that, but I have 2 abnormally placed wisdom teeth about to come out REAL soon. Right now my mouth's starting to feel numb and I'm having difficulties in eating, like earlier tonight I couldn't open my mouth properly to eat.. and and when I chew sometimes I feel a shock sensation on the right side of my teeth. The dentist treated my canker sore and it was fine as dandy last night, but the pain went back this afternoon — when I skipped meals and starved myself again. 😡
Just so you know.. my dentist said that I might be up for oral surgery real soon because of my abnormally placed teeth (or wisdom teeth? idk). Noo!! The dentist also said that this usually happens to people around 18-above. NOW I KNOW WHY BEING OLD SUCKS. Must I suffer this much when I already suffered ENOUGH before? 😐 Thinking about it does NOT help either because my canker sore hurts more when I stress myself more (yes, stress could be the cause of it sometimes, read it up online). I am so doomed.