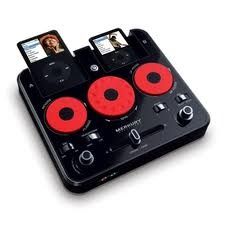 I first saw one of these during the Jagermeister event that I attended months ago where Pupil performed. Now, I primarily went to that event only to watch Pupil.. not to drink and party with the 'party people' there. :)) K, so I found myself standing on the side of the bar where the DJs are.. And I saw that thing *points to the photo*. I didn't knew what's the thing for or what does it do that time, all I knew is there was an iPod plugged on it. :)) And I didn't cared what the thing does, either.. but it looks pretty techie and HOT. 😛 Just for the record, Pupil's performance that night was amazing! The event was for college student DJs around Manila (I think), I even saw UP and ADMU student DJ contestants. :X IDK how Pupil fits in the picture but they rocked and everyone was in awe. 😉 I didn't sticked through the whole night because I wanted to go home immediately.. people were drinking booze and partying with the DJs and I can't relate. Sucks to be me who can't drink booze and party hassle-free.
Recently, I dropped by Pazzy's blog and saw her entry about her friend's iSpin. OK, so that's what it's called!! :yay: And stupid me for not recognizing but it's actually a mini DJ mixer of some sort. Obviously I would definitely want one of these because a) I'm an aspiring DJ *cough*ILOVEDJKIL*cough*, b) This is a good start to do some DJ-ing, c) it looks fucking COOL!! d) who knew DJing only with the use of iPods would be even possible? I looked for some sample videos of it at YouTube and I found like 2-3.. but only 1 video was good enough to show me the effects of it. Needless to say, a lot of people weren't impressed by the video, they even said the product was crappy. Whatever, man. I want that! 😛 It all depends on who uses it anyway. I can't really find a proper review of the product, so I guess I won't know what I've missed until I actually get my hands on a unit. I wonder how much this costs in Philippine Pesos?
Not much happened today. I went home early cause I don't have any classes in the afternoon, yay. And while we were on our way home, our car broke down on SkyWay. The radiator leaked, or something. Err, not so much knowledgeable with cars. All I know is that the car's temp went over normal temperature and it needed a lot of water to cool down. I just had to be a bastard for 5 minutes and joke them to put ice on the car's machine next time, and tons of them so it won't get too hot. Meanie, I know. 😕 I got home at 2pm and I slept too long in the afternoon that I woke up at 8pm. Great, just great. I won't sleep easily tonight.
My mom's priest friend is staying for the night. IDK, but that sounds weird.. what's weirder is that he doesn't act like a priest. He's actually a very FUN guy.. laughs a lot and jokes a lot. You won't se him as a Godly person, haha. And I was expecting him to be very serious at first (My mom introduced me to him last March during my stay at the province for my Confirmation) but he's super funny sometimes I couldn't relate anymore. 😛
This is also a birthday-filled week for me. Tomorrow is Charlene's birthday, Wednesday is Alex's (my brother) birthday and Thursday is Princess' birthday. :yay: So yeah, HAPPY BIRTHDAY GUYS! I was going to make a tarpaulin sign for my brother but I asked around and I thought it wouldn't take a day to have one printed but I got the wrong idea, I'm too late to have my 'tarp' printed. Sayang. ILU, bro. 🙂
LOL. Oh noes.. I love the Philippine version of My Girl!! Sue me! 😛 I watched the pilot episode earlier and I thought Kim Chiu was really cute. Though I don't blame if the 'haters' of the show find her acting OA, there were some scenes where she was really OA. I don't think I've watched a single version of the Korean version (it was a 'Koreanovela', right? or was it Chinese? LOL), but Asian dramas don't appeal to me anymore. (except for Meteor Garden, omg I was so sucked into the hype before) Anyway, I think I'd be hooked to this.. Hahahaha, it's so cute. 😀 Also, there's this new show in ABS-CBN where Kjwan vocalist and MTV VJ Marc Abaya stars titled Ligaw na Bulaklak (Stray Flower in English, I think). Maaaann, what happened? Hahaha. Me and my brother were waiting for him for his 'acting' debut at the pilot episode but he wasn't on it, boo hoo.
So that's all for today.. BTW, I signed up for a SocialSpark account, another "Get Paid to Blog" kind of site. Gimme props or send friend requests to me.. 😀 Yay, I hope my site gets approved for this site.