MOTHER'S DAY Happy Mother's day to your mom and to every mom out there! I greeted my Mom last night before she drifted away to her sleep cause I was still awake when the clock hit 12AM. She liked it and thanked me after, lol. Honestly.. my parents don't really care about this kind of events anymore. Even my Dad doesn't care much about Father's Day anymore. When we get older, I guess, we'll know why people like them don't mind about it much now unlike before. I suppose age has something to do with it? Bills to pay, money and debts, thinking of where to get money to sustain the needs of the family — just some of the important things our parents think about than celebrating their "day". Come to think of it, EVERYTHING they do is hard! 😛 Gahh, I don't want to be a parent anytime soon. That's why I don't want to get myself in relationships.. LOLOLOL.
Anyway, mom and dad went out earlier this morning to look at Air Conditioners at the mall. I wondered why they're planning to buy one when we still have a working unit on this very room where I'm in right now. Dad said they're gonna put it on our house across the street. Meaning…. our house may get finished renovating soon. So yay.
I got tagged by Joni.
DRIVING I was supposed to go driving yesterday but the tutor did not arrive. I got dressed at quarter to 5pm cause he always arrives early, but yesterday he never did. 😆 And then I found out later when my brother woke up from his nap that the car had to be taken to the tune-up center cause some part of the car was malfunctioning or something. Then I immediately asked him if it was OUR fault that the car broke down, he said it wasn't. =)) Well, I had the right to ask because as far I can see, Alex, Mom and I were the only ones who used that car most of the time to tutor us.. and I felt bad for it cause I could've been the reason. 😛 Yesterday could've been my 7th day of driving. Damn, they told me I could finish in 10 days but it will be extended to 11 days (because I didn't get to drive yesterday). I'm getting lazy…. BUT I'm getting better. Thank God I'm getting the hang of that manual car. :dance:
SCARING MYSELF Last night I watched age old videos of Are You Afraid Of The Dark, Tales of The Crypt Keeper and 1960s Twilight Zone. I know I was a fool for doing that because I scare myself easily regarding scary shows but like always, I only realized it when I was watching Part 3 of the last Twilight Zone episode I was watching. Not only that but I also went memory tripping by watching old school Nick show intros like Clarissa Explains it all, Sabrina The Teenage Witch, etc. I wish our Nickelodeon in the Philippines would bring back shows like that.. they used to show it when I was in Elementary, lol. IMO, they beat the new teen shows hands down but I still like to watch them compared to American Idol (no offence to all AI fans) and some other TV Series out there..
Are You Afraid Of The Dark was one of the shows I would never ever watch alone when I was a kid. I'd turn off the TV and go to sleep once I see the scary intro, especially the one where the title of the show flashes on the screen and then a hand holding a lighted match stick comes up! 😯 Pete and Pete, one of the weirdest shows I've ever seen in Nick back in the day.. I tried to watch a clip from the show last night but I still find it weird and boring so I didn't bother.
Needless to say, most of the episodes in AYAOTD still scared me and left me unable to sleep last night. The Tale of The Pinball Wizard, The Tale of the Thirteenth Floor and The Tale of the Dark Music are some of the scariest! Lets put to consideration the crappy quality, props and everything but it still leaves you haunting in your sleep. :whistle:
I'll try to watch more episodes later.. hopefully as long as the Sun is still shining. =)) It's less scarier when you watch horror shows in daylight cause you forget about them when you sleep. 😐 What an idiot, scaring myself.. Meh.
BACK TO SCHOOL This coming week is my *final* week of doing nothing. Probably next next week I'll be "busy" preparing myself for my school comeback, ROFLMAOWTFBBQ. Sophomore year, here I come! There's a part of me wishing to have Him as my classmate this term, but I know that's too illusionary to wish for since he's probably ahead of me with the subjects. Last term He took subjects that I would be only taking this term.. I know, I asked. HAHA! =)) And after my first day in school, I wouldn't have any classes again. Yay for Thursdays!
NEW SKIN I got my BestSkinsEver package for Macbook 13.3 laptop last Thursday. I put it on the laptop two days ago. It was too much work but in the end it was worth it, I think. I decided to remove the skin for the wrist part because it looks REALLY ugly. 🙁 Half of what I paid for was wasted, huhu. Here are pics.. Does it look bad or what?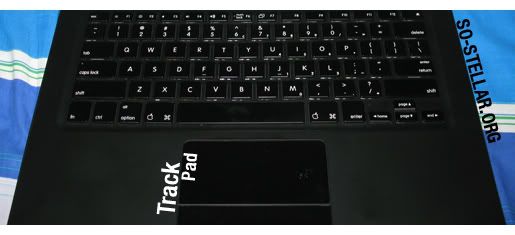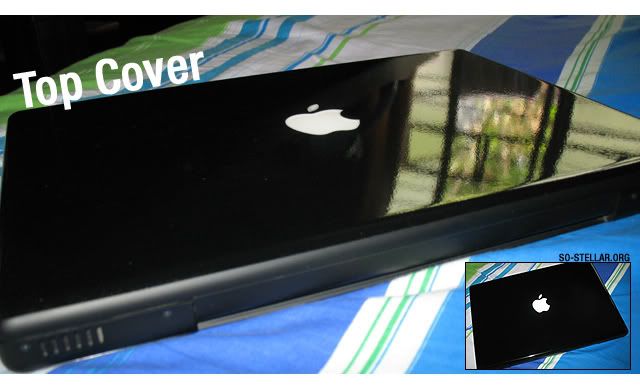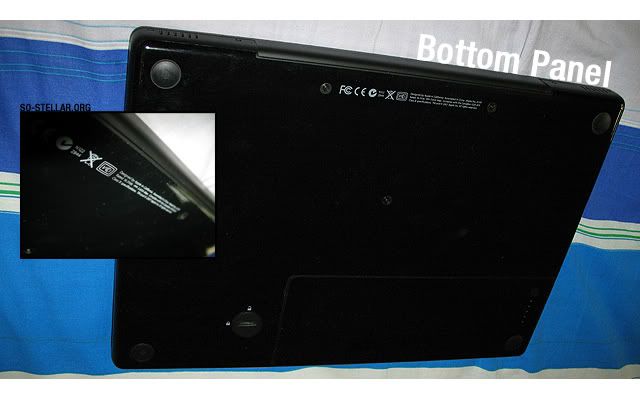 There are parts where I didn't get to do the method carefully but I don't think they're very noticeable. The trackpad takes time getting used to since its hard to go around it. :doh: Glossy, glossy. :)) Hmm, next time when I do something like this again I'm definitely going to do it inside the bathroom.. I had to soak the films to water first before applying it (yes the laptop had direct contact with water in the process, scary!.. not really). Why in the bathroom? Because inside the bathroom there is less lint than inside a room where lint drops itself just about anywhere dusty.
I did my first BSE application on my iPod before and inside the bathroom and the results were really good. Not sure if I should put back my orange Speck hardshell case.. I'm going to sell it online if I don't find any use for it anymore. Would anyone be interested? 😀
RANDOM On a completely random note.. Bea Alonzo is playing the Philippine version of Betty La Fea! WTF! I thought it was gonna be Anne Curtis, LOL. IDK.. She's more fitting than Bea Alonzo.