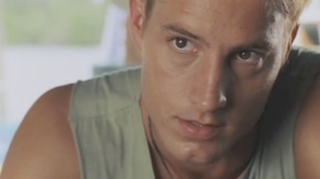 I had nothing better to do last night so again, I ended up watching videos at YouTube. But I stayed off from watching scary TV-ripped shows and watched movie clips instead, like Sorority Boys (favorite!) and that's how I got to downloading Aquaman. 😂 It's a biased comment but I :heart: it, only cause Justin Hartley is in it! If you watch Smallville, you would know what I'm talking about. 😊 I noticed that it's not Alan Ritchson who played the main character on this series, it would've been better since he was Aquaman on Smallville. I looked around YouTube and saw his AI audition clip! LMAO. He auditioned for that show pala, too bad he didn't get to the final casting. I don't like him that much anyway, there's something weird in him that I don't like.
I hear he's a nice guy though.. whatever. 😛
Only one episode was released, the pilot episode. Maybe they thought the concept wasn't that good or it wouldn't gather much audience? I agree with the concept thing though. The show's okay.. but the concept is just.. IDK, nonsense? The story would only circulate on AC saving people.. or sea creatures underwater? There aren't much crimes underwater to begin with, right? 😀 Thought so. But yea, I dig the JH scenes. Hehehe. I'm not used to seeing him as Aquaman, I still prefer him as the Green Arrow in Smallville.
That reminds me, I have to start watching Smallville again because JH is on one episode at Season 7! 😀 Woohoo! Lol. I stopped watching at Season 7 cause I got lazy downloading the episodes, but this has given me a motivation to download! The bad news is.. Michael Rosenbaum (aka Lex Luthor on the show) might be leave after this season! 😥 He's my favorite on the show and the show might start to suck when he leaves. Yea, I'm not after Tom Welling (Clark Kent), he's just too nice it's annoying! 😛
5 days before school starts, noooo! But it's also the time I'll start saving up money again from my daily allowances, hahahah. It's not that bad after all. I just hope that my professors I got are super nice and likes to considerate.. I'm a bit doubtful if I could enter school next week because I haven't paid my tuition fee yet. Dad hasn't received the money from his customers. And I need new clothes (not trying to sound like a spoiled brat), I really do! Most of my shirt's don't fit me well anymore and I need to buy new pants, I only use like 2? Lol. I sound so poor.
By the way, I quit my driving lessons two days ago. Not really quit.. but I thought I'd still continue doing it until my mom told me I have to stop 'learning' cause we're short on money to pay for the tutor. Actually my last day sucked big time. 😞 I was tutored by a new driver and his teaching is 100% different from my previous tutor. And he made me drive in a busy place where there are cars.. a lot of them, lol. Taken from my Multiply blog (its in Tagalog, not English. Sorry.):
……Mamaya lang babawiin ko na sinabi ko yan e ^^. BUT RIGHT NOW I'M SCARED TO DRIVE!! I think I'd rather drive slow than drive fast tapos makagasgas ng katabing sasakyan.. OK na kaya last time.. PERO kasi iba yung nagturo sakin kanina.. saka we went around Sucat and Lower Bicutan.. kung saan may gitgitan at maraming sasakyan. Scary. MOMMY! 😞
People commented that I should drive an automatic car instead of a stickshift. I'd love to try that (actually our cars in the family are mostly automatic), except my parents doesn't want me to until I've perfected driving a stickshift. 😕