Last Friday, me and my friends went somewhere in Manila to buy pirated DVDs. We went there through riding several public transportations — 1 long Jeep ride and 1 verrry long ride of the LRT to Manila. I saw different schools while on the LRT ride, most of them I've only heard of/seen just recently and yeah, we passed by College of St. Benilde (represent!) as well. Friends were making a big deal when we passed by Vito Cruz station, I wonder why? When we got to our destination (Carriedo stop), the DVD shop or shall I say HEAVEN on EARTH (for DVD pirates, haha!) was just in front of the LRT exit! I thought we would walk farther to somewhere hot but paradise was just a few steps away. 😛
Are you confused what does the Evan Almighty poster got to do with my post? Read through the whole entry to find out. 
Unfortunately we didn't shopped for DVDs when we got there, yet. We ate lunch first at KFC! 😀 It was super far from the LRT station so we had to walk a thousand miles just to get there, few more steps from the KFC branch we'll be in Quiapo church already. KFC was full of people, God! 😐 I'm not claustrophobic but I just don't like crowds (yet it makes me wonder why I go to concerts a lot), and lines for that matter. Anyway, we got to eat and had a good time. After that we looked for the infamous camera stores in Quiapo aka Hidalgo, we found it and I was able to look at DSLRs, for only 5 minutes.. Haha. My brother and my other friend went to look for music instruments on our way back to DVD heaven.
I bought a lot of DVDs when we got to DVD heaven, lol. You gotta hand it to the Chinese people for doing such a great job at pirating this stuff. I was looking around at first and was astonished when I found some rare movies such as Scarface, Breakfast at Tiffany's and The Shining on their racks, I grabbed them at first sight and had them tested. And they already cracked Blu-ray discs to DVD-9 format, or maybe I'm wrong, but the quality is superb and just amazingly clear!
All in all I bought 7 DVDs: Scarface, The Shining, Evan Almighty, American Gangster (this is for Alex, aww yeah I'm such a nice sister), Across the Universe, Breakfast at Tiffany's, and Borat.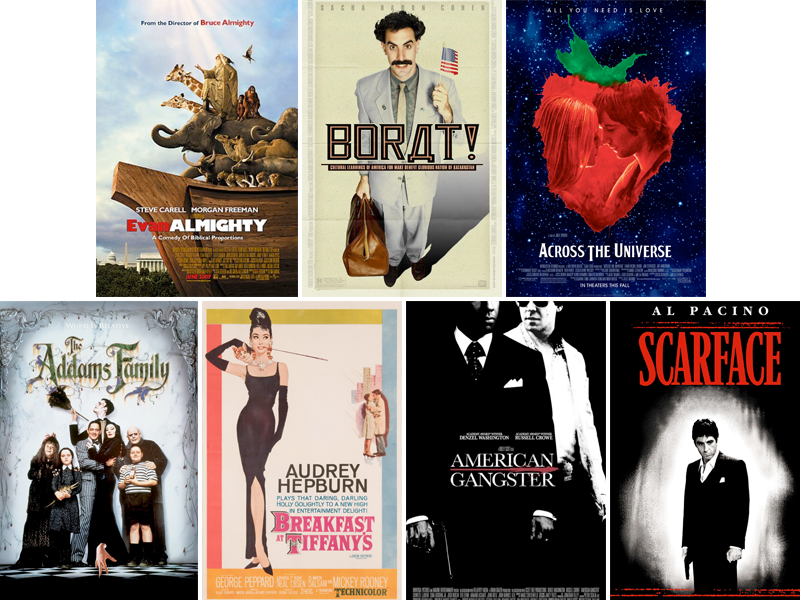 Two days later after that, I decided to watch one of the DVDs I bought and picked to start on Evan Almighty. I loved the first movie, Bruce Almighty so I definitely expected to enjoy the 2nd one. And I did! But I didn't expect the movie on teach me something that I've never known before. As cheesy it may sound, a comedy movie made me realize something about God. 😕
As the comedic scenes rolled in, I was laughing my ass off on every laughable scene as much as possible. I especially liked the "SHEEEEP!" scene. The whole movie is really funny, may not be to you, but it is to me. 😛 Anyway, if you've seen the movie, do you remember the scene when Evan's wife took the kids and settled somewhere because they felt that Evan is going crazy because of the whole ark ordeal?? Then a scene rolls in where Evan's wife and the kids are watching the news while eating a meal at a bar and she wanted to order something and God (disguised as the store waiter) talks to her? He says this to Evan's wife…
Let me ask you something. If someone prays for patience, you think God gives them patience? Or does he give them the opportunity to be patient? If he prayed for courage, does God give him courage, or does he give him opportunities to be courageous? If someone prayed for the family to be closer, do you think God zaps them with warm fuzzy feelings, or does he give them opportunities to love each other?
Then everything just started to make sense to me! Very, very true! The existence of having trials in our life makes sense to me now. We pray to Him to ask for something that will bring benefit to our life, and then a time comes that we get faced with different obstacles (or trials) for a period of time that will make us work hard in order to survive and conquer that situation. In the end, we receive a result that's similar to what we asked Him but most of the time we don't notice it. So, as I see it, we can't put every "miraculous" event that happens to our life on Him, but we should give credit to ourselves as well. Things happen for a reason, as the saying goes. He wants us to believe in our strength that we can accomplish something with our own skill and strength and not be dependent on the Higher being that is God.
The main character in the movie wanted to "change the world", and he prayed for it. Next day he is chosen to build an ark to "save" the people from the trouble that's going to happen. Crazy as that sounds, he still continued to do it and in the end, he made a BIG change! :dance: The difference with Evan compared to Bruce, is he used the opportunity wisely than Bruce because he just abused it and played with it (people who saw the first "…Almighty" movie would know!) So the next time you find yourself in trouble, don't be put down by it, think of it as an opportunity. Oh noes, late realization for me, no? I don't go to Church that often! Sorry na.
And today, I watched Across The Universe. Confusing at first, cause it's the second musical movie I've watched after HSM but as you watch throughout the movie it's really, really good. I need to watch it again though so I can understand it fully. The singing is just superb, especially Dana Fuch's singing. Which brings me to this question: Why isn't she that popular?!?! Mixed emotions felt through the movie, I say. And, ooh lala, Jim Sturgess is :heart: ! *hint* He may just be on the next edition of my layout, haha!
[edit] I was tagged for the 2nd time now. Thanks Isha and Cathrene [/edit] Show ▼