I wonder where Michael Jackson is right now? For sure he's still alive but he hasn't released any new material lately, right? 😐 I was surfing YouTube this afternoon and the idea of watching Michael Jackson vids came to my mind and so I watched his videos, not all but most of the my favorites. 😆 The feeling I experienced while watching his videos can't be exactly put to words but most of the time blurred childhood memories came to my mind while watching his videos. One of them was the time I would just get my dad's DVD of HIStory and then pop it on his DVD player, sit down and enjoy MJ's music served in front of me. Yes, without a doubt I am a Michael Jackson fan and that album cover you see is one of my favorite albums of him. 😀 The album cover design is just so infinitely interesting (ha, yeah that line's stolen from an Incubus song!).
We all know how the media ruined him as a person (Making a big deal of his Vitiligo skin disease and also the multiple nose surgeries he had that eventually ruined the look of his face. Sorry man, just had to let that out.) and as an artist (Who can ever forget the Michael Jackson's a child molester issue years ago?), but truth remains he's still THE King of Pop. Hahaha, none of today's mainstream people and artists can get to his level. Up to recent time he still has fans (K, count me in), proven: read the comments on his videos at YouTube. He may be poppy and corny (I find his fashion sense on his earlier videos to be really really AWFUL) but his lyrics speaks a lot about the IMPORTANT issues of today. No one might have ever heard of his Earth Song, but I think it perfectly describes the current situation of our planet now. And to think this song was released more than 10 years ago (if I'm not mistaken?). Here's the video and I strongly suggest that you watch it! 😛
Now tell me, did it hit you to make a move to save mother earth?!?! No? Well you're one tough person to crack. I have a lot of favorite Michael songs and videos but then this post would get really embarrassing. Short and straight to the point, watch Michael Jackson videos when you REALLY have nothing to do. It won't be a waste of time, I swear! :))
Aside from Michael Jackson, I also downloaded albums and watched videos of different pop artists today. Namely.. Mariah Carey, Atomic Kitten, Blue, Sugar Ray (Major LOL, Mark McGrath lives!), Alicia Keys (stuff from her when she was still new), LFO (I know right?? Do you still remember them!?), Janet Jackson, Jin (he's the guy who sang "Learn Chinese", dunno how many years ago.. I don't do the math!), N*Sync and Backstreet Boys. And if you click on the links of the corresponding artist, it takes you a link to my fave vid/song from them, woohoo. 😆
All I can say is… Pop music never gets old! I guess I'm just really sick and tired of listening to mainstream music now that most of them is just about sex, girls and money. Ok, most or some of the artists I mentioned at the top may have done music thats about sex, girls/boys and money but there's just something about their "early music" that's timeless and will keep you coming back and makes you prefer it than to their new material. Yes, most of these artist are POP artists, I didn't bother to listen to any rock bands today because I just want to chill and relax, and this was the perfect remedy for my need.
As for the album downloads I did today, I downloaded 6 albums from different artists. Guess who? Haha, it's quite obvious by just looking at the album covers. Ooh, Anna's posting images now… of course, so the space won't be wasted.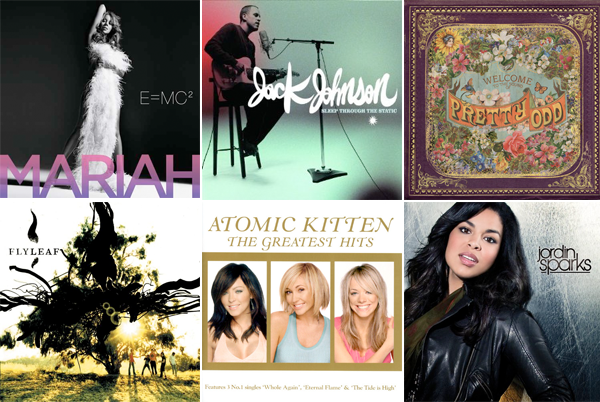 I haven't listened to all of the songs except the ones on the new Mariah Carey album because I'm too lazy right now, by the way I think the title of her new album is COOL, ha! I've listened to one of PATD (yes, without the "!" now, they removed it) song and I don't like that much but it's okay maybe it'll grow on me somehow. I was mad pissed when I found Janet Jackson and Mariah Carey's discography at a torrent site only to find out that it doesn't continue to download itself, the amount of 'seeds' are not good enough. If you happen to be a torrent user, PLEASE seed the mentioned albums!! Hahaha, I want them all! 😛 I tried to be patient and went to Limewire to download the songs I like from their CDs and didn't get so much luck. 🙁 Now I'm getting thoughts on getting thoughts on buying these albums instead if I can't manage to find a downloadable version of it online — HATE! 🙁 I would only use the CD once and it'd be a waste. Who knows a GOOD torrent site? 😀 Specifically with old albums up for downloading, hehe.
BTW!! I received a question from Rachel:
ei anna, i know youre into photography, i just want to ask if you can help me in finding a good camera for a beginner like me? i just want sana a lomo cam but i don't know which is good for a beginner. thanks
Love it, nice question! If you're looking for a good camera (strictly) for Lomo photography, I suggest that you should get the Holga 120N. Check the site, there's a 120N starter kit perfect for first timers. When I used to be interested in Lomo photography, I asked a friend what would be good to get as a beginner and he said I should get that. My interest in Lomo faded fast though and I never got to purchase one. I think they're costy, especially with the films. 😐
However, for digital photography naman, I don't suggest going straight to EOS/DSLR immediately. Personally I would buy a point-and-shoot first and explore it, eventually master it then if I feel I need a better camera to suit my needs then it would be the time to go professional, getting a DSLR/SLR camera. Hope I helped! 😀
Thanks guys for the comments regarding this layout, hehe, I super love it as well! 😀 Definitely one of my favorites. Link exchange people, please direct to my link exchange page no need to ask about it in my comment. I accept any (normal) site, s'long as you link me back we're all good. 🙂